NFL Draft 2012: Where Do the New York Giants Go in Day 2?
April 27, 2012

Al Bello/Getty Images
After months of speculation over who the New York Giants would go with in the first round of the 2012 NFL Draft, general manager Jerry Reese gave us all another curve-ball.
Instead of going with an offensive lineman, tight end or defensive lineman, the Giants decided to take David Wilson, a running back out of Virginia Tech with the 32nd-overall pick.
Wilson will be paired with Ahmad Bradshaw in the offense and will help a running attack that ranked near the bottom of the NFL in 2011.
Wilson will also take the carries that Brandon Jacobs would have gotten, but was released last month by the team.
Now that the Giants' first-round pick is in the book, it's now time to turn our attention to Day 2 of the NFL draft.
The second day doesn't get as much coverage as the first one, but these rounds can be where important players end up getting selected.
The Giants addressed a need with running back, but they have other needs that need filling.
Offensive line is a major one. Bobby Massie, Jonathan Martin, Mike Adams and Cordy Glenn are still available, but will they fall all the way to the end of the second round?
Tight end is another need. Coby Fleener, Dwayne Allen and Orson Charles are all available, as no tight ends went in the first round on Thursday.
You could also see Giants defensive end Osi Umenyiora dealt tomorrow for a draft pick or two, depending on if the right offer is made. Umenyiora has sounded more open to a trade out of New Jersey lately and I would not be surprised if the Giants oblige.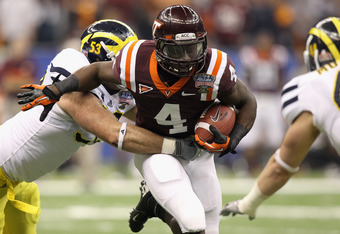 Matthew Stockman/Getty Images
As of now, the Giants will be waiting again until the very end of the second round to make their next selection with the 63rd-overall pick.
After that, they wait again on Friday night until the very end of the third round with the 94th-overall pick of the draft.
So now, Giants fans all over get another 24 hours to debate on where the Giants will go next with their draft picks in the second and third rounds.
Offensive line? Defensive line? Tight end? Wide receiver?
And do they trade Osi Umenyiora to yield a few more picks?
With Day 1 of the draft in the books, Day 2 is right around the corner.
Stay tuned, Giants fans.