NFL Draft 2012 Results: Solid First-Round Picks from Fabulous First Night
April 27, 2012
Al Bello/Getty Images
If you happen to have a passing interest in football and have a cable feed, you assuredly witnessed one of the best first-round drafts in years. 
Everything you want in a night of drafting presented itself. There were trades aplenty, as well as some horrendous reaches (ahem, Seattle Seahawks). 
There were also some solid football decisions being made, and that is what we choose to concentrate on: positivity. 
1. Minnesota Vikings: Matt Kalil OT at No. 4
This is how you rebuild a franchise, with smart and poised draft day moves. The Vikings preyed on the Cleveland Browns' fear that running back Trent Richardson would be gone. 
They then traded down one spot to quell that fear for the Browns, via ESPN. 
The Vikings get exactly what they have needed all along, a solid tackle to guarantee pocket safety for years. Not only did they address a need, but they got great value and took home three more late-round picks. 
2. Dallas Cowboys: Morris Claiborne CB at No. 6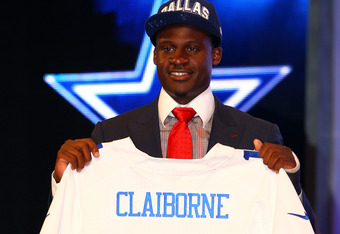 Al Bello/Getty Images
Solid. What's the going rate on a shutdown corner that comes in as one of the elite athletes of the entire class? 
It's definitely worth the No. 45 pick they gave up to the Rams (via ESPN) to guarantee Morris Claiborne would lock down receivers for the Cowboys and nobody else. 
The Cowboys are instantly better on defense and that much scarier in the secondary. This pick will prove huge in the next couple seasons. 
3. Arizona Cardinals: Michael Floyd WR at No. 13
Don't look now, but the Cardinals made a smart but very jazzy splash in the first round. I like Justin Blackmon, but love Michael Floyd considering the fit and value. 
Floyd is a big target that can fly. You can't discount his speed and ability to create space. The best part is seeing how he will flourish alongside Larry Fitzgerald. 
For a full list of first-round Results, visit the Official Page at NFL.com. 
If you want and in-depth list with grades, take a look at Bleacher Report's own Matt Miller's First-Round Grades.