2012 NFL Draft: Why the Cleveland Browns Took Brandon Weeden
April 27, 2012

Doug Pensinger/Getty Images
If the past few months didn't say it, the first day of the 2012 NFL draft certainly does.
The Cleveland Browns do not like Colt McCoy.
Or at least they don't think he's their franchise quarterback. And why should they? McCoy played horribly in Cleveland's offense. For his entire career, McCoy has been praised as a smart, accurate player. 
If McCoy is so accurate, why did he complete just 57.2 percent of his passes in 2011, while playing in a West Coast offense. If McCoy is so smart, why did he throw 11 interceptions to 14 touchdowns?
Sure, McCoy didn't have great talent around him, but is that really an excuse for him missing easy throws and not seeing blitzes? How many times in 2011 did we see McCoy fail to diagnose a blitz and run a rollout right into it?
Even if you don't feel this way, Tom Heckert, Mike Holmgren and Pat Shurmur certainly do. After all, they drafted a quarterback in the first round.
But why Brandon Weeden? He's 28 years old. He has just a few short years left, right?
That's the wrong perspective to take. A quarterback can easily play into his mid-30s, so at worst, the Browns are getting the same amount of high-quality years out of Weeden they are out of Trent Richardson.
And if Weeden weren't 28, he wouldn't have been available to the Browns at No. 22. He is a legitimate top-15 talent on tape, and some feel he's a better player than Ryan Tannehill.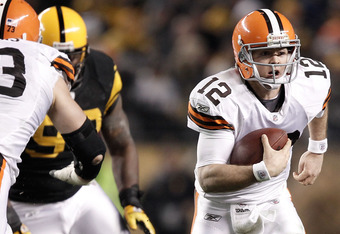 Jared Wickerham/Getty Images
For the argument that the Browns could have gotten Weeden at No. 37: Why take the chance? If the Browns like Weeden enough to spend a first-round pick on him, they would be stupid to risk not getting him. Teams don't play around like that with quarterbacks. 
So the Browns are getting a solid quarterback prospect far later than players with this type of talent usually go.
At what price? Six years. Not something to be overlooked, for sure, but it's also a bit overrated. 
Ask yourself this question: If Brandon Weeden gives the Browns seven years of high-quality play, is he worth the No. 22 pick? 
I don't know about your answer but mine is short, resolute.
Absolutely.