2012 NBA Free Agents: Breaking Down Most Realistic Landing Spots for Steve Nash
April 27, 2012

Christian Petersen/Getty Images
Steve Nash's future has never been more uncertain, even according to the former MVP himself.
There's no question Nash wants to see the Phoenix Suns improve before he even considers returning. He may have another two or three years in him, but it could take this organization longer than that to field a championship-caliber team.
The medical staff in Phoenix has been known to prolong careers, and you never know how compelling Nash will view his history with this team. There's still a chance he could stay right where he is.
The Suns' problem is that they just aren't anywhere close to contending for a title as currently constituted—and it won't be any easier for this team to make the postseason next year.
Christian Petersen/Getty Images
Miami is a natural destination for Nash according to any fan who likes seeing amazing teams get even better. We've never seen Nash play alongside other elite playmakers like LeBron James and Dwyane Wade—it could be a historic combination.
Nash would instantly make the Heat's superstars even better, and his career would be prolonged by the presence of other passers who would retain much of the ball-handling and leadership duties.
The difficulty here will be affording Nash—he would have to play for a fraction of what he's worth unless the Heat can somehow shed a ton of money. That's unlikely with the vast majority of that money tied up in James, Wade and Chris Bosh. 
This team desperately needs a pass-first point guard to replace Raymond Felton. It might be tough to interest Nash in a club that's in a partial rebuilding mode, but wise use of its first-round selections in the draft could make Portland a more attractive destination.
Portland's biggest advantage might be that it has the cap space to sign Nash. Money probably isn't Nash's first concern, but it could become more compelling if the franchise makes the requisite roster improvements.
New York made more sense as a destination for Nash when Mike D'Antoni was still coaching, but the opportunity to play alongside Carmelo Anthony and old friend Amar'e Stoudemire could be tempting. The chance to mentor budding superstar Jeremy Lin might be even more tempting.
The Knicks are probably fine without Nash—it's not as if they don't have depth at the point. Still, they'd happily make room for the future Hall of Famer.
Like Miami, New York will have difficulty affording Nash. Still, where there's a will, there always seems to be a way in this league.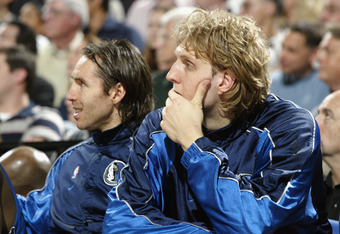 Jonathan Ferrey/Getty Images
There would be something special about Nash rejoining the team where he first blossomed into a superstar. Sure, the MVP awards came in Phoenix, but Nash has a great relationship with Dirk Nowitzki and could either replace Jason Kidd or join him in the oldest point guard platoon known to mankind.
Of course, all of this depends heavily on Dallas' pursuit of Deron Williams and whatever other machinations are turning in Mark Cuban's head. If those plans fall through, Nash might become a much more likely option.