San Diego Chargers 2012 Draft: Who Will Team Select in Second & Third Rounds?
April 27, 2012

Steve Dykes/Getty Images
Your prayers have been answered, San Diego Chargers fans.
With the No.18 pick in the 2012 draft, San Diego finally addressed their infamous pass-rush troubles with the selection of South Carolina's Melvin Ingram. So where do the Chargers go from here with tomorrow's second- and third-round picks?
Well, before we move on with tomorrow's potential picks, let's finally give general manager A.J. Smith the credit he deserves.
When the heat was on to make a pick that would make an immediate impact this season, Smith came through in the clutch with one of the biggest steals on day one. Ingram was initially projected to go somewhere in the top 10, but a bevvy of trades caused him to slip right into the lap of San Diego at No.18.
Day two is where the real fun begins, as San Diego attempts to add depth at positions in need of some help next season. The biggest holes right now appear to be at safety, cornerback and on the offensive line. Possible luxury picks include defensive tackle and running back.
Here are five potential day two picks for the Chargers:
George Iloka, Safety
We knew Alabama's Mark Barron would be a day-one pick, but him going at No.7 was a bit of a surprise. What was even more surprising, however, was the Minnesota Vikings trading back into the first round to select Notre Dame safety Harrison Smith.
In a weak safety class, the Chargers have to be looking at what's available to them on day two. LSU's Brandon Taylor and Boise State's George Iloka are two of the better safeties left on the board after day one, and Iloka could very well be there in the second round.
It is a bit of a reach for a safety, especially for one that doesn't scream second-round potential, but the Chargers need a player to compete with Darrell Stuckey in his first season as an expected starter.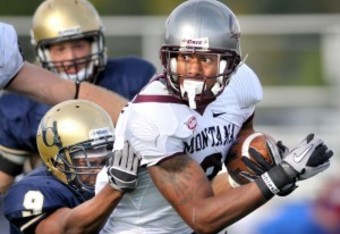 Trumaine Johnson, Cornerback
Cornerback is a strong position in this year's draft. We saw three good ones come off the board in the first round, and there are still several strong cover guys available to San Diego on day two.
Montana's Trumaine Johnson is a very intriguing prospect in the second or third round. If cornerback is as popular on day two as it was on day one, then the Chargers may have to pull the trigger on a player who could eventually replace 32-year-old Quentin Jammer.
At 6"1' and 204 lbs, Johnson is being called by NFL.com as "one of the most polished NFL prospects to come out of the Big Sky conference in quite some time."
Kelechi Osemele, Offensive Lineman
Offensive linemen had to wait until the bottom half of round one to hear their names called on day one, which was a bit of a shock considering so many mock drafts had them going in the top half of round one.
Either way, this class of offensive linemen is deep enough to get talented players late. Iowa State's Kelechi Osemele would be a nice insurance policy at guard in case third-year man Tyronne Green is unable to fill the void left by recently-retired Kris Dielman.
There's no guarantee Osemele will be available at the 49th pick, but if the trend of falling offensive linemen continues, then it's definitely a possibility.
Chris Rainey, Running Back
Before I even begin, let me first state that running back shouldn't be a priority on day two. If the Chargers don't get a running back then it's not the end of the world.
However, Ryan Mathews hasn't proven he can handle the wear and tear of an entire NFL season. Mike Tolbert is a Carolina Panther now and that leaves San Diego without a solid No. 2 behind Mathews.
I personally like LaMichael James from Oregon in the third round, but I'd be happy with Chris Rainey out of Florida. A straight-up speed demon with Darren Sproles-like qualities, this former Florida track star would give San Diego a versatile option on third down and in the slot.  
Rainey is a bit undersized to work inside like a traditional back, but give him space and he's a threat to take it to the house down the sidelines. The big question here is if Rainey is worth a third-round pick? San Diego may be able to wait it out.
Alameda Ta'Amu, Defensive Tackle
Yes, the Chargers already have a two-man rotation going on at defensive tackle next season, but for how long?
Antonio Garay had an awesome season plugging the middle for the Bolts last year, but he wasn't exactly chomping at the bit to re-sign with San Diego this offseason. While he'll still be a Charger the next two seasons, he's not a lock to anchor that defensive line for years to come.
Defensive linemen flew off the board on day one and I really like Washington's Alameda Ta'Amu in the third round for San Diego. That 6"3' 348 lb frame is big enough to clog running lanes without sacrificing quickness in a collapsing pocket.