2012 NFL Draft Grades: Hits and Misses from Phenomenal First Round
April 27, 2012

Al Bello/Getty Images
The trades came early and often, and so did the reaches. 
The first round was filled with some solid moves by general managers, but there were some picks that have me shaking my head in amazement. 
Here is a breakdown of the best and worst of the night. 
There were plenty of trades to note, and ESPN has a Draft-Trade Tracker that lists them all. With that, we delve into the best and worst of night one. 
Hits
We can leave the first two picks out of this, because we can all agree that getting Andrew Luck and Robert Griffin III were solid selections for the Colts and Redskins, respectively.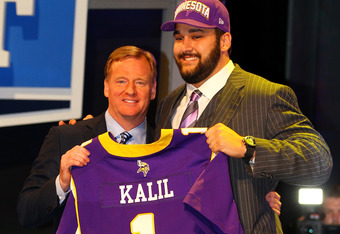 Al Bello/Getty Images
1. Minnesota Vikings: Matt Kalil OT at No. 4
Grade A+
The Vikings managed to get what they needed in an offensive tackle, and the best one around at that. Matt Kalil will be around for years, holding down the line. 
That's not all, because they managed to get the man they wanted and wrestled late-round draft picks from the Browns who traded up to take Trent Richardson. 
2. Dallas Cowboys: Morris Claiborne CB at No. 6 
Grade: A
The Cowboys moved up to the Rams slot and basically gave up the No. 45 pick in the draft to get him. That's a small price to pay for a shutdown corner. 
The Cowboys had a tenuous secondary and now have one of the fiercest. That is the kind of production that an elite athlete like Claiborne gives. 
3. San Diego Chargers: Melvin Ingram DE at No. 18
Grade: A
This was a great value pick to address a Chargers' need. Melvin Ingram is quick around the edges and uses his hands well to create space around the block. 
Misses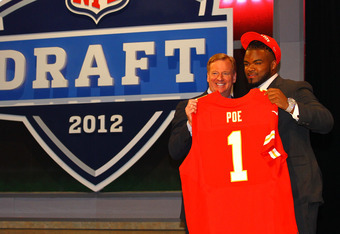 Al Bello/Getty Images
1. Kansas City Chiefs: Dontari Poe DT at No. 11
Grade: C-
This is a gamble no matter how you slice it. Poe comes in with huge upside after a combine made famous by his power and remarkable speed. 
The tape doesn't translate though, and he could very well be a combine flash in the pan. The Chiefs paid too high a price to find out. 
2. Seattle Seahawks: Bruce Irvin at DE No. 15
Grade: F 
This pick was no doubt followed by screams of reach that resounded around the nation. I don't care if the Seahawks were smitten with this project player, because they could have had him much later. 
Not only is he a one-dimensional player, he has a past that has be wary for his first-round selection, via Yahoo! Sports. 
3. Cleveland Browns: Brandon Weeden QB AT No. 22
Grade: C-
I had issues with the Bears reaching for Shea McClellan, but this was far more egregious. It's clear that the Browns are done testing out Colt McCoy. 
However, Weeden is hardly the better answer in my book. He has mid-second round value but was taken out of pure fear he would be gone. I don't see the superstar upside coming in at 28 years old.