Tim Tebow 7th on NFL Films' List of Top Heisman Winners' Pro Careers?
April 27, 2012

Mike Stobe/Getty Images
Tim Tebow is in the discussion of greatest players in the history of college football. He won BCS championships his freshman and junior seasons and the Heisman Trophy his sophomore season.
He finished third in the Heisman voting his junior year and fifth his senior season. But the seventh-best professional career of all Heisman Trophy winners? I love you Steve Sabol and NFL Films, but you're out of your minds.
Steve, are you sure you didn't mean Tim Brown? The 1987 Heisman winner retired second all-time in receiving yards, third in receptions and tied for third in touchdowns. A nine-time Pro Bowler could be seventh on your list, right?
No, not Tim Brown, huh?
I love Tim Tebow as a person, and I've already pointed out my admiration for his collegiate career. But I refuse to allow that to alter the reality of what's right in front of my face. He's not a very good professional quarterback. I want you to read that again. I'll wait…
Don't be fooled by Tebow's great character, charisma and admirable charitable work. It's okay to admire him and still be objective about his on-field performance.
Trust your eyes.
In the ultimate team game, don't give too much credit to one player. I'm well aware that Tebow took over a Broncos team that was 1-4 and promptly won seven of eight. Are you aware that not one of those seven wins came against a team that finished 2011 with a winning record?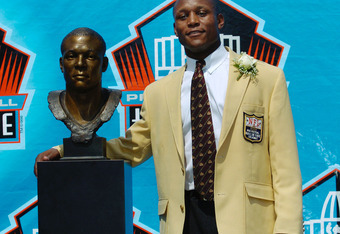 David Maxwell/Getty Images
The only decent team beaten by Tebow's Broncos was Chicago. Decent is being generous since the Bears were without running back Matt Forte and were quarterbacked by the immortal Caleb Hanie that game.
Let's not forget the finish to the regular season for the Tebows. They were crushed by New England and Buffalo and then lost 7-3 to the lowly Kansas City Chiefs.  
Seventh on the list? Based solely on performance, all accounts were that Tebow was at best the third-best quarterback in Denver's camp last season. Kyle Orton clearly won the starting job, and Brady Quinn outplayed Tebow. Wondering about the "at best"? There are some reports that rookie Adam Weber looked better than Tebow. Never heard of him? Me either. He's a former Minnesota Golden Gopher.
Listen, I hope that Tebow proves me wrong and becomes a Pro Bowler. But I'm not betting on it. You want to know who makes up the rest of the list? Good idea.
The top spot belongs to dynamic Barry Sanders. Sanders is followed by Roger Staubach, OJ Simpson, Paul Hornung, Charles Woodson, Tony Dorsett, Tebow, Earl Campbell, Marcus Allen and Cam Newton.
What?! Cam Newton?! I don't have the strength for this.