Ohio State Football: 5 Weakest Positions to Worry About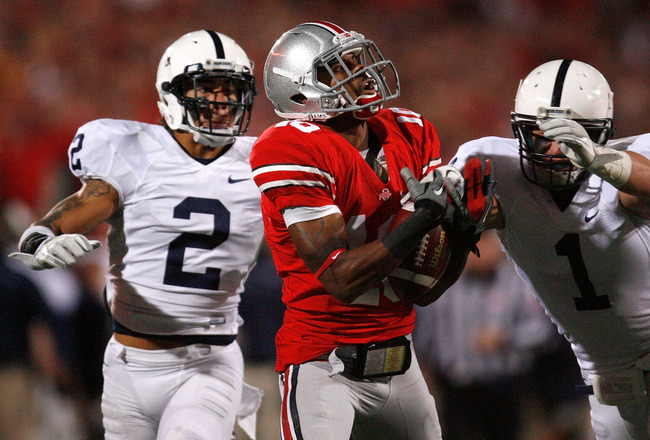 Kirk Irwin/Getty Images
To say that last year wasn't quite all wine and roses for Ohio State would be a huge understatement.
But now, Urban Meyer has taken over as captain of the scarlet and gray ship, and all of Buckeye nation is downright giddy with the prospects of where the program might be headed.
Everybody calm down.
If history is any indication, the combination of the prestige and tradition of Ohio State with the coaching moxie of Urban Meyer should get the program back among the nation's elite. But despite the collective excitement of Ohio State fans, it might be at least a year or two.
The offensive-scheme and culture are changing, there's not much to play for in 2012 because of the postseason ban, and last year didn't exactly provide a montage of memorable moments for a season highlight video. To paraphrase, the ingredients might be there, but they'll need some seasoning.
The new coaching staff will inevitably begin to diagnose where the strengths are—but most importantly—where the biggest warts are. After all, a team is only as good as its weakest position. At least that's what I read in a coaching journal somewhere.
This year can only be looked at as one of transition. How well that bridge to better things holds up will largely depend on how well the spackling paste and duct tape can work to fill the holes.
Here's a look at the five weakest positions the 2012 Ohio State Buckeyes should be most concerned about.
No. 5: Offensive Tackle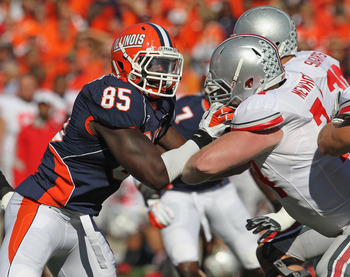 Jack Mewhort
Jonathan Daniel/Getty Images
Ohio State loses much of its starting offensive line from last year. That's never a good situation when trying to establish a solid running game. It's even worse when a new era begins with the installation of a new scheme involving multiple spread formations and new terminology.
It's still too early to stamp anyone as a starter, but the early leaders in the clubhouse have to be former left guard Andrew Mewhort at left tackle and former tight end Reid Fragel at the right tackle spot. The two received significant playing time last year, but both have the daunting task of learning new positions.
It'll be the equivalent of working on the car while it's being driven down the road.
Also in the mix are freshman Taylor Decker at either spot, sophomore Darrell Baldwin on the left and freshman Tommy Brown on the right.
Mewhort is the anchor of this bunch, but behind that, there is not a proven track record. And while a talented dual-threat quarterback can hide a lot of deficiencies on the offensive line, it'll need to develop to the point where the heart and soul of the team—Braxton Miller—is not left on an island.
No. 4: Offensive Guard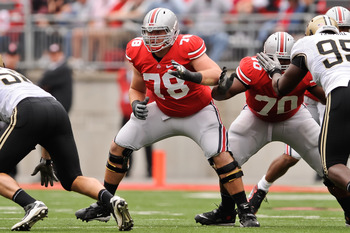 Andrew Norwell
Jamie Sabau/Getty Images
Keeping with the theme of rebuilding the line, offensive guard also appears not to be the strongest trump card for Ohio State.
Clearly Andrew Norwell has anchored himself into the left guard spot as a returning starter, but behind him the bodies are more green than a queasy tourist. In the mix with Norwell for the left guard spot is sophomore Eric Kramer—a walk-on.
At right guard, Marcus Hall has been plagued by the injury-bug but seems to have transformed his body and taken the lead for the starting spot coming out of spring. Pushing him will be sophomore Antonio Underwood.
The incoming freshmen could add some depth, but the lack of bodies and experience has to be a concern here.
No. 3: Center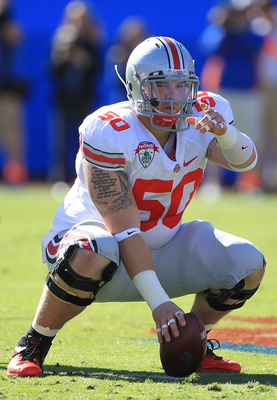 Scott Halleran/Getty Images
Yeah, remember this guy? Mike Brewster was a four-year starter for Ohio State and arguably the best center in the Big Ten last year. Taking it further, he was in the team picture for the best center in the country.
And now he must be replaced. It won't be easy.
The quarterback gets all the credit, but the center is the one calling out the blocks and reading the defenses pre-snap to get everyone on the same page. All before having to absorb a very large man bearing down on his quarterback.
So what lucky newcomer gets the privilege of following in Brewster's footsteps?
It looks for all of the world to be 6'3", 292 lb. junior Corey Linsley. It'll be tough trying to learn all the new terminology and schemes of the Urban Meyer-era, but he'll be tasked with just that.
If he's not up to the task, look for some heat from incoming freshman Jacoby Boren and sophomore Brian Bobek. And yes, both would have to go through some growing pains as well.
No. 2: Linebacker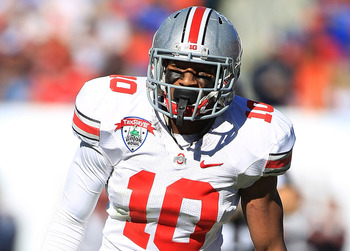 LB Ryan Shazier
Scott Halleran/Getty Images
Perhaps more than any other position this fall, linebacker has a lot of potential. The problem—as we saw last year—is potential gets you diddly-squat.
Ohio State's cupboards are stocked full of blue-chip recruits, but they were unable to gel last year and reach the full potential everyone expected. You can count the linebacking corps in that group.
It looks as though Ryan Shazier will be the star of the crew if the tail end of last year is any indication, but so far highly-touted linebackers Etienne Sabino and Curtis Grant have yet to fulfill their genetic DNA.
For Curtis Grant, he still has plenty of time to make good and is pushing another incumbent—Storm Klein—for a starting spot, but Sabino, a senior to be, has to start cooking with gas this year.
Rounding out the race for playing time, Joshua Perry and Luke Roberts will try to add a little depth.
If there is a silver bullet lining in this unproven unit, it's in the reality that the defensive line should be one of the best in the conference. That'll provide the linebackers with some room—both figuratively and literally—to move around and grow.
No. 1: Wide Receiver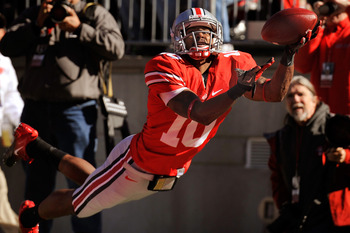 Jamie Sabau/Getty Images
The wide receivers running around the football field last year for coach Fickell were the sore thumbs of the team. Perhaps the most telling stat of all was that three receivers were tied for the most catches with 14. And that includes a tight end in Jake Stoneburner.
That won't cut it this year. Just like it didn't cut it last year.
If you watched the spring game, you had to leave being somewhat encouraged by the play of freshman Michael Thomas. He seems to be looking to lock up a starting spot right away, but the fact that a freshman—just out of high school—can walk into the Horseshoe and become a starter is all too alarming.
In addition to Thomas, there is a trio of sophomores that will try to improve the ability to stretch defenses and not allow them to key on the run. Among Evan Spencer, Devin Smith and Corey Brown, one or two must jump up and be a weapon—yesterday.
The wide-receiver position will undoubtedly be the most important this fall, if not for the simple facts of how important it is in a spread offense and how little the group contributed last year.
Then again, there's always Jordan Hall...
Keep Reading

Ohio State Football: Like this team?