Michael Brockers to St. Louis Rams: Pick Analysis, Grade and Scouting Report
April 26, 2012

Joe Murphy/Getty Images
The St. Louis Rams selected defensive tackle Michael Brockers from LSU with the 14th pick in the 2012 NFL draft on Thursday night. 
Michael Brockers was one of the main reasons the Tigers fielded one of the greatest college football defenses of all time in 2011. He went a bit under the radar with other stars on his side of the ball getting a lot of credit and excitement, but it's clear the Rams recognized his value. 
This guy is a complete beast and will be a great fit for St. Louis. The NFC West is arguably getting better, and Brockers will be able to help stop the surging San Francisco 49ers and Arizona Cardinals. He will also be able to get to new quarterback Matt Flynn of the Seattle Seahawks. 
Brockers is an excellent run-stuffer and will be able to slow down great running backs like Frank Gore and Marshawn Lynch. 
He has great size and strength with a wonderful bull rush that can overpower many linemen. He is always the lower man, and as any high school football coach will tell you, "the lower man always wins." 
He can get off blocks with ease, and once he is able to pull out of those blocks, the former Tiger can make a big play on the ball carrier. It is very hard to stop the big man as he can occupy double teams with ease. 
Brockers is very versatile and will be able to fit in many defensive schemes, and he will find a place in the St. Louis defense. 
He has a great motor and doesn't ever stop. Any tip that any high school football coach will tell you is that you have to play to the whistle. Someone was listening to their high school coach.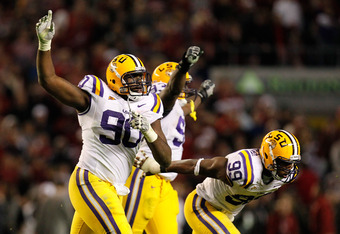 Kevin C. Cox/Getty Images
Brockers was disruptive this year, totaling 54 tackles with 10 tackles for a loss, two sacks, a forced fumble and even a blocked kick.
This 6'5", 306-pound giant has an unmatched balance between size and strength. 
The only knock against him is that Brockers is a sophomore. But his fountain of youth makes his ceiling nonexistent. This season, Brockers played well beyond his years and can keep that level of intensity throughout his NFL career. 
Also, for as much as we talk about his skills at run-stuffing, Brockers is not good at pass rushing. But he is a rookie and can get much better in that department. The LSU product is raw, but has great skill and potential to be great for the Rams. 
This is a good pick, as it stabilizes a defensive line for St. Louis and will keep the Rams competitive with the better offenses of the NFC West. 
Grade: B+