Kentucky Derby 2012: Ranking Every Horse in the Field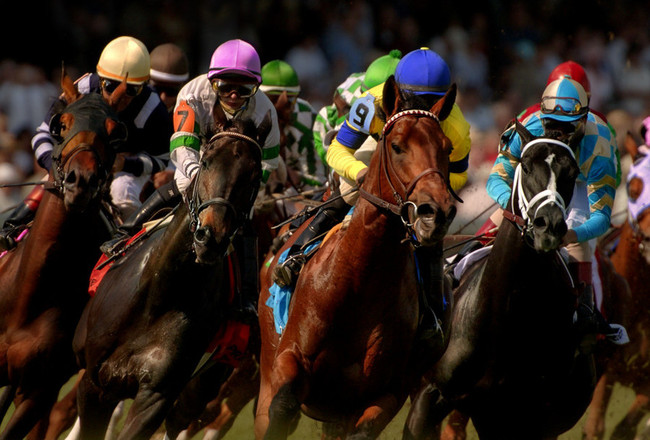 Photo credit: www.thecruisepaper.com

The 2012 Kentucky Derby is right around the corner, and these are the power rankings for every horse in the first leg of the Triple Crown.
The strength in the field for the 138th Kentucky Derby is unbelievable and can be seen by the prowess of the horses ranked last in these power rankings. The 2012 Kentucky Derby is going to be a cutthroat race that will almost certainly come down to the final stretch, and I wouldn't bet against a photo finish this year.
While all 20 horses of the Kentucky Derby are great competitors, this is the power ranking of every horse in the field.
The sports cliche that everyone/every team has a chance does not truly apply to most sports, but the Kentucky Derby epitomizes this saying.
These are my power rankings, heading into the true start of the horse-racing season.
21. Rousing Sermon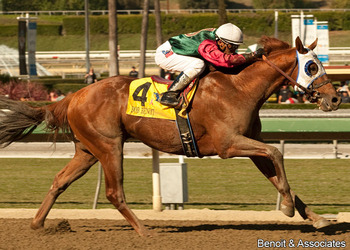 Photo Courtesy drf.com
Owner: Larry and Marianne Williams
Trainer: Jerry Hollendorfer
Jockey: Jose Lezcano
It was tough to call Rousing Sermon the worst horse in the field for this year's Kentucky Derby, and there is no doubt that many fans think otherwise, but I had to start somewhere.
Rousing Sermon has finished in the top five in his last four races, although he has not won. Races like the Louisiana Derby, San Felipe, Robert B. Lewis and CashCall Futurity have been kind to him as of late.
Jockey Jose Lezcano will look to ride Rousing Sermon to an unexpected finish, and he could certainly shock the crowd in Louisville, although he must be considered the worst horse in the field.
20. Optimizer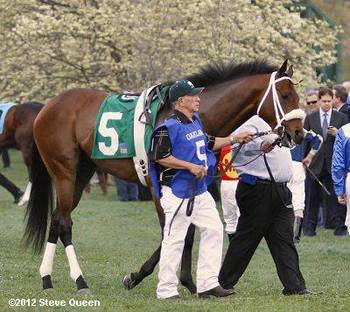 http://0.tqn.com/d/horseracing/1/0/N/f/3/rebel12-3a.jpg
Owner: Bluegrass Hall LLC
Trainer: D. Wayne Lukas
Jockey: Jon Court
Optimizer is one of the streakier horses in this year's Kentucky Derby, and there is no doubt that he could finish in any place.
In his last eight races, he has showed once and placed twice and finished eighth or worse three times. There is no pattern dependent on grade or distance with Optimizer, and he could finish almost anywhere in this year's Derby.
Because there is no telling where he will finish, I can't in good conscience put him any higher on this list.
19. Mark Valeski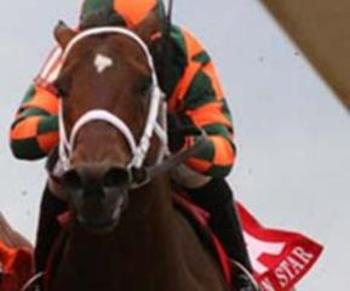 http://static.kentuckyderby.com/sites/kentuckyderby.com/files/imagecache/contender_card_med/images/primary/MarkValeski2crop.jpg
Owner: Brereton C. Jones
Trainer: Larry Jones
Jockey: Anna "Rosie" Napravnik
Mark Valeski is coming off of back-to-back second-place finishes, including losing to El Padrino by a nose at the Risen Star Stakes on February 25.
However, while both finishes have been nice, both have been at Grade II events, and the Kentucky Derby is a Grade I track. Valeski hasn't raced in a prep race on a Grade I track, which could come back to hurt him.
Valeski can run well against a Grade II field, but will struggle against Grade I competition, and he is near the bottom of my power rankings because of it.
18. Done Talking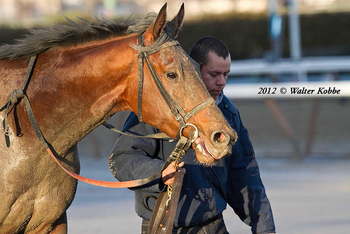 Photo Courtesy Walter Kobbe
Owner: Skeedattle Stables
Trainer: Hamilton Smith
Jockey: Sheldon Russell
Even with a renowned veteran trainer like Hamilton Smith, Done Talking is not going to be ready to win the Kentucky Derby.
Racing on a Grade I track is very difficult if you've been preparing on different grades, and Done Talking has raced exclusively on Grade II and Grade III tracks in his prep races. Despite a victory in the Illinois Derby on April 7, Done Talking has not has a prep race on a Grade I track.
I see a poor showing from Done Talking on race day, but he is still an excellent horse.
17. Daddy Long Legs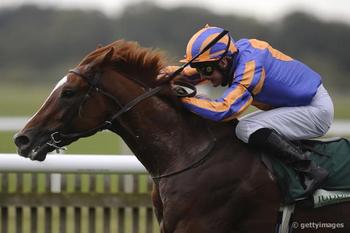 Photo Courtesy Getty Images
Owner: Derrick Smith, Mrs. John Magnier & Michael Tabor
Trainer: Aidan O'Brien
Jockey: Colm O'Donoghue
Daddy Long Legs is not another horse that completely shied away from Grade I tracks, although he didn't have any success on them either.
Daddy Long Legs is coming off of a win at the UAE Derby. However, that was a Grade II track. In his other prep race, the Breeders' Cup Juvenile, he finished 12 out of 13 horses in a Grade I event.
While he should be feared in Grade II, Daddy Long Legs isn't going to be pulling off a surprise finish at the Kentucky Derby. Under the right circumstances he could win, but I don't see that happening.
16. Prospective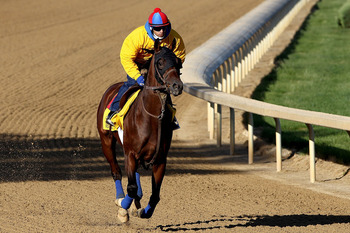 http://l.yimg.com/j/assets/p/sp/getty/82/fullj.bdb40c96c18ce7c0eceaf64bf08b7d61/bdb40c96c18ce7c0eceaf64bf08b7d61-getty-143478469.jpg
Owner: John C. Oxley
Trainer: Mark Casse
Jockey: Luis Contreras
Prospective ran five prep races to prepare for this year's Kentucky Derby, and he won two and finished second in another.
I might sound like a broken record here, but all three of these top finishes came in Grade II and Grade III events. His finishes on Grade I tracks include a dead-last finish at the Breeders' Cup Juvenile, although he did show a good deal of improvement in his next race on a Grade I track, finishing sixth at the Toyota Blue Grass on April 14.
Prospective could keep improving and finish at a respectable position or he could revert back to his struggles at the Breeders' Cup Juvenile and finish horribly. Only race day will bring us an answer to the question of where he could finish among Grade I competition.
15. Liaison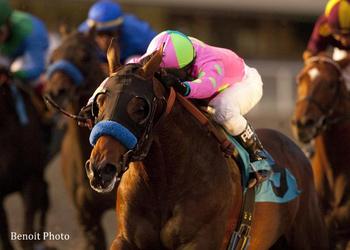 Photo Courtesy Benoit Photo
Owner: Arnold Zetcher
Trainer: Bob Baffert
Jockey: Martin Garcia
Liaison is another inconsistent horse in the field, and he has the potential to surprise a lot of people during the 2012 Kentucky Derby.
He has had two prep races in Grade I and two in Grade II. He did better in his Grade I events, and his two finishes in them included a win at CashCall Futurity and a seventh-place finish at Santa Anita Derby on April 7.
Liaison could finish anywhere from the bottom five to the top five, but his inconsistency and variability from race to race has him near the middle of the pack for the 2012 Kentucky Derby.
14. Daddy Nose Best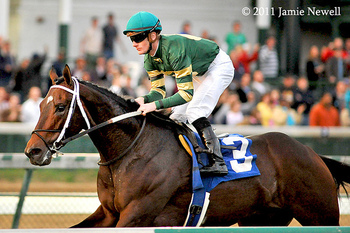 Photo Courtesy Jamie Newell
Owner: Cathy and Bob Zollars
Trainer: Steve Asmussen
Jockey: Garrett Gomez
Daddy Nose Best doesn't have a huge advantage on any surface, but he instead finishes well on long races. With speed and stamina like his, he can dominate on long tracks, and the Kentucky Derby's mile-and-a-quarter length could help him.
However, if you look at his four prep races for this year's event, he won twice and showed once. However, those three races were all in Grade III and his only Grade I race ended in a sixth-place finish.
The length of this track will help him, but he still can't be considered anywhere near a favorite in this race. I think he may surprise some people, but odds are he won't.
13. Sabercat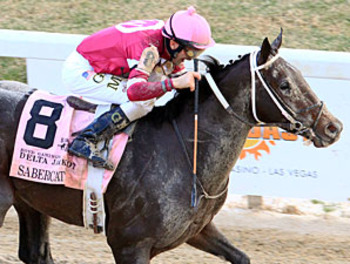 http://www.bloodhorse.com/images/content/SabercatDeltaDownsJackpot2011_6CP298.jpg
Owner: Winchell Thoroughbreds
Trainer: Steve Asmussen
Jockey: Corey Nakatani
Sabercat may not be one of the favorites for this year's Kentucky Derby, but I believe that he has the potential to shock the world this year.
He can race well in Grade I and Grade III prep races, and the distance of the race will not hurt him at all. Sabercat has won and placed in two of his three prep races, and he came in third at the Arkansas Derby on April 14, which is a Grade I event.
I have great faith in jockey Corey Nakatani, who finished second in last year's Kentucky Derby and is looking for a victory in the 138th Kentucky Derby. Having a skilled jockey on a horse like Sabercat has success written all over it, which is why I have Sabercat so high.
12. Trinniberg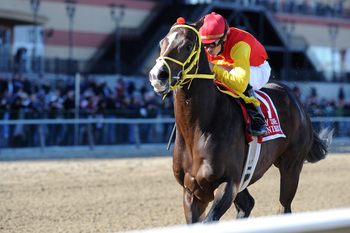 Photo Courtesy Adam Coglianese Photography
Owner: Shivananda Racing
Trainer: Bisnath Parboo
Jockey: Willie Martinez
Trinniberg is a very fast horse, although I am not entirely convinced that he can manage to keep his pace for a mile-and-a-half race.
He's hot right now, coming off of back-to-back wins at Swale and Bay Shore, and he's placed four times in his four prep races.
However, none of these races have been more than seven furlongs, and the Kentucky Derby is 12 furlongs. This will probably be too long for Trinniberg, which is why he is only in the middle of the pack.
11. Went the Day Well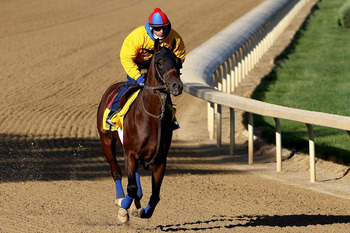 Photo Courtesy Matthew Stockman/Getty Images
Owner: Team Valor International
Trainer: H. Graham Motion
Jockey: John Velazquez
Trainer H. Graham Motion is looking for another Kentucky Derby crown this year, repeating after riding Animal Kingdom last year, who won the Kentucky Derby and finished second in the Preakness Stakes.
Went the Day Well probably won't live up to last year's competitor for Motion, but he did win his only prep race (Vinery Racing Spiral) on a Grade III, nine-furlong track.
Went the Day Well has not had as much preparation as other competitors, but he could benefit greatly if the weather is less than ideal on Saturday, as he has had a few practices in the rain and would be better prepared than most other horses.
10. El Padrino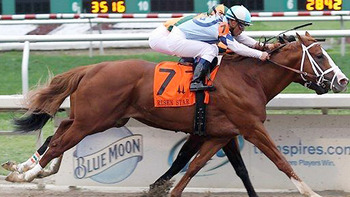 http://a.espncdn.com/winnercomm/HU_Horse_RStar_576_022512.jpg
Owner: Let's Go Stable
Trainer: Todd Pletcher
Jockey: Rafael Bejarano
El Padrino is one of the most interesting horses in this year's Kentucky Derby. Some experts and analysts have him in the bottom three, while others have him in the top showing.
El Padrino is coming off of an incredible win at the Risen Star, during which he came back to beat Mark Valeski by a nose (pictured).
Usually not a consistent horse, El Padrino has placed in the top four in all three of his prep races. His only prep race in a Grade I event came at the Florida Derby, during which he finished fourth.
El Padrino's showing at the Florida Derby was disappointing because he was pushed out wide and never recovered from that. His early support seems to be from the team around him, but he is slowly dropping in power rankings.
9. Take Charge Indy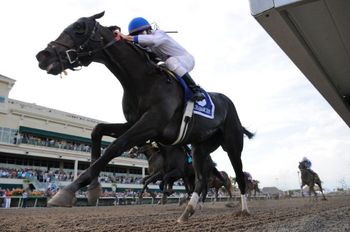 http://www.michaelwcompton.com/news/charge-indy-works-kentucky-derby
Owner: Chuck & Maribeth Sandford
Trainer: Patrick Byrne
Jockey: Calvin Borel
Calvin Borel is arguably the most well-known jockey in the world, after capturing the hearts of America in 2007 when he won his first Kentucky Derby, and winning three of four from 2007 to 2010.
Take Charge Indy will be the horse that Borel tries to ride to victory, and Take Charge Indy is a top-10 horse in this year's Derby.
However, he was not even in the conversation for the Kentucky Derby a month ago, and he needed a win over Union Rags at the Florida Derby to become part of the conversation. Take Charge Indy didn't win that race because he was better, but he instead won it because Union Rags had a bad race.
While some people have Take Charge Indy much higher, I don't see him being a true contender for the victory at Churchill Downs, or at any Triple Crown event this year.
8. Alpha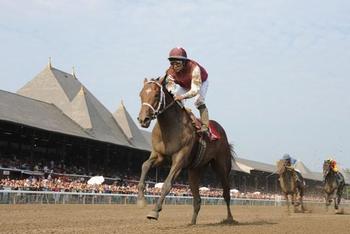 http://www.gradedstakes.com/wp-content/uploads/2012/01/alpha.jpg
Owner: Godolphin
Trainer: Kiaran McLaughlin
Jockey: Rajiv Maragh
Alpha is one of the most talented horses in the field, and there is no doubt that he could win the Triple Crown, but a lot has to happen for that to happen.
Alpha has had too many poor starts for us to still consider it to be a coincidence. He had slow starts at the Wood, the Count Fleet and the Breeders' Cup. He took an adventurous trip at the Wood as well, which still has me concerned.
There's not a shadow of a doubt in my mind that Alpha has the potential to be a star, but his only consistency when racing is to screw something up.
7. Hansen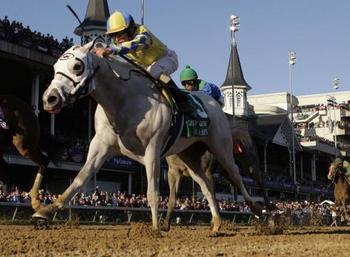 Photo Courtesy Michael Clevenger
Owner: Dr. Kendall Hansen & Sky Chai Racing
Trainer: Mike Maker
Jockey: Ramon Dominguez
Hansen is another true contender for the 2012 Kentucky Derby, and his four prep races have gone well, finishing first or second in all four races.
When Hansen raced in the Breeders' Juvenile Cup at Churchill Downs, he won a race which closely resembles the Kentucky Derby.
However, in recent races, he has struggled, including burning out during the Blue Grass Stakes, and his win on March 3 at Gotham came against a field without a notable horse. He could win, but he needs to stalk to do so, and he can't draw an inside post or else he is in trouble.
6. I'll Have Another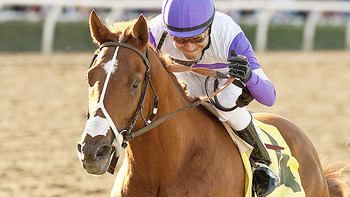 http://a.espncdn.com/winnercomm/HU_Horse_Lewis_576_020412.jpg
Owner: J. Paul Reddam
Trainer: Doug O'Neill
Jockey: Mario Gutierrez
I'll Have Another is one of the most consistent horses in the 2012 Kentucky Derby, having only one bad race in his entire career (a sixth-place finish in the Hopeful Stakes at Saratoga). He has won his two prep races in races that are similar distances to the Kentucky Derby, and one was Grade I.
I'll Have Another's stock has been steadily dropping because other horses have been doing well, but he is still going to be one of the best contenders in the field.
The only way this horse won't do well will be if the weather is wet and the track is sloppy, as it was at Saratoga when he had his only bad race.
5. Creative Cause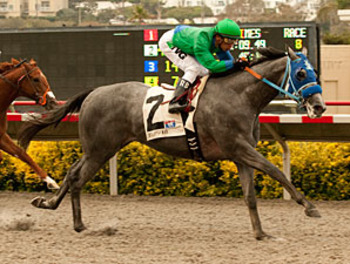 Photo Courtesy Benoit Photography
Owner: Heinz Steinmann
Trainer: Mike Harrington
Jockey: Joel Rosario
Creative Cause is a serious contender for the 2012 Kentucky Derby. He has had seven prep races, winning, placing or showing in all seven, including two victories—one on a Grade I track.
Creative Cause has shown a lot of improvement during his prep races. The Santa Anita Derby and the Norfolk have been the two races that are most like the Kentucky Derby. He won the Norfolk with an impressive comeback and he lost the Santa Anita Derby by a nose.
While he certainly has a good chance of winning, there are so many other good horses in the field that he is only No. 5 in my power rankings.
4. Union Rags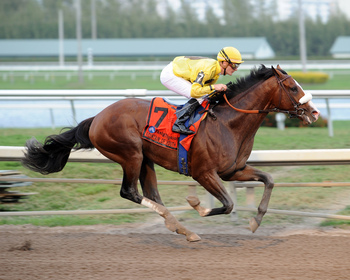 Photo Courtesy Adam Conglianese Photo
Owner: Chadds Ford Stable
Trainer: Michael Matz
Jockey: Julien Leparoux
Union Rags is all over the place when it comes to power rankings and betting odds for the 2012 Kentucky Derby. He was once a popular pick to win the race, but has steadily fallen.
Unlike other falls that have been because other horses have done well, Union Rags' fall is actually because of a bad race. He was supposed to run away with the Florida Derby, but a bad ride from jockey Julien Leparoux had him finishing third in the field.
Union Rags is a wild card for this year's Kentucky Derby, and he could be anywhere in the top 10.
3. Dullahan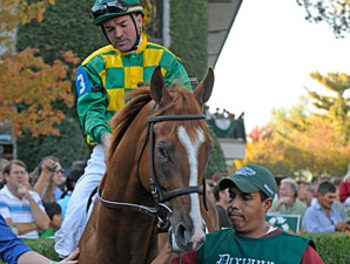 http://www.bloodhorse.com/images/content/DullahanBreedersFuturity2011_14AE298.jpg
Owner: Donegal Racing
Trainer: Dale Romans
Jockey: Kent Desormeaux
Arguably the best closer in the entire 2012 Kentucky Derby field, Dullahan has the potential to shock the world this year.
Dullahan navigated traffic at the end of the Blue Grass Stakes in a way that has about half of the horse-racing world on his side, and he also proved that he is threat on dirt at the Breeders' Cup Juvenile at Churchill Downs.
Dullahan has come in the top four in all five of his prep races, and I see a similar finish in store for him at the Kentucky Derby, thanks to his closing prowess.
2. Gemologist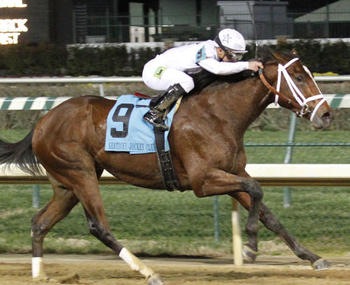 Photo Courtesy Reed Palmer Photography
Owner: WinStar Farm LLC.
Trainer: Todd Pletcher
Jockey: Javier Castellano
Gemologist seems to be a consensus top-three horse, and he could be No. 1 in the power rankings, had it not been for a huge performance by this next horse.
Following a great win at Wood Memorial, Gemologist has become a trendy pick to win the 2012 Kentucky Derby, and there are decent odds for him now that there is someone else to is ranked ahead of him.
Gemologist has won both prep races he has been a part of, showing some serious talent. He has a great chance to win, but I have to keep him at No. 2 in my power rankings.
1. Bodemeister
Photo Courtesy Steve Queen
Owner: Zayat Stables
Trainer: Bob Baffert
Jockey: Mike Smith
Bodemeister has moved into my top spot, following an impressive win at the Arkansas Derby. He crushed the field during that race, winning by nine lengths, and he has been incredibly consistent all spring.
Bodemeister has a great team backing him with trainer Bob Baffert and jockey Mike Smith. These two can turn a losing horse into a winner, and Bodemesiter already has the talent to win the derby.
Look for Bodemeister to make a statement at the Kentucky Derby. Right now it looks like this is all hype to some, but this horse has a ton of potential and would be my pick to win the Triple Crown this year.
Keep Reading