NFL Draft 2012 Results: Biggest Surprises in Top 10
April 27, 2012

Joe Murphy/Getty Images
The 2012 NFL draft was anything but mundane. 
The Cleveland Browns started things off by trading the No. 4 overall pick as well as a fourth-, fifth- and seventh-round pick to the Minnesota Vikings for the No. 3 overall pick and the opportunity to draft Trent Richardson.
Then things just got crazy.
Here's a look at the biggest surprises in the early first round of the 2012 NFL draft.
Jacksonville Jaguars, No. 5: Justin Blackmon, WR, Oklahoma State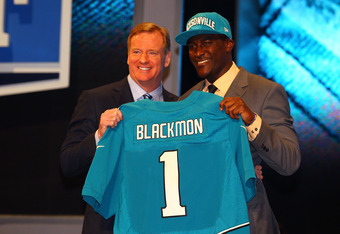 Al Bello/Getty Images
The Jaguars did need a receiver, so it wasn't exactly a surprise they went with Justin Blackmon. What was surprising was the Jaguars traded up from No. 7 overall to snatch Blackmon.
They could have grabbed Notre Dame's Michael Floyd at No. 7 or a dynamic pass-rusher like Melvin Ingram of South Carolina. I'm still not convinced Justin Blackmon is worth a top-five pick. He has questions about his speed and size at the NFL level, and he benched a mere 14 reps at the combine.
Dallas Cowboys, No. 6: Morris Claiborne, CB, LSU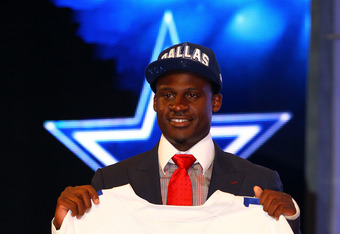 Al Bello/Getty Images
It wasn't a shock that Morris Claiborne was selected in the first few picks, but it was odd to see the Dallas Cowboys come out of nowhere and trade up to select him.
The Cowboys traded the 14th overall pick and the 45th overall pick to the St. Louis Rams to nab Claiborne. They do love top man-to-man corners, but I was expecting them to grab Alabama safety Mark Barron in the draft. Not a bad trade or pick at all, but it was a bit surprising. 
Buffalo Bills, No. 10: Stephon Gilmore, CB, South Carolina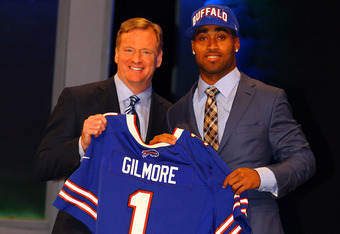 Al Bello/Getty Images
Most draft experts expected the Bills to grab a receiver or an offensive tackle at No. 10 overall. Instead, the Bills shocked everybody and drafted South Carolina cornerback Stephon Gilmore. I love Gilmore's game, so it doesn't bother me that the Bills selected him, but it was surprising they didn't draft for a different need.
Follow me on Twitter. We can talk about the 2012 NFL draft together.