Why Has Joe Girardi Shut Down the Yankees Running Game?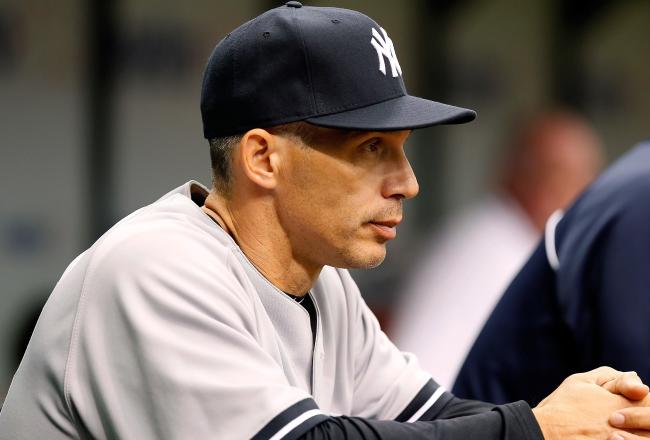 Joe Girardi needs to get the Yankees on the run
J. Meric/Getty Images
Women love the long ball.
But do managers have to also?
The sample is still small but it appears that Yankees manager Joe Girardi has become infatuated with bludgeoning opposing teams into submission instead of utilizing all the talents of his position players.
For example, Derek Jeter is batting over .400 this season, a renaissance year so far for the Yankees captain. But he has only one stolen base despite leading the American League in hits.
Curtis Granderson has slugged six home runs, but has yet to steal a base. He had 25 stolen bases in 2011.
Brett Gardner, who led the AL with 49 steals last season, is on the disabled list, but in nine games, he stole just two bases despite batting .321.
So what's going on here?
Girardi knows better. He played for Joe Torre, whose Yankees were adept at playing long ball or small ball.
They could hit-and-run, steal a base, in effect, manufacture runs, especially against top- flight pitchers who were stingy with hits and scoring opportunities.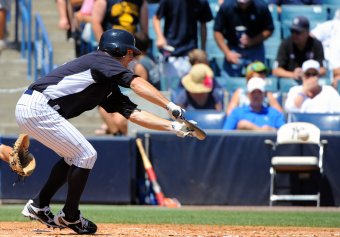 Brett Gardner can run, steal bases and move runners along with a bunt
Al Messerschmidt/Getty Images
Even the Texas Rangers, once known basically as the major league's version of a slow-pitch softball team, have found religion under Nolan Ryan.
The Rangers, who are the best team in baseball at the moment, can hit, run and pitch.
Why are the Yankees living almost solely by the long ball?
Perhaps management doesn't have a lot of confidence in the starting rotation and believes they will have to out-score most opponents.
The pitching problems, however, have been at the back end, where Freddy Garcia and Phil Hughes have flopped so far.
CC Sabathia, Ivan Nova and Hiroki Kuroda have been decent, if not lights out, and the bullpen has been solid.
Overall, the Yankees have a team ERA of 4.41 and WHIP of 1.41, which doesn't compare favorably to the Rangers, who have a 2.62 team ERA with a 1.08 WHIP.
Offensively, the Yankees are third in the AL with a team batting average of .279, 29 home runs and 98 runs scored. The Rangers lead the league with a .295 BA, 31 homers and 104 runs scored.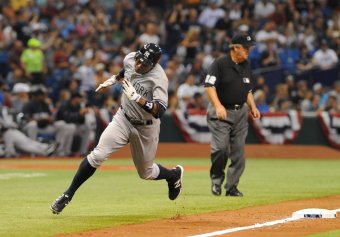 Curtis Granderson should utilize his speed more often
Al Messerschmidt/Getty Images
And let's face it, no matter how much the Yankees pad their stats against most AL teams, we will judge them against their potential playoff rivals. They are 0-3 against the Tampa Bay Rays and 1-2 against the Rangers.
Granderson, who has emerged as one of the more dangerous power hitters in the league, has had only five hits in 29 at-bats against the Rays, Red Sox and Rangers.
At least the Yankees have beaten the Red Sox twice, but Boston has some of the same issues as their hated rivals, with a horrible bullpen to boot.
More than once since the start of spring training, we have advocated that Girardi move Granderson permanently to the fifth or sixth spot in the lineup. That is the best place for him to utilize his power and run production.
But how can the Yankees give Jeter the steal sign or play hit-and-run with Granderson batting second against right-handers? He swings and misses way too often and would make Jeter a sitting duck on steal attempts.
If the Yankees want to maximize their offense, then put Gardner in the leadoff spot and slide Jeter to No. 2.
Also try to encourage their hitters to show some patience and work the count like Torre's Yankees did.
Case in point: Yu Darvish of the Rangers looks like the real deal, but he still throws a lot of pitches and has some control issues. He has walked 15 batters in 26 innings.
The Yankees, however, were unable to take advantage of that when they faced him in Texas.
Girardi needs to shake things up on offense, even though it has carried the Yankees so far.
Put Gardner at the top of the order when he returns. Bat Jeter second.
Put some pressure on starting pitchers who may be distracted enough to groove a pitch for A-Rod, Mark Teixeira, Robinson Cano and Granderson.
The home runs will come regardless.
This article is
What is the duplicate article?
Why is this article offensive?
Where is this article plagiarized from?
Why is this article poorly edited?

New York Yankees: Like this team?