OKC Thunder Playoffs Schedule 2012: Odds and Predictions for First Round Series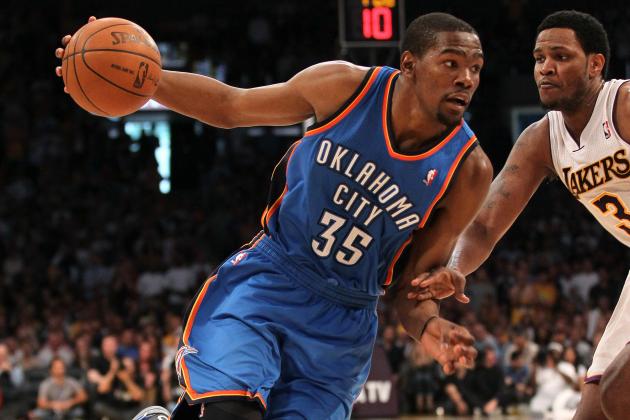 Stephen Dunn/Getty Images

The Oklahoma City Thunder will face off against the Dallas Mavericks in the first round of the 2012 NBA playoffs in a rematch of last year's Western Conference Finals. Whether or not this series will have a similar outcome to that one depends on a variety of factors.
Kevin Durant, Russell Westbrook and James Harden are a year older, while Dirk Nowitzki and his team are also a year older. That is a good thing for one of those teams and a bad thing for the other.
Here's everything you need to know about the Thunder's first-round matchup against Dallas.
First, the schedule:
Game 1 - Sat April 28, Dallas at Oklahoma City, 9:30 p.m., ESPN
Game 2 - Mon April 30, Dallas at Oklahoma City, 9:30 p.m., TNT
Game 3 - Thu May 3, Oklahoma City at Dallas, 9:30 p.m., TNT
Game 4 - Sat May 5, Oklahoma City at Dallas, 7:30 p.m., TNT/R
Game 5 * Mon May 7, Dallas at Oklahoma City, TBD
Game 6 * Thu May 10, Oklahoma City at Dallas, TBD
Game 7 * Sat May 12, Dallas at Oklahoma City ,TBD, TNT
Read on for more on this fascinating first round series.
Begin Slideshow

»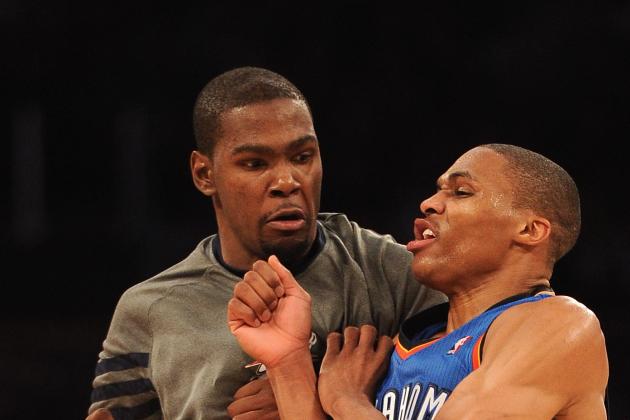 Harry How/Getty Images

This is the Oklahoma City Thunder. We all know who the superstars are and what they do.
Kevin Durant
Durant has just won a third straight scoring title and is the best pure scorer in the league. He showed last year that he has playoff-caliber leadership, and the development of his game in the areas of rebounding and passing have been very impressive this season. Durant clearly must shine in any playoff series the Thunder could ever hope to win.
Russell Westbrook
One of the biggest facets to the Thunder's offensive game is whether Westbrook is hitting shots. The young combo guard has taken major leaps and strides in his game this season, becoming an even better scorer. He's fifth in the league in scoring per game, and completes a duo with Durant that keeps both open more often than they would be alone. He needs to make shots and get to the rim.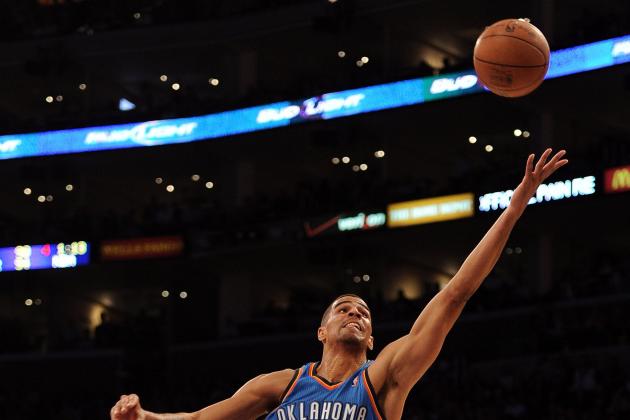 Harry How/Getty Images

Thabo Sefolosha is one of the least-talked about starters in the NBA. The 6'7" shooting guard has shown himself to be one of the most complete perimeter defenders in the game and has also greatly improved his three-point shot this season (shooting career-high 43 percent).
Sefolosha's ability to hit threes this season has helped spread the floor for the rest of the starters. The fact that he'll also be guarding the team's best perimeter scorer most of the time makes him incredibly important come playoff time. His defense and shooting will make the rest of the team's time on the court much easier.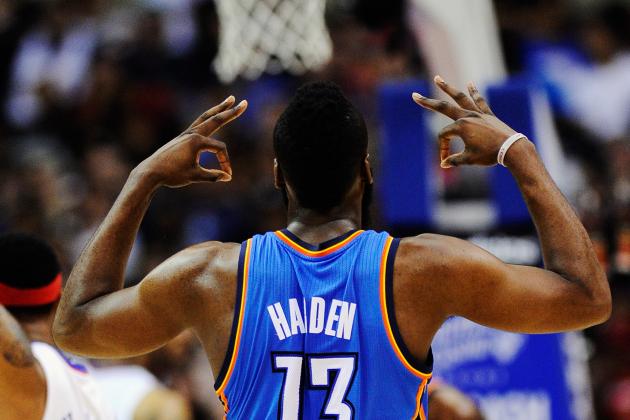 Kevork Djansezian/Getty Images

The best true playmaker on this team is actually James Harden. His ability to score, pass, defend and rebound is unmatched for any other sixth man in the league. The Thunder must let Harden run the offense late in games, especially in close playoff games.
Harden has a knack for getting good shots, either for himself or his teammates. He has developed a rapport with the second team players, especially Nick Collison, but it can also work with Russell Westbrook and Kevin Durant in the game. Harden will be the guy who can make this team work in the halfcourt.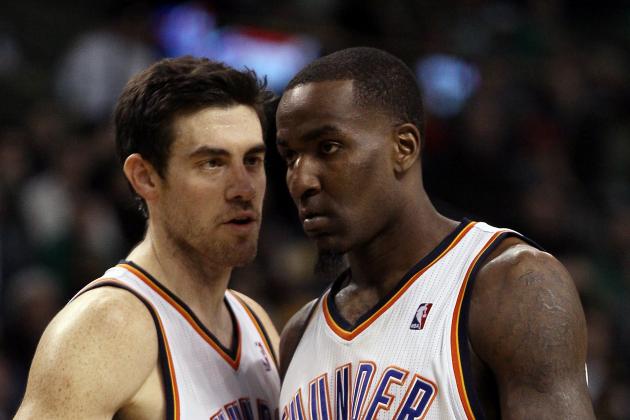 Elsa/Getty Images

In the Western Conference Finals last season, the Thunder really struggled to slow down Dirk Nowitzki from scoring, no matter who they threw at him. However, in their last few matchups, it seems like they have found a strategy.
Recently, they have allowed Kendrick Perkins to bang on Nowitzki while he was in the game. When he went out, Nick Collison came in to take Nowitzki. This allowed Serge Ibaka to roam and block shots as he normally does.
Obviously, Rick Carlisle will have some sort of response to this strategy, but it has proven effective, so it will probably be the way the Thunder go at least to start the series.
Pool/Getty Images

The biggest problem for the Oklahoma City Thunder in the first round will be stopping, or even slowing down, Dirk Nowitzki.
Last year, Nowitzki was a force of nature as he led his team to a championship. That included dispatching the Thunder in a mere five games. This year, Oklahoma City must do a better job of slowing his scoring down.
They do appear to have a defensive strategy that can work, but it will still be tough against a guy who causes the matchup problems that Nowitzki does.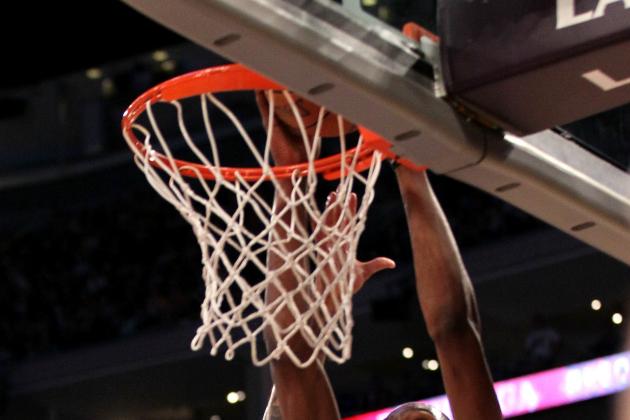 Stephen Dunn/Getty Images

NBA Finals Appearance
The Oklahoma City Thunder will get past the Dallas Mavericks and fight their way to a Western Conference championship, despite their youth and the question marks around their team.
However, this team will not win the Finals. It will be close and a good series, but the Thunder will ultimately fall short especially if it must face the Miami Heat.