2012 NFL Draft Predictions: Teams Who Will Make Huge Mistakes on Draft Day
April 26, 2012

Hannah Foslien/Getty Images
Many fans are already dreading the draft. These fans are not pleased with what they've been reading about their team's draft plans.
If you aren't a Giants fan, your team's season didn't end perfectly. You've waited almost three months only to hear that your team is about to make—what you believe is—a huge mistake.
If any of these three teams is your team—I don't blame you for being upset.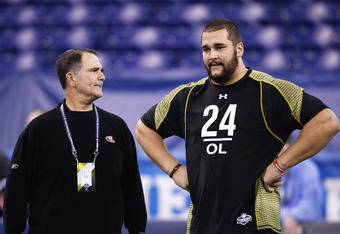 Joe Robbins/Getty Images
It appears the Vikings are having second thoughts about taking Matt Kalil with the third pick in the draft. Despite the fact that it makes sense, they are entertaining other options.
Generally, I'm a proponent of trading down, but not in this case.
The Vikings pass protection was horrible last season. They allowed 49 sacks, which was the sixth most in the NFL. It's pretty clear to see, this is where their biggest deficiency lies. 
Kalil is the undisputed best O-line prospect in the draft. This should be a no-brainer selection.
Most mock drafts have the Miami Dolphins taking Ryan Tannehill at No. 8. Both Todd McShay and Mel Kiper, Jr, of ESPN have Tannehill slotted for Miami.
In my opinion, this is a mistake.
I believe the Dolphins could get a QB of equal value in the second round.
If not then, they could go with what they have now at the position (Matt Moore and David Garrard), bolster other areas of need like WR, and go after Matt Barkley, Tyler Bray or Tyler Wilson in the 2013 draft.
Tannehill does not look like a franchise QB to me. His 15 INT in 2011 to only 29 TD on the college level scares me.
I believe the Browns should trade down in the first round. I don't think a team with as many holes as Cleveland should take a RB as high as No. 4. 
Yet, it seems the Browns are ready to pounce on Trent Richardson. I can't blame them for liking Richardson, he's a solid prospect. But it doesn't improve the team as much as a weapon in the passing game would.
The Browns do have the 22nd pick as well, per McShay, the Browns will look to Kendall Wright of Baylor.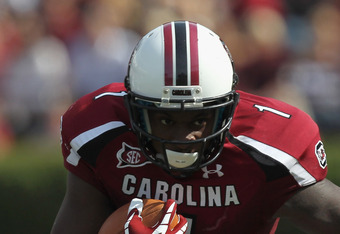 Streeter Lecka/Getty Images
I love Wright, and he certainly has the ability to stretch the field. But I think the Browns and other teams with a need for a WR will regret passing on Alshon Jeffery.
His size, speed and leaping ability is impressive. Plus, I think he has something to prove. When it's all said and done, Jeffery may be the best receiver in this draft.