NFL Draft 2012 Results: Live Pick-by-Pick Grades and Analysis for Day 1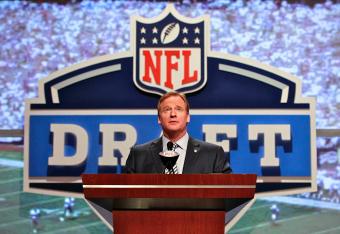 The 2012 NFL Draft has kicked off. You won't need to be anywhere else but right here for the entire first round tonight.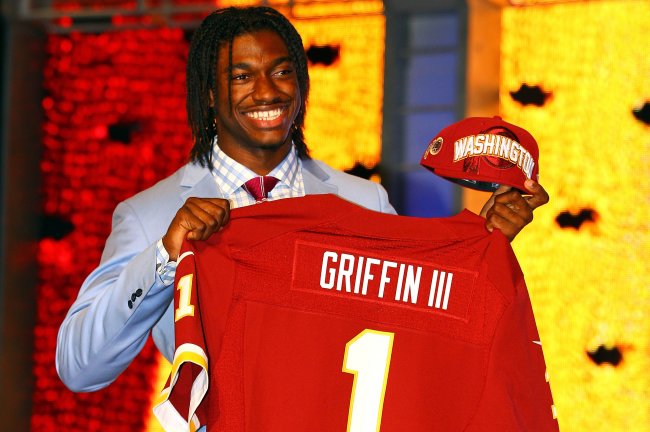 Al Bello/Getty Images
All right, ladies and gents, that'll do it for Round 1 of the 2012 NFL Draft.
Absolutely flew by.
Hope you had a lot of fun, I know I did. I'll admit, my fingers are tired. Just a little.
As we all thought, there was an abundance of surprises and a ton of trades that yielded one of the most entertaining first-rounds in quite a while.
Let your team's pick(s) sink in and get back here tomorrow, when I'll get the official Round 2 and Round 3 live blog started at 7 p.m. EST.
For any questions/comments or just if you want to share your opinion, follow me on Twitter @ChrisTrapasso. I'll be tweeting out some of my thoughts on everything that went down in the first 32 picks and what may happen in the second round.
Thanks for reading.
We've got six rounds left—which is totally awesome.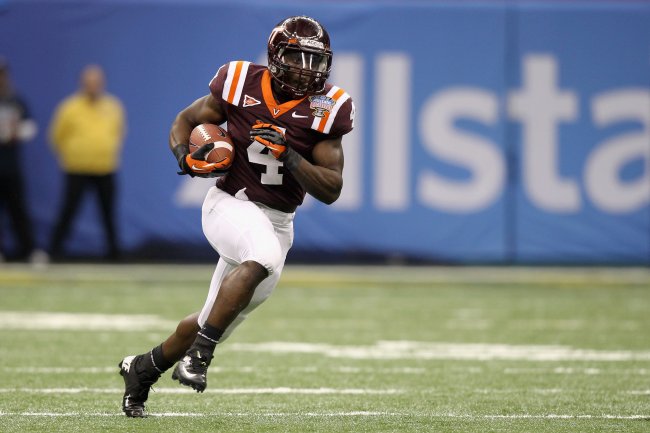 Matthew Stockman/Getty Images
No. 32: New York Giants - David Wilson, RB, Virginia Tech
The Giants needed to address their running game, especially with Brandon Jacobs gone and do so with Wilson.
Grade: B
Wilson's a speedy and surprisingly powerful runner who can outrun most defenders and typically leaves the others behind with lightning quick lateral moves.
He reminds me a lot of C.J. Spiller who took a little while to incorporate patience into his game at the pro level.
Exudes athleticism and will create a nice little partnership with Ahmad Bradshaw.
Virginia Tech running back David Wilson going here to the G-Men.
New York Giants on the clock.
Lamar Miller? Coby Fleener? Jonathan Martin?
Free fall of the year: Courtney Upshaw
Doug Pensinger/Getty Images
No. 31: Tampa Bay Buccaneers - Doug Martin, RB, Boise State
I'm a firm believer that you should always wait on running backs, but at No. 30, I'm OK with it.
Grade: A-
Martin's underrated, but simply goes to work everyday and produces. Martin's multi-faceted and although he's not a home-run hitter, he's deceptively agile and understands how to set up his blocks to burst long runs.
He and LaGarrette Blount formulate a nice tandem in Tampa Bay and Martin will be a great check-down option for Josh Freeman.
What is interesting is that Doug Martin would have been a nice fit in Denver, too.
Doug Martin to the Buccaneers. He and LaGarrette Blount. Exquisite.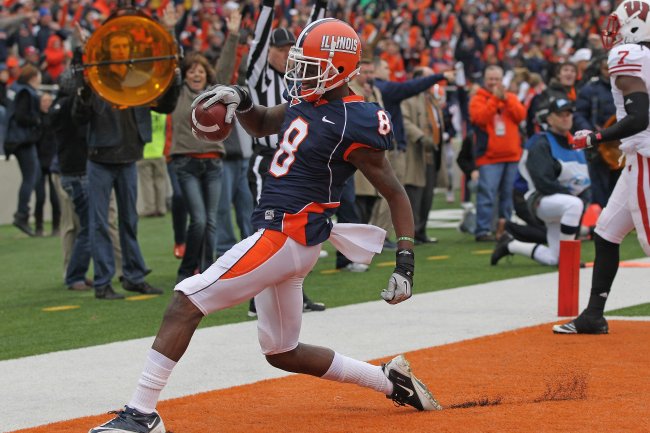 Jonathan Daniel/Getty Images
No. 30: San Francisco 49ers - A.J. Jenkins, WR, Illinois
A true sleeper although he wasn't projected by many to go in the first round.
Grade: B+
I really like Jenkins. Watch his tape. Really impressive. He's a speedster and has good size at 6'0'' and about 190 pounds. While he could add some bulk to his frame, he is great down the field, is a sharp route-runner and has fine hands.
Are the 49ers looking to become a pass-heavy team?
Mario Manningham, Randy Moss and now Jenkins all added this offseason.
Probably not, but they are more intimidating on the outside now, that's for sure.
Another trade. The Buccaneers have moved out of the first. The Denver Broncos who now hold the No. 31 overall selection.
Lightning speed tonight.
Looking like the speedy A.J. Jenkins, the receiver from Illinois to the San Francisco 49ers at No. 30.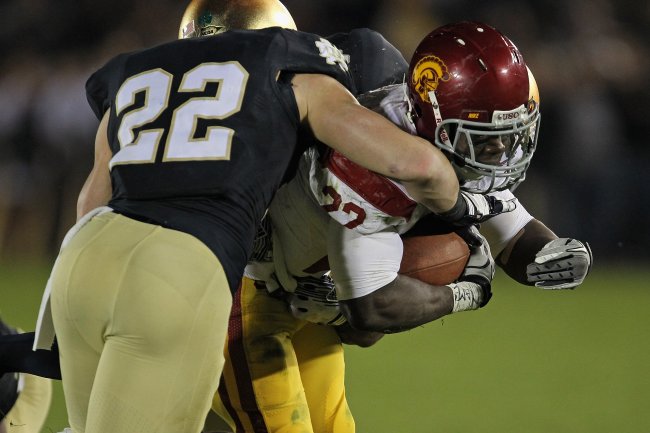 Jonathan Daniel/Getty Images
No. 29: Minnesota Vikings - Harrison Smith, S, Notre Dame
The Vikings made a bold move trading back into the first round and got a secondary member, something they really need.
Grade: C+
I'm not high on Smith, and don't believe he's worth a first-round selection. He's the second-best safety in a weak class and wasn't overly impressive in his final season with the Fighting Irish.
I do understand the Vikings' desperation that likely led to this choice. They do need to add more depth to their secondary playing in a division with Aaron Rodgers, Jay Cutler, and Matthew Stafford.
Seeing this Vikings pick will be Harrison Smith.
The Vikings have traded back into the first round by dealing their second-round pick and fourth-rounder to the Ravens. Who are they targeting? A wideout?
Sorry. Having a little problem loading pictures right now. Not purposely being this boring. Ha.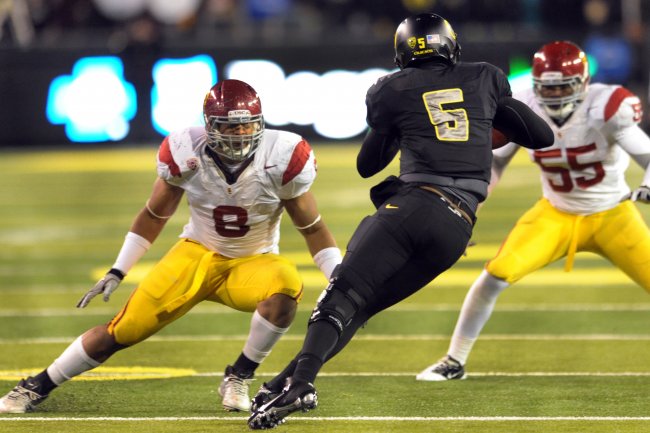 Steve Dykes/Getty Images
No. 28: Green Bay Packers - Nick Perry, DE/OLB, USC
Maybe I'm crazy, but I thought Perry was worth a top-15 pick. Nice pick by the 'Pack.
Grade: A
Perry's 6'3'' and 270 pounds and will significantly improve the team's pass-rush in the foreseeable future. Clay Matthews can't do it all. Playing on a Super Bowl contender under a great defensive coordinator will help Perry's transition to the league.
He could add more edge-rushing moves, but he'll be able to bull rush is way to the quarterback more often than many think.
Fills a need and represents great value.
Brilliant by Ted Thompson.
Green Bay Packers on the clock...
*Best Players Available*
Doug Martin – RB – Boise State

Nick Perry – DE – Southern California

Courney Upshaw — DE/OLB — Alabama
Lamar Miller – RB – Miami

Cordy Glenn – T/G – Georgia

Devon Still – DT – Penn State

Jonathan Martin – OT – Stanford

Peter Konz – C/G – Wisconsin

Stephen Hill – WR – Georgia Tech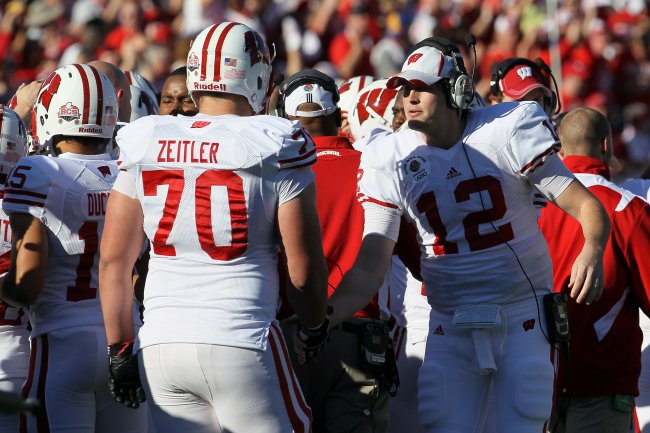 Stephen Dunn/Getty Images
No. 27: Cincinnati Bengals - Kevin Zeitler, G, Wisconsin
I always thought DeCastro would be a slam dunk for the Bengals, but their front office intelligently maneuvers back and still gets a sound guard prospect, something they need.
Grade: B+
Zeitler was one of the anchors on the most powerful offensive line in the country last year and can play in any scheme.
Playing in a division with attacking defensive lines of the Pittsburgh Steelers and Baltimore Ravens, the Bengals need a supremely talented and heady interior offensive lineman.
That's what they get with Zeitler.
Kevin Zeitler, the guard from Wisconsin is going to the Cincinnati Bengals at No. 27.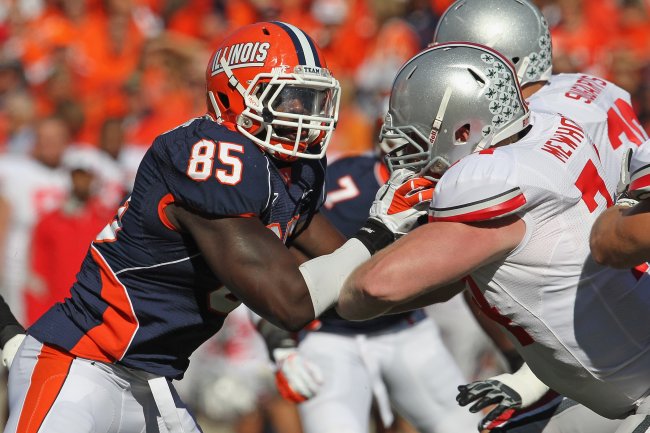 Jonathan Daniel/Getty Images
No 26: Houston Texans - Whitney Mercilus, DE, Ilinois
With Kendall Wright unavailable the Texans add to their already vaunted defensive line.
Grade: B
Mercilus was a one-year wonder at Illinois, but he did record 16 sacks and nine forced fumbles in 2011. After losing Mario Williams in free agency, they need another downhill pass-rusher and that's precisely what they'll get with the Fighting Illini star.
I guess they weren't as high on Coby Fleener as I thought.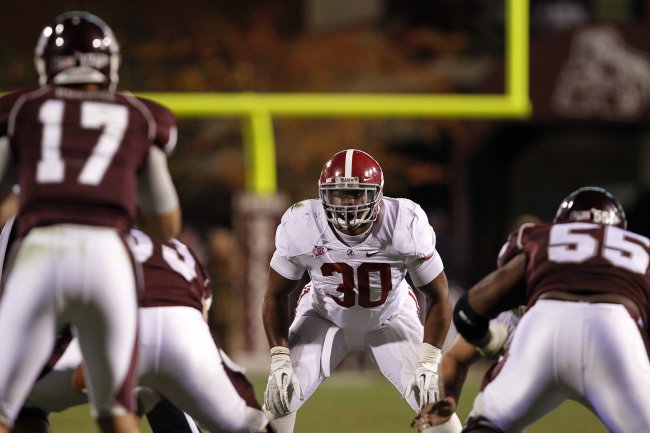 Butch Dill/Getty Images
No. 25: New England Patriots - Dont'a Hightower, LB, Alabama
The Patriots acquired this pick after another trade up, this time with the Denver Broncos.
Grade: B-
Hightower is a tremendous inside linebacking prospect and would be a Day 1 starter for a team with a hole at that position.
However, the Patriots have Brandon Spikes and Jerod Mayo.
I guess the thought was that there was no safety worth this pick and the top cornerbacks were gone. All of a sudden, New England has one of the better linebacker corps in the AFC.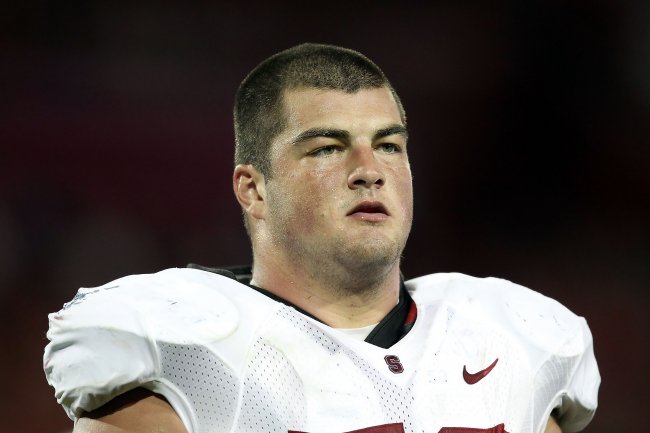 Christian Petersen/Getty Images
No 24: Pittsburgh Steelers - David DeCastro, OG, Stanford
My favorite offensive lineman in the 2012 class. A mauling guard who has a totally balanced game and is ready to be an All-Pro next year. No doubt in my mind.
Grade: A+
Outrageously amazing value here and he'll go a long way in protecting Ben Roethlisberger as well as paving huge holes in the run game.
Seeing that the Patriots will take Dont'a Hightower next at No. 25.
Can't say enough about the Steelers pick of David DeCastro. Awesome.
This article is
What is the duplicate article?
Why is this article offensive?
Where is this article plagiarized from?
Why is this article poorly edited?