2012 NFL Mock Draft: Fast Risers Worth a First-Round Selection
April 26, 2012
Streeter Lecka/Getty Images
The 2012 NFL draft is almost here, and the excitement is really starting to build for what will be a pivotal night for the future of many franchises.
There have been a number of players whose stocks are rising as we approach the start of the draft, so let's look at which one of them are worth a first-round pick in my final NFL mock draft.
1. Indianapolis Colts: Andrew Luck, QB, Stanford
The Colts are going to take Luck No. 1 overall, and according to ESPN, he will sign a four-year deal.
2. Washington Redskins (via STL): Robert Griffin III*, QB, Baylor
Griffin is a special player and is a tremendous passer who can also hurt defenses with his running ability in the open field.
3. Minnesota Vikings: Morris Claiborne, CB, LSU
The Vikings will shape the draft with their No. 3 pick, and I can't see them passing on an elite cornerback like Morris Claiborne.
4. Cleveland Browns: Ryan Tannehill, QB, Texas A&M
The Browns will take Tannehill and develop him as their franchise quarterback.
5. Tampa Bay Buccaneers: Matt Kalil, OT, USC
Kalil is a top-rated prospect who many believe will be a Pro Bowl caliber left tackle for at least 10 years.
6. St. Louis Rams (via WA): Trent Richardson, RB, Alabama
The Rams need to help quarterback Sam Bradford by giving him a talented young receiver or running back to have on offense next season.
7. Jacksonville Jaguars: Justin Blackmon, WR, Oklahoma State
Blackmon uses his route-running and good hands to make big catches in important times. He would be a good No. 1 option for Jaguars quarterback Blaine Gabbert.
8. Miami Dolphins: Melvin Ingram, DE/OLB, South Carolina
Ingram would give the Dolphins a much-needed pass-rusher in a division with several talented quarterbacks.
9. Carolina Panthers: Quinton Coples, DE, North Carolina
The Panthers could go defensive tackle here, but Coples has too much potential as a pass-rusher to pass on here.
10. Buffalo Bills: Luke Kuechly, ILB, Boston College
Kuechly would be a huge boost to a Buffalo Bills defense that already added star defensive end Mario Williams in free agency.
11. Kansas City Chiefs: Michael Floyd, WR, Notre Dame
Floyd will be the best receiver to come out of this draft and will be a playmaker for the Kansas City Chiefs.
12. Seattle Seahawks: Riley Reiff, OT, Iowa
The Seahawks will take Reiff as a stud right tackle even though they don't need to address that position in the first round.
13. Arizona Cardinals: Whitney Mercilus, OLB, Illinois
The Cardinals would love if Mercilus, who is one of the best defensive players in this class, is available to them at pick No. 13.
14. Dallas Cowboys: Mark Barron, SS, Alabama
Barron is a future star at safety and is the perfect draft pick for the Dallas Cowboys.
15. Philadelphia Eagles: Courtney Upshaw, OLB, Alabama
Upshaw isn't the most athletic pass-rusher in this class, but he has the strength needed to be solid against the run.
16. New York Jets: Dontari Poe, DT, Memphis
Dontari Poe is a fine choice for the Jets in their search for a franchise nose tackle.
17. Cincinnati Bengals (via OAK): Michael Brockers, DT, LSU
The Bengals could certainly use a defensive tackle who can stop the run and rush the pasher consistently.
18. San Diego Chargers: Jonathan Martin, OT, Stanford
With injuries to the offensive tackle positions over the last few years, Jonathan Martin is a great choice for the Chargers.
19. Chicago Bears: David DeCastro, G, Stanford
The Bears will take a defensive back or an offensive lineman with this pick, and David DeCastro is a star guard who will dominate for years to come.
20. Tennessee Titans: Stephon Gilmore, CB, South Carolina
The Titans need a physical cornerback to replace Cortland Finnegan, and South Carolina's Stephon Gilmore is perfect for that role.
21. Cincinnati Bengals: Dre Kirkpatrick, CB, Alabama
The Bengals defense would be greatly improved if it added a strong corner with good coverage skills like Dre Kirkpatrick.
22. Cleveland Browns (via ATL): Kendall Wright, WR, Baylor
Wright has slipped on my board over the last few weeks, but he will certainly be a quality NFL players given his athleticism and big-play ability.
23. Detroit Lions: Nick Perry, DE/OLB, USC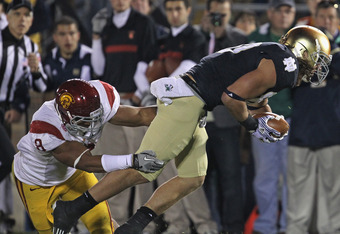 Jonathan Daniel/Getty Images
The Lions will probably covet a cornerback at this spot—such as Kirkpatrick or Gilmore—but Nick Perry of USC is a player rising up my rankings because of his versatility.
Perry can be an excellent pass-rusher as a defensive end or as a defensive tackle, which gives his team's defense several options.
His quick first step and good speed coming off the edge allows him to get to the quarterback, even against stronger players.
24. Pittsburgh Steelers: Jerel Worthy, DT, Michigan State
The Steelers defense is still a talented group, but it lacks young stars. Worthy would be a great addition to their defensive line.
25. Denver Broncos: Dont'a Hightower, ILB, Alabama
Hightower may slip out of the first round, but the Broncos might be enticed to see what he and star rookie from last year Von Miller can do together.
26. Houston Texans: Stephen Hill, WR, Georgia Tech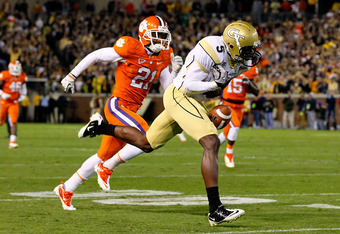 Kevin C. Cox/Getty Images
Stephen Hills is going to be a fantastic player in the NFL because of his ability to run great downfield routes and make big plays.
He didn't play with a ton of talent at Georgia Tech, but on a team with an elite passing offense such as the Texans, Hill would be a big contributor as a rookie.
Hill's speed and quickness will help him have success against NFL defensive backs.
27. New England Patriots (via NO): Peter Konz, C, Wisconsin
Konz is a very fundamentally strong center who can excel in both pass-protecting and run-blocking situations.
28. Green Bay Packers: Chris Polk, RB, Washington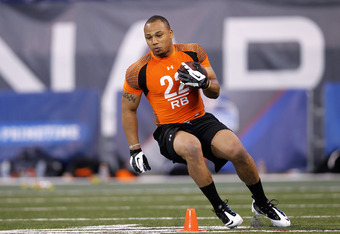 Joe Robbins/Getty Images
The Packers offense was phenomenal through the air last year, but the ground game wasn't good enough for a team with Super Bowl expectations.
Polk will make a difference as a rookie with his speed and his ability to find the running lanes and hit them.
Once he gets into the second level of the defense, his upper body strength allows him to fend off tacklers.
29. Baltimore Ravens: Andre Branch, DE, Clemson
It's time for the Ravens to re-stock their talented defense with athletic pass-rushers such as Andre Branch of Clemson.
30. San Francisco 49ers: Alshon Jeffery, WR, South Carolina
The 49ers should make Alshon Jeffery a first-round pick and hope he becomes the Pro Bowl receiver he has the potential to be.
31. New England Patriots: Cordy Glenn, OG/OT, Georgia
The Patriots would be smart to trade some of their higher draft picks and move up in the first round, but Cordy Glenn is a good option at pick No. 31.
32. New York Giants: Chase Minnifield, CB, Virginia
The Giants need more talent at defensive back and Chase Minnifield is someone who could be taken in the first round because of New York's need for cornerbacks.