San Antonio Spurs: Tony Parker Should Be in NBA MVP Race
April 26, 2012

Christian Petersen/Getty Images
While the entire sports world is busy battling over whether LeBron James or Kevin Durant should be the 2012 NBA MVP, I'm here to say the San Antonio Spurs' Tony Parker should get some strong consideration for the league's most prestigious award this season.
I understand everyone says LeBron will run away with the MVP, but I want to question something that most think it's already a done deal.
Before you get mad and stop reading, do understand this one thing I'm going to say, I'm not saying Tony Parker will win the MVP, I'm simply saying why he should win the MVP race. 
First and foremost, numbers don't tell the whole story—just a part of it.
James is averaging 27.1 points, 7.9 rebounds and 6.2 assists per game, shooting 53.1 percent from the field and has an eye-popping 30.8 player efficiency rating. But just because James' numbers are off the charts, it shouldn't automatically mean he's the MVP— James' teammate, Dwyane Wade, could probably chime in on this subject.
During the 2008-09 season, Wade had his best season of his career, not only did he lead the league in scoring (30.2 points per game), but he was also the leading force behind the Miami Heat renaissance from a 15-67 laughingstock just one year prior to a 43-39 record and a fifth seed in the playoffs.
Not only that, but Miami's second scoring option was a rookie from Kansas State named Michael Beasley who came off the bench and averaged 13.9 points per game (a 16.6 ppg difference).
That season was without a doubt Wade's best as a professional. Wade averaged 30.2 points, 7.5 assists, five rebounds and 2.2 steals and shot 49 percent from the field. But just because he had great numbers, it didn't guarantee him the MVP award.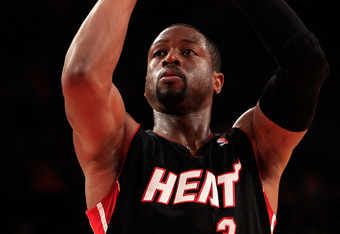 Chris Trotman/Getty Images
As history would have it, James won the MVP that year, although Wade clearly had the better numbers. This goes to show that having the best numbers doesn't simply guarantee being named MVP.
Second of all, Tony Parker has been the Spurs offense this entire season. 
In just 32 minutes a game, Parker is averaging 18 points, eight assists and three rebounds and has a PER over 22 as the main force behind the Spurs. San Antonio is the No. 1 seed in the Western Conference, even though everyone had already counted them out as too old.
But as you read this, all you are probably thinking is: Why does Parker still deserve to be in this conversation?
Well, it's simple. Kevin Durant has Russell Westbrook and James Harden as teammates who opposing teams also have to worry about defending. LeBron James has Chris Bosh and Dwayne Wade. Parker has Tim Duncan and, for just half the season, Manu Ginobili.
Everyone knows what the Spurs are going to do, run their offense right through Parker, and teams still can't seem to find a way to stop the Frenchmen.
Still not convinced? If you were to look at some of the marquee games the Spurs played this season, you would see Parker rose to the occasion and played like the MVP he is.
Furthermore, if you look at John Hollinger's projections for Parker before the season started, you will notice he is averaging more points and assists, a lower turnover percentage and a higher PER, while is usage rate is up. That's what I call efficient.
A player should be awarded the MVP Award not only because of how well he does in the season but also for how valuable he is to his team. Take James away from Miami, and the Heat will still have Wade and Bosh to hold down the fort. Same applies for the Oklahoma City Thunder team. But take Tony Parker away from the Spurs, and they would crumble to the ground. Parker is the glue that is holding the aging Spurs together. And this glue should be recognized.