2012 NFL Draft Order: Teams Looking to Trade Down
April 26, 2012

Brian A. Westerholt/Getty Images
Picking well in the NFL Draft can define a season and at times, define an entire franchise.
Sometimes that will mean successful drafting at what's in front of you on the board; other times that will mean trading around so that you get the best possible deal for the team.
Usually that involves trading up, but in some circumstances, teams can be better served by trading down from their original picks, so that they can fill their roster with more picks in other rounds and potentially even more picks in the future.
There's merit to it, if the right offer is available.
The 2012 NFL Draft is no exception—teams will be better served at times by trading down—and here's a couple of teams that would benefit from doing just that this year.
Minnesota Vikings — Pick No. 3
With Luck and Griffin all but assured as going No. 1 and No. 2, Minnesota's third pick is really the No. 1 pick in the draft this year now; it's the first chance teams have at making a play for a high pick.
The NFC North looks to be strong for several years to come and the Vikings have several needs to address. As a result, they could well take either Matt Kalil, Justin Blackmon or Morris Claiborne.
By trading their pick to a team that wants a higher look—such as Tampa Bay or Buffalo—the Vikings could still add quality defensive players to their roster whilst shopping around for strong picks later on in the Draft.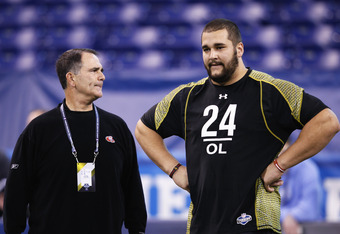 Joe Robbins/Getty Images
It's really not as crazy as it seems.
Cincinnati Bengals — Pick No. 17
With two picks in the first round, Cincinnati might be well served by looking around and seeing if they can get a good offer from a team wanting to snap up someone like Kendall Wright, Stephon Gilmore or Dre Kirkpatrick.
The Carson Palmer trade was good for a team that will enter 2012 fresh off a playoff berth.
A roster full of young and exciting talent as opposed to one or two great players could mean they enter as a genuine threat not just in the AFC North, but across the league.
St. Louis Rams — Pick No. 6
After trading away their No. 2 pick to the Washington Redskins, the Rams could well do the same thing with their No. 6 pick come draft time.
In addition to their first-round pick, they also hold picks No. 1 and No. 7 in the second round, as well as two first-round picks next year—great leverage to filling a depleted roster.
Whilst it's obvious that the Rams need a weapon for Sam Bradford, it's more apparent that they have gaping holes right across the board and the only way to fill those is by chalking up as many draft picks as possible.
Their No. 6 pick also puts them in a great position for a team after a player like Justin Blackmon, Michael Floyd or even Morris Claiborne—should he still be available.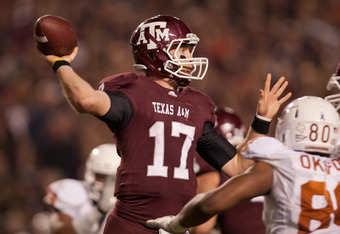 Darren Carroll/Getty Images
Jacksonville Jaguars — Pick No. 7
To some, Jacksonville trading away their No. 7 pick in the draft isn't going to come as that much of a shock—especially considering they've been discussing it with every GM in the league.

By moving down, the Jags would be able to inject more youth into their roster and turn an already strong defense into a real weapon within the AFC South.
Where do they go? Personally, I think they find themselves in the middle of a brilliant situation involving themselves, the Miami Dolphins and the Philadelphia Eagles.  
As it stands, they select before both the Eagles and the Dolphins. Miami wants Ryan Tannehill, but know that the Jaguars may want to nab the Texas A&M quarterback before them.
Thus, they could find themselves in a trade swap with Miami, leaving the Jaguars to draft Blackmon or Floyd—whichever is left available.
However, as mentioned before, Philly has its eyes set on Fletcher Cox, and they could find the Eagles trading up to them to make sure that they get him.
This is fine, but with the speculation surrounding Philly and Tannehill, Miami may well see this as the Eagles attempting to steal their quarterback before them.
All this means then is that the No. 7 pick is in high demand, and the Jaguars can just sit and sell it off to whoever the highest bidder is. Philly probably don't want Tannehill, but Miami can't be sure of that considering the talk that's already happened around it.
I think one way or another, the Jags end up trading their No. 7 pick purely because of the amount of picks they get offered in return for it. If they go with Miami, they'll be able to draft whoever they wanted to anyway.
If they go with Philly, they either head for Kendall Wright—which is still a great pick—or look towards adding some more strength to their already tough pass rush.
Either way, it's a win-win for the Jaguars, who will know the significance of having a young and strong roster, considering the dynasty that's looking to be built under Andrew Luck in their division.
Read more articles by Dan here — or  Follow @dantalintyre