2012 NFL Mock Draft: Huge First-Round Shocks and Surprises
April 26, 2012

Kevin C. Cox/Getty Images
The NFL draft begins in just a few hours and the first round is always full of shocking picks, monumental falls and crazy decisions by franchises.
This year's edition will be no different, of course, so let's take a look at the final 2012 first-round mock and try to best predict where each prospect will land.
1. Indianapolis Colts (2-14): Andrew Luck, QB, Stanford
Luck is going to be the No. 1 pick in the draft and the Colts have already informed him as such. No surprise whatsoever, he's been pegged to be picked here since before the college season even began.
2. *Washington Redskins (5-11): Robert Griffin III, QB, Baylor
Another non-shocking pick here. The Redskins mortgaged their future and went all in to trade with St. Louis for the No. 2 pick. They aren't selecting anyone but RGIII with it.
3. Minnesota Vikings (3-13): Matt Kalil, OT, USC
Pick No. 3 is where the real surprises can happen. Minnesota is interested in trading down and a lot of teams want to move up. Look for them to either swing a deal and add more picks and future value, or stand pat and take Kalil.
4. Cleveland Browns (4-12): Trent Richardson, RB, Alabama
The Alabama Crimson Tide RB should come off the board here because he's the best available player for the Browns' system. They need to put Colt McCoy in a position to succeed, so adding an All-Pro-caliber back is important.
5. Tampa Bay Buccaneers (4-12): Morris Claiborne, CB, LSU
Claiborne is the best available defensive player in this draft and has the look of a future shutdown corner in the NFL. The Buccaneers would be crazy not to get him if he slides here. 
6. *St. Louis Rams (2-14): Justin Blackmon, WR, Oklahoma State
While there has been talk of the Browns being interested in Blackmon, he's sliding to No. 6 in this mock. He's an elite receiver that will be the No. 1 option for the Rams by the end of his rookie year.
7. Jacksonville Jaguars (5-11): Melvin Ingram, DE, South Carolina
Jacksonville wants out of this pick but it's having trouble finding takers. Ingram is a nice pass-rusher that the Jaguars could definitely find a use for if they stay.
8. Miami Dolphins (6-10): Ryan Tannehill, QB, Texas A&M
Miami's offseason struggle to get a QB will finally end when it reaches for Tannehill with the No. 8 overall pick. It's generally a stupid move to get someone who is a major project this early, but the Dolphins have no choice.
9. Carolina Panthers (6-10): Luke Kuechly, LB, Boston College
This super instinctive linebacker will instantly boost Carolina's credibility as a run-stopping team. He can also guard TE's and play the pass well.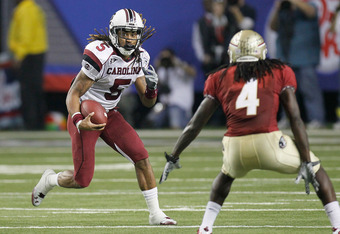 Kevin C. Cox/Getty Images
10. Buffalo Bills (6-10): Stephon Gilmore, CB, South Carolina
If Buffalo cannot trade up to get Kalil, it has lot of options. The best available one may be the Gamecocks CB. He's got everything a team desires and a lot of upside.
11. Kansas City Chiefs (7-9): David DeCastro, OG, Stanford
This is the best guard prospect to exit college in a long time. He'll be someone KC can install along the O-line immediately and not have to worry about replacing for years.
12. Seattle Seahawks (7-9): Quinton Coples, DE, UNC
Seattle's biggest need this offseason was a QB, which it filled with Matt Flynn. Now it's time to address need No. 2: pass-rusher. Coples has the most upside and could eventually become one of the premier QB hunters in the league.
13. Arizona Cardinals (8-8): Riley Reiff, OT, Iowa
Reiff is the second-best LT in this class and makes for a perfect fit in the desert. The Cardinals can't be having their QBs get destroyed like last year and need to open more lanes for Beanie Wells to find success.
14. Dallas Cowboys (8-8): Mark Barron, S, Alabama
Barron's a great safety prospect but he lacks in his ability to do one thing: cover. If he gets left out on an island with a receiver, he will be exposed. Dallas has to hope it can develop him quickly and improve his skills in that area.
15. Philadelphia Eagles (8-8): Fletcher Cox, DL, Mississippi State
Cox has incredibly versatility and the Eagles will snatch him up to fill their biggest need if he is available at No. 15.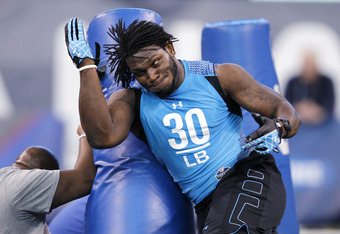 Joe Robbins/Getty Images
16. New York Jets (8-8): Courtney Upshaw, DE/OLB, Alabama
Rex Ryan's group needs a leader and a winner in their locker room. Upshaw possesses those qualities while being a feared pass-rusher as well.
17. Cincinnati Bengals (via OAK 8-8): Michael Floyd, WR, Notre Dame
Some scouts believe Floyd is the best receiver in the draft and just didn't have an elite QB to throw to him during his time at South Bend. He could definitely become one of Andy Dalton's favorite targets in Cincy and show how good he can be.
18. San Diego Chargers (8-8): Chandler Jones, DE/OLB, Syracuse
As the brother of UFC star Jon "Bones" Jones and Ravens defensive lineman Art Jones, this kid comes from a family of athletes.
The Chargers need a freak like him to come in and fill the hole at OLB as well as become someone who can get a hit on Peyton Manning when he drops back in their two battles this season.
19. Chicago Bears (8-8): Nick Perry, DE, USC
Perry is a super athletic lineman that will help get to the QB. He'd be great paired with Julius Peppers and could become one of the more formidable pass-rushing duos in the league.
20. Tennessee Titans (9-7): Michael Brockers, DT, LSU
Brockers is all over the draft boards because of his immense upside but limited film on the kid. He's got the size and the strength to succeed, he just needs to find the skills.
21. Cincinnati Bengals (9-7): Dre Kirkpatrick, CB, Alabama
Kirkpatrick is the top corner remaining and can do everything required of a top-flight defensive back. His immense size will allow him to lock down any receiver in this league.
22. Cleveland Browns (via ATL 10-6): Kendall Wright, WR, Baylor
If Cleveland takes Richardson at No. 4, adding a top-flight receiver like Wright would be the perfect compliement at No. 22. This kid has some excellent speed and good hands.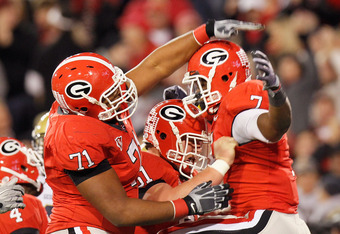 Kevin C. Cox/Getty Images
23. Detroit Lions (10-6): Cordy Glenn, OL, Georgia
Glenn fills a position of need for Detroit and will help keep Matthew Stafford and Jahvid Best protected. The Lions simply cannot afford more injuries to either player.
24. Pittsburgh Steelers (12-4): Dont'a Hightower, LB, Alabama
The Crimson Tide backer is big, mean and physical. He has every tool an elite LB requires except sideline-to-sideline speed. He won't need much of that if he's crushing guys in the middle and getting into the backfield. 
25. Denver Broncos (8-8): Stephen Hill, WR, Georgia Tech
With Peyton Manning now under center in the Mile High, adding a freak athlete for him to throw to should be a priority. Hill is the best receiving prospect available this late and his huge size and speed will be appreciated by Manning.
26. Houston Texans (10-6): Dontari Poe, DT, Memphis
Poe is a nice nose tackle that fits in with the 3-4 scheme in Houston. He can clog lanes and hog blockers.
27. New England Patriots (via NO 13-3): Shea McClellin, DE/OLB, Boise State
McClellin is a solid pass-rusher out of Boise who can play multiple positions. New England needs a versatile player like this kid.
28. Green Bay Packers (15-1): Whitney Mercilus, DE/OLB, Illinois
Mercilus had a great year with the Illini but needs to prove he can play like that consistently. Ultimate boom-or-bust selection right here.
29. Baltimore Ravens (12-4): Jonathan Martin, OT, Stanford
Martin has fell a bit because of a subpar pro day, but he's still got first-round talent and the Ravens need some youth along their line.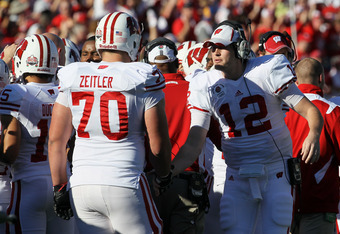 Stephen Dunn/Getty Images
30. San Francisco 49ers (13-3): Kevin Zeitler, OG, Wisconsin
Zeitler is the best available player at a position the 49ers cannot afford to ignore any longer.
31. New England Patriots (13-3): Kendall Reyes, DT, Connecticut
Reyes can play a few different positions on the line and projects to eventually become a solid pass-rusher. Another versatile pick that can knock the QB down for the Pats.
32. New York Giants (9-7): Coby Fleener, TE, Stanford
Fleener has sub-4.5 40-yard dash speed and a good set of hands. Perfect pick for the defending champs.