2012 NFL Mock Draft: Final 2-Round Projection
April 26, 2012

We've waited…well, I know I've waited…months for this day.
It's Christmas in April: the NFL Draft is finally here. I've submitted a new mock every Thursday for the past few weeks, and there are several key changes in this edition, my final mock for 2012. There are several projected "risers" like Shea McClellin and Fletcher Cox, as well as a couple "first-round" guys falling out of round one.
Although it will likely go out the window once the first team trades its pick, here is a look at my final two-round projection.
Thanks for checking it out, and enjoy tonight's draft!
1. Indianapolis Colts: QB Andrew Luck, Stanford
No change at the top, and there really shouldn't be…because it's a done deal. I'm not going to waste anyone's time explaining why the Colts should take Luck. It's an easy choice. Luck is the best quarterback prospect since his predecessor in Indianapolis, Peyton Manning.
2. Washington Redskins: QB Robert Griffin III, Baylor (From St. Louis)
No change here either; the Redskins will get to the podium with their pick as fast as Robert Griffin ran the 40-yard dash: 4.41 seconds. It's been said that "RG3" will replace "RG 3-and-out" as Washington's starting quarterback and that he will. Griffin will finally give Redskins fans a reason to be excited.
3. Minnesota Vikings: CB Morris Claiborne, Louisiana State
The Vikings could really throw everyone's projection out the window here. Outside of Trent Richardson, every one of this draft's elite players would fill a position of need.
I've said all along that Minnesota would be better off taking Claiborne at three and addressing its need at left tackle or wide receiver at the top of the second round. I think their ideal situation would be to trade with Tampa Bay and move down to five, and then select Kalil, Claiborne, or Blackmon.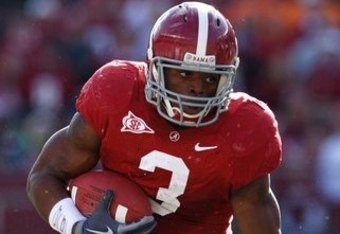 4. Cleveland Browns: RB Trent Richardson, Alabama
I usually don't like projecting a running back this early in the draft; however, Trent Richardson is special. The Browns will take him if he's on the board, and the only way he's not available is if someone trades up to Minnesota's spot at number three. Richardson is Cleveland's guy.
5. Tampa Bay Buccaneers: LB Luke Kuechly, Boston College
In a division against Drew Brees and Cam Newton, Tampa Bay would love to get Morris Claiborne; however, I think Claiborne goes third to Minnesota. Even more than Claiborne, I think the Bucs would love to add Trent Richardson, but again he's already off the board.
If either Claiborne or Richardson is available, that will be the pick; however, if both are gone, then I think they'd take Luke Kuechly or even Mark Barron over Blackmon or Kalil. If the board falls this way, look for Tampa to swap picks with Jacksonville to ensure Justin Blackmon to the Jaguars, and then the Buccaneers could grab Kuechly, Gilmore or Barron at seven.
6. St. Louis Rams: OT Matt Kalil, Southern California (From Washington)
I think Justin Blackmon and Fletcher Cox would still be in consideration for the Rams in this scenario, but Kalil has too much value to pass up if he's available. They grab Kalil here, and then focus on wide receiver and defensive tackle at the top of round two. There will be starting-caliber players at those positions in the second-round, but there won't be another Matt Kalil.
7. Jacksonville Jaguars: WR Justin Blackmon, Oklahoma State
Jacksonville could go several different ways with this pick. They could give Blaine Gabbert a new wide receiver, they could grab CB Stephon Gilmore, or they could grab a top defensive lineman, either Melvin Ingram or Fletcher Cox. If Blackmon makes it past the Rams, then Jacksonville needs to take him.
I have a feeling Jacksonville will be trading the seventh pick, either moving up for Blackmon or moving down for somebody else. We'll soon see.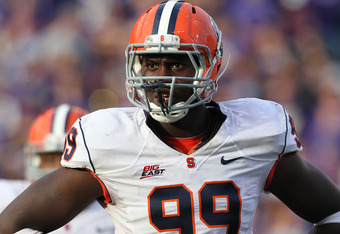 8. Miami Dolphins: QB Ryan Tannehill, Texas A&M
The Dolphins need a quarterback; both Matt Flynn and Peyton Manning turned them down this summer. They were spurned by Jim Harbaugh last offseason, and again snubbed by Jeff Fisher this spring, when he took the same job in St. Louis. Fortunately for Miami, the Dolphins will draft Tannehill, and he won't have the option of rejecting them. He's the obvious pick.
9. Carolina Panthers: DT Fletcher Cox, Mississippi State
The Panthers could grab Stephon Gilmore here to strengthen their pass defense in a pass-happy division, or they could beef up their defensive line with Fletcher Cox. Cox's stock is flying high right now, and he could come off the board as high as seventh to the Rams.
However, if Cox is off the board, a dark-horse pick for the Panthers is Boston College LB Luke Kuechly. I think this pick is between Cox, Kuechly and Quinton Coples, but Cox is the safest pick of the three.
10. Buffalo Bills: WR Michael Floyd, Notre Dame
I had Riley Reiff penciled in to the Bills for a while, but ultimately I think Buffalo needs another legit playmaker on the perimeter more than they need an offensive lineman. Buffalo has a pair of good running backs in Fred Jackson and C.J. Spiller, and adding Floyd would give the Bills a dynamic duo at receiver. Then again, don't be surprised if Mark Barron or Stephen Gilmore goes here.
11. Kansas City Chiefs: S Mark Barron, Alabama
On paper, Mark Barron and Eric Berry appear to have the potential of being the best safety tandem in the NFL. With Peyton Manning in the Chiefs' division now along with Philip Rivers and the Chargers, Kansas City will need to load up on defensive backs. If he's available, I'm pretty confident that Luke Kuechly will go to Kansas City; it just seems like a perfect fit.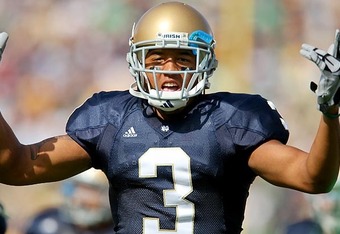 12. Seattle Seahawks: DE Melvin Ingram, South Carolina
The Seahawks have quietly built a really solid defense, and I think they're another edge-rusher away from being an elite defensive unit. Melvin Ingram is a top-ten talent in my opinion, and Seattle would be getting a great value if he falls to 12.
Ingram on the opposite side of Chris Clemons would give Arizona a great pass-rushing duo. Imagine a four-man front on passing downs featuring Clemons and Ingram on the outside, with Jason Jones and Red Bryant in the middle. Scary.
13. Arizona Cardinals: OG David DeCastro, Stanford
Arizona simply needs to improve its offensive line. It's not a good sign when you're forced to re-sign Levi Brown to keep your line from tearing at the seams. David DeCastro seems to be one of the "safest" picks in the draft.  Adding him to the interior of the line would vastly improve one of the worst offensive lines in the NFL.
14. Dallas Cowboys: DE Michael Brockers, Louisiana State
If he's available, there's no question in my mind as to who Dallas will draft at 14: it will be Mark Barron. Brodney Pool is nothing more than "another guy" for the Cowboys, and they'll surely be in the market for a playmaker in the defensive backfield.
However, with Barron already off the board, I believe the Cowboys would look to address their defensive line. The pick could come down to Brockers, Quinton Coples or Dontari Poe, but I think Brockers would be the smartest pick here. The Cowboys had success last year in selecting a very young player in OT Tyron Smith, and they'll hope for a similar result in 2012.
15. Philadelphia Eagles: CB Stephon Gilmore, South Carolina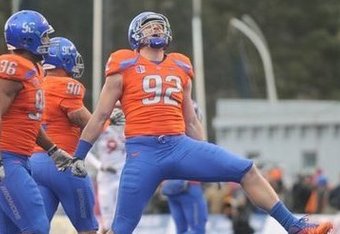 Gilmore's draft-day fall ends in Philadelphia. While Dontari Poe was the "hot name" for the majority of the offseason due to an incredible combine performance, no player's stock has risen as much as Stephon Gilmore's. He's being mentioned as potential top-ten pick, and if the Eagles can trade Asante Samuel, Gilmore would instantly become one of the best slot corners in the league.
I think the Eagles will focus on defensive tackles, but they'd snatch Gilmore up in a heartbeat if they have the chance.
16. New York Jets: DE Quinton Coples, North Carolina
Throughout the draft process, the Jets have been one of the harder teams for me to project. They could really use Mark Barron, especially in a division against Gronkowski and Hernandez, but he definitely won't be there. They could use an outside linebacker, a wide receiver…they could go several directions.
I wouldn't be surprised if they grabbed Riley Reiff here, but Quinton Coples could provide a much-needed pass rush. His best position may be 4-3 defensive end, but Rex Ryan would get creative in finding ways to get Coples on the field.
17. Cincinnati Bengals: DE Chandler Jones, Syracuse (From Oakland)
Cincinnati has a priority on improve its running game. With no adequate value at running back here, I think David DeCastro would be the perfect pick for the Bengals. However, DeCastro is already off the board so the Bengals are forced to look elsewhere.
With the additions of Terence Newman and Jason Allen to a corps that already featured Leon Hall and Pacman Jones, the Bengals appear in good shape at the cornerback position. Chandler Jones is a "hot name" in this year's draft, and Cincinnati could benefit from adding a feared pass rusher.
18. San Diego Chargers: OT Riley Reiff, Iowa
The Chargers could use help on the offensive line, at wide receiver, cornerback or in their defensive front seven. Having added Jarrett Johnson to an outside linebacker corps that featured Shaun Phillips, Antwan Barnes and former first-round pick Larry English, there's a less glaring need at the position.
The jobs of both A.J. Smith and Norv Turner are on the line, and they'll be looking to hit it big in the draft. Riley Reiff has been mentioned as high as 10th to Buffalo, so the Chargers would be very fortunate to get him with the 18th pick.
19. Chicago Bears: DE Whitney Mercilus, Illinois
With Julius Peppers on one side, the Bears would love to find a similar pass rusher to play on the other end. Just down the street, Whitney Mercilus led the NCAA in sacks last season for the Fighting Illini. If Brockers is available, he could be the pick. The Bears could also look to add an offensive lineman or a wide receiver; however, Mercilus seems like a good fit for Chicago.
20. Tennessee Titans: DE/OLB Shea McClellin, Boise State
Here's a pick that will surely get a couple whats and wows on draft night, but Shea McClellin will be drafted higher than most people think. Despite already adding Kamerion Wimbley this offseason, the Titans' pass rush was non-existent in 2011, and McClellin would provide some pressure as a rookie.
Some teams consider him as a potential defensive end, strongside or middle linebacker in a 4-3, while others see him as 3-4 outside linebacker. That tells you one thing: the kid is versatile. The Titans will consider a cornerback if one is a good option is available, but don't be shocked if you hear Peter Konz's name associated with the Tennessee Titans.
21. Cincinnati Bengals: OG Cordy Glenn, Georgia
A.J. Green did nothing to diminish the Bengals' attitude towards players from Georgia, and Cordy Glenn could become the next Bulldog-turned-Bengal this week. Glenn would instantly become a starter at guard for Cincinnati, and he'd help improve an already solid offensive line.
I firmly expect Cincinnati to grab a lineman with one of their first-round picks, and they know that if they don't take Glenn here, then division rival Cleveland probably will with the next pick.
22. Cleveland Browns: LB Dont'a Hightower, Alabama (From Atlanta)
To me, this seems like a trade spot. I feel like the Browns need to acquire as many picks as possible, and a team like Green Bay or New England may look to trade up for a pass rusher here. If the Browns stay here, I think they'd be wise to grab the best player regardless of position.
Suspensions from the Saints' bounty-gate scandal still haven't gone public, but Scott Fujita could be out for a while. Even if he's not, he's nothing more than average as the Browns' strongside linebacker. Dont'a Hightower is a versatile player capable of playing multiple positions, and he can rush the passer on third downs.
23. Detroit Lions: CB Dre Kirkpatrick, Alabama
The Lions are a team that has been able to look past character concerns, and they're desperate for a cornerback since Eric Wright signed with Tampa Bay, and they have to play against Aaron Rodgers twice a year. Detroit will look at cornerback or offensive tackle with this pick; if Kirkpatrick is off the board, it wouldn't shock me if the Lions took Janoris Jenkins here despite serious concerns about his character.
24. Pittsburgh Steelers: DT Dontari Poe, Memphis
Dont'a Hightower has been my projection for the Steelers for the entire offseason, but with him and Cordy Glenn already off the board, Pittsburgh will go another direction. I think the Steelers would be wise to address the offensive line and not simply rely on Big Ben's big frame to hold up to the constant battering from opposing defenses. Despite testing positive for marijuana, I think Adams comes off the board in the first round. He'd be a good pick for Pittsburgh.
25. Denver Broncos: DT Jerel Worthy, Michigan State
I think Denver will surely go defense at this spot. They could move up for Brockers or hope Dontari Poe falls to them at 25; however, Worthy is a good player and he's "worthy" of a top-25 selection. He'd be asked to fill the void left by Brodrick Bunkley, who left the team this offseason. If Dre Kirkpatrick were to fall here, I think Denver would give him strong consideration as well.
26. Houston Texans: WR Kendall Wright, Baylor
Despite concerns about a slow 40-time at the combine and a relatively high percentage of body-fat, Kendall Wright's game film suggests he's a first-round pick. The Texans are in the market for a vertical threat to play alongside Andre Johnson. With big receivers such as Kevin Walter and Jacoby Jones already in the fold, Houston opts for the smaller and quicker Wright over Stephen Hill or Rueben Randle.
27. New England Patriots: DT Kendall Reyes, Connecticut (From New Orleans)
New England could use help at every level of its defense; they could use a pass rusher, a run stuffer, a rangy linebacker or a ball-hawking defensive back. I fully expect the Patriots to trade out of one of their two spots, if they don't trade up for Alabama safety Mark Barron.
If they keep the 27th pick, the Patriots will address one of their many defensive needs. A captain at Connecticut capable of playing end a 3-4 or tackle in a 4-3, Reyes is the type of player that Bill Belichick loves.
28. Green Bay Packers: OLB Courtney Upshaw, Alabama
Armed with 12 picks, I think it's more likely than ever that Ted Thompson would consider trading up in the early rounds. I strongly believe Green Bay would love to add Boise State OLB Shea McClellin at 28, but I no longer believe he'll be available.
Moving up for McClellin is an option, but the Packers will get a good player if they stay put. I think Courtney Upshaw provides too much value for Green Bay to pass up at 28. While he's not as versatile as McClellin, he'd be great at setting the edge in the run game, which is exactly what Erik Walden couldn't do in 2011.
29. Baltimore Ravens: C Peter Konz, Wisconsin
The best center in this year's class, Peter Konz, has drawn comparisons to Matt Birk. If the pieces fall a certain way, Konz could join Birk as his understudy in Baltimore. The Ravens don't have many glaring needs, so they can afford to take the best player available; however, with Birk in the twilight of his career, Konz would provide insurance and stability to the position.
30. San Francisco 49ers: OG Kevin Zeitler, Wisconsin
Entering the offseason, the 49ers had a huge need at wide receiver. After adding Mario Manningham and Randy Moss, that need is no longer quite as glaring. With the 30th pick in the draft, San Francisco could be in position to draft one of the top interior linemen in the draft.
Midwestern State's Amini Silatolu and Wisconsin's Kevin Zeitler are borderline first-round guards, and the 49ers are the most likely landing spot if either player is going to crack round one. It seems like there's always one "shocker" towards the end of the first round, and I think Zeitler could be this year's surprise.
31. New England Patriots: DE Nick Perry, USC
As I said before, I fully expect the Patriots to trade one of their first-round picks; however, I don't project trades in my mock draft. If they keep both picks, I think they will focus on the defensive side of the ball. Nick Perry tested off the charts at the combine, and he'd instantly become New England's most feared pass rusher. Reyes and Perry would fill two glaring needs in the first round.
32. New York Giants: RB Doug Martin, Boise State
I had Coby Fleener projected to the Giants for a while, which would be another piece in an unusual love triangle-ish-type thing. Peyton Manning leaves Indy for Denver to unite with Stanford alum John Elway, Indy replaces Manning with Stanford QB Andrew Luck, and Peyton's brother Eli could potentially get a new toy in the form of his brother's replacement's tight end at Stanford, Coby Fleener. Got all that?
Anyways, the Giants are in a good position here, as most teams picking 32nd usually are. They don't have many holes on their roster, but with losing Brandon Jacobs to the 49ers and with the injury concerns surrounding Ahmad Bradshaw, Doug Martin seems like a good fit for the Giants. I'm a big fan of Martin; I think he's something between Ray Rice and Mark Ingram.
ROUND 2
33. St. Louis: WR Stephen Hill, Georgia Tech *1st) OT Kalil
34. Indianapolis: TE Coby Fleener, Stanford *1st) QB Luck
35. Minnesota: WR Rueben Randle, Louisiana State *1st) CB Claiborne
36. Tampa Bay: RB David Wilson, Virginia Tech (From Washington) *1st) LB Kuechly
37. Cleveland: QB Brandon Weeden, Oklahoma State *1st) RB Richardson, LB Hightower
38. Jacksonville: OT Jonathan Martin, Stanford *1st) WR Blackmon
39. St. Louis: DT Devon Still, Penn State *1st) OT Kalil, 2nd ) WR Hill 
40. Carolina: CB Janoris Jenkins, North Alabama *1st) DT Cox
41. Buffalo: OT Mike Adams, Ohio State *1st) WR Floyd
42. Miami: S Harrison Smith, Notre Dame *1st) QB Tannehill
43. Seattle: LB Lavonte David, Nebraska *1st) DE Ingram
44. Kansas City: OG Amini Silatolu, Midwestern State *1st) DB Barron
45. Dallas: OLB Andre Branch, Clemson *1st) DE Brockers
46. Philadelphia: LB Mychal Kendricks, California (From Arizona) *1st) CB Gilmore 
47. New York Jets: WR Alshon Jeffery, South Carolina *1st) DE Coples
48. New England: CB Trumaine Johnson, Montana (From Oakland) *1st) DT Reyes, DE Perry
49. San Diego: CB Josh Robinson, Central Florida *1st) OT Reiff
50 Chicago: OT Bobby Massie, Ole Miss *1st) DE Mercilus
51 Philadelphia: DT Derek Wolfe, Cincinnati *1st) CB Gilmore, 2nd) LB Kendricks
52. Tennessee: LB Bobby Wagner, Utah State *1st) DE/OLB McClellin
53. Cincinnati: WR Brian Quick, Appalachian State *1st) DE Jones, OG Glenn
54. Detroit: DE Bruce Irvin, West Virginia *1st) CB Kirkpatrick
55. Atlanta: DE Vinny Curry, Marshall
56. Pittsburgh: OT Jeff Allen, Illinois *1st) DT Poe
57. Denver: LB Zach Brown, North Carolina *1st) DT Worthy
58. Houston: DT Brandon Thompson, Clemson *1st) WR Wright
59. Green Bay: RB Chris Polk, Washington *1st) OLB Upshaw
60. Baltimore: WR Mohamed Sanu, Rutgers *1st) C Konz
61. San Francisco: CB Brandon Boykin, Georgia *1st) OG Zeitler
62. New England: RB LaMichael James, Oregon *1st) DT Reyes, DE Perry, 2nd) CB Johnson
63. New York Giants: S Brandon Taylor, Louisiana State *1st) RB Martin