Jazz vs. Spurs: TV Schedule, Live Stream, Odds and More for Opening Series
April 26, 2012

Kevin C. Cox/Getty Images
For the second consecutive season, the San Antonio Spurs are the top seed in the Western Conference, and they will be faced with the task of eliminating the pesky Utah Jazz. The Spurs learned firsthand last year that being a top seed means nothing, as they were knocked out by the upstart Memphis Grizzlies.
This season has had a different feel, however, as the Spurs have been able to stay healthy and manage the minutes of their big three, which includes Tony Parker, Tim Duncan and Manu Ginobili. San Antonio has incredible depth, which served them well during the regular season and should continue to do so.
The Jazz were involved in a tough battle all season long, but they were finally able to secure the No. 8 seed. They obviously have an uphill battle against the Spurs, but simply being in the tournament means they have a chance. Utah isn't without holes, but the combination of Al Jefferson and Paul Millsap in the paint gives the Jazz a puncher's chance.
Here is everything you need to know about the first-round series between the Spurs and Jazz, with more information forthcoming as it becomes available.
Where: AT&T Arena in San Antonio, Texas and EnergySolutions Arena in Salt Lake City, Utah
When: Begins Sunday, April 29 at 1 p.m. ET
Watch
Game 1 - Sun. April 29, Utah at San Antonio, 1 p.m. ET, ESPN
Game 2 - Wed. May 2, Utah at San Antonio, 7 p.m. ET, TNT
Game 3 - Sat. May 5, San Antonio at Utah, 10 p.m. ET, TNT
Game 4 - Mon. May 7, San Antonio at Utah, TBD
Game 5 * Wed. May 9, Utah at San Antonio, TBD
Game 6 * Fri. May 11, San Antonio at Utah, TBD
Game 7 * Sun. May 13, Utah at San Antonio, TBD
*If necessary
Live Stream: NBA League Pass
Listen: KFAN 1320 AM (Utah) and KTKR 760 AM (San Antonio)
Spread Info: TBA
Jazz Key Injuries (According to CBS Sports)
Out: PG Earl Watson (knee)
Questionable: SG Raja Bell (knee), SF C.J. Miles (calf)
Spurs Key Injuries (According to CBS Sports)
No Injuries to Report
What They're Saying
Despite the fact that the Spurs once again earned the No. 1 seed in the Western Conference this season, players, coaches and fans alike are quite wary of the threat the Jazz pose. San Antonio was in this same position last season, but was ousted by the Memphis Grizzlies.
Veteran forward Tim Duncan certainly hasn't forgotten about that, and he will use it as motivation to do better this time around, according to the Associated Press.
It's great to be in that situation, but as we showed last year, someone can sneak up and take you out easily. Hopefully we get a much better effort this year and do a much better job this year, and we stay away from those injuries.
Most Important Player to Watch: Tony Parker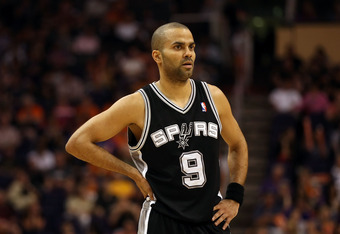 Christian Petersen/Getty Images
Ever since he entered the league, the Spurs have been Tim Duncan's team. While there is no doubt that he still plays a key role as San Antonio's second-leading scorer and leading rebounder, point guard Tony Parker is now the one who makes the Spurs go.
Parker had the best regular season of his career, as he averaged over 18 points and nearly eight assists per game while playing a team-high 32 minutes per contest.
Parker has always been an excellent player, but he was known as more of a playoff performer. Parker brought that same intensity to the regular season this year, though, and will look to continue playing the same way in the coming weeks.
The Spurs hold a massive advantage at point guard since the Jazz have gotten spotty production out of Devin Harris all season long, so the Spurs need Parker to continue to be their best player moving forward.
Key Matchup: Spurs Bigs vs. Al Jefferson and Paul Millsap
Al Jefferson and Paul Millsap combined to average 36 points and nearly 19 rebounds per game this season for the Jazz, and they are undoubtedly the key players for Utah in this series.
The Jazz lack production from their wing players as well as the backcourt, but Jefferson and Millsap are two of the more active bigs in the league, so they will have to carry the burden against the Spurs, both offensively and defensively.
San Antonio has a nice rotation of big men in its own right, including Tim Duncan, Tiago Splitter, DeJuan Blair and Boris Diaw. None of them, including Duncan, may be as individually impactful as either Jefferson or Millsap, but they are quite effective as a unit.
Provided the Spurs' bigs can somewhat neutralize the production of Jefferson and Millsap, the Jazz don't have much else artillery, so that should lead to a fairly easy series win for the Spurs.
Prediction
Spurs win in 5