New York Yankees: Should They Have Gone with Bartolo Colon over Freddy Garcia?
April 26, 2012

Ezra Shaw/Getty Images
A couple of people have posed this question to me, and I have thought about it non-stop today.
Freddy Garcia has been simply awful for the Yankees in 2012. He's 0-1 with a 9.75 ERA in three starts for the Yankees, and he's on the verge of losing his rotation spot.
Garcia was brought back on a one-year deal worth around $4 million based on his 2011 season where he went 12-8 with a 3.62 ERA for the Yankees.
On the other hand, Bartolo Colon is 3-2 with a 2.62 ERA in five starts for the Oakland A's in 2012.
While pitching for the Yankees in 2011, Colon went 8-10 with a 4.00 ERA in 26 starts. Because he missed all of the 2010 season, Colon wore down and wasn't able to finish as strong for the Yankees, but there were times where Colon looked like his 2005 Cy Young form.
Over the winter, Oakland gave Colon a one-year deal worth $2 million, and so far, he's been a bargain, just like he was for the Yankees when he made $900,000.
So now I am going to pose the question that several people have asked me: Did the Yankees make the right choice in going with Garcia over Colon?
And I think the answer is no, they didn't. Here's why:
Garcia got by in 2011 by fooling hitters with his breaking stuff. His velocity is not what it once was when he was a top pitcher in the American League, so like many veterans, they have to adapt.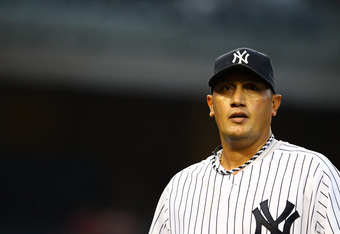 Al Bello/Getty Images
The only problem now for Garcia is in 2012 the hitters have adapted to his style and are teeing off on him, which is why his ERA is nearing the 10.00 mark.
Colon on the other hand, is still throwing very hard with velocity and is getting people out. He does rely on his secondary pitches, but he still throws in the mid 90s with his fastball, which is helping him at his age.
Throw in the fact that Phil Hughes has been awful for the Yankees as well in 2012, Michael Pineda has a shoulder tear and will miss the entire 2012 season and Andy Pettitte is about two weeks away from making his 2012 debut for the Yankees; and you see that the Yankees could have used Colon.
Before 2011, Brian Cashman looked like a genius in taking both Garcia and Colon after they were snubbed in the Cliff Lee free-agency sweepstakes.
Now in 2012, I think Cashman definitely made the wrong choice in going with Garcia over Colon.
Because by the time the end of next month rolls around, Garcia may be finding a new home to pitch outside of the Bronx in 2012.
Colon on the other hand, if he continues to pitch well, could either be helping Oakland in the A.L. West race or could be trade bait to a contender who needs pitching if the A's fall out of the playoff race.
If you are Cashman, all you can do is shrug your shoulders, know you got it wrong, say oh well and move on.