2012 NFL Draft: Which California Golden Bears Will Be Selected?
Ezra Shaw/Getty Images
Where Will Kendricks Go?
The NFL draft is now upon us—cue the millions of sports fans around the world celebrating.
In the past few drafts Cal has done extremely well, as 20 players have been selected from Berkeley since the 2007 NFL draft. This draft week, Cal fans should be rejoicing as potentially up to eight Golden Bears might be selected in the seven rounds.
Here are 15 prospects that are eligible for the draft, with analysis and projections of where they should expect to go.
Begin Slideshow

»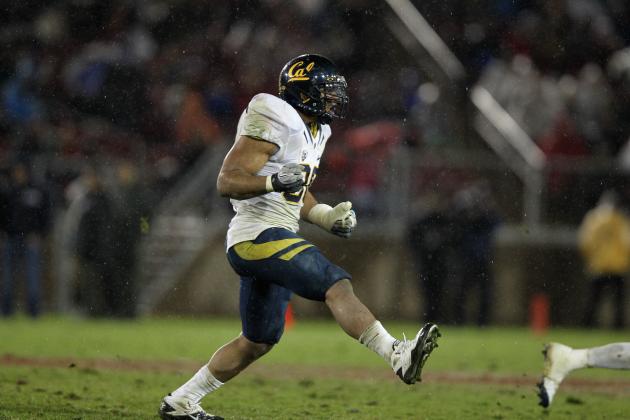 Ezra Shaw/Getty Images
The former Pac-12 Defensive Player of the Year may be the first Golden Bear taken.
The former Pac-12 Defensive Player of the Year led Cal to a 7-6 finish last season while compiling 106 tackles and two interceptions.
Over the course of his Cal career, Kendricks compiled 258 tackles, 36.5 tackles for loss, 13.5 sacks and four picks. Kendricks is expected to be the third inside/middle linebacker taken in this draft (after Boston College's Luke Kuechly and Alabama's Dont'a Hightower) but could easily prove to be a great success to whatever team drafts him.
The Scouting Combine did wonders for Kendricks after posting a 4.47 40-yard dash (best for any ILB), a 4.19 20-yard shuttle, and 24 reps in the bench. Kendricks now figures to go to a hybrid 3-4 team like the Baltimore Ravens somewhere in the late first to early second round.
The latest Kendricks will last is probably the end of the second round, but regardless, someone will get a really skilled football player if they select Kendricks.
Prediction: Ravens in the early second round, after a trade down by Baltimore.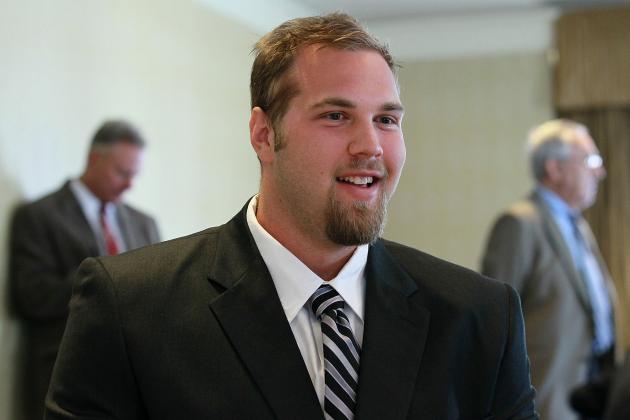 Justin Sullivan/Getty Images
Like Kendricks, Schwartz may go as early as the middle of the second round.
Schwartz is a mammoth of an OT and has started 51 games for the Golden Bears at either RT or LT, showing tons of versatility. At over 6'5 and 318 pounds, Schwartz has the prototypical size to be either a starting RT or LT in the NFL.
While his 5.45 40-yard dash won't impress anyone, he showed decent strength with 23 reps at the bench. Schwartz will need to work on his leverage in the pros as smaller DEs might be able to get under him. However, Schwartz could potentially be moved to guard like his brother Geoff (currently penciled in as a starting guard for the Minnesota Vikings).
Schwartz profiles somewhere between the seventh to 10th-best OT in a deep draft, but that doesn't mean he can't go off the board in the middle of Round 2, with teams like Buffalo, Seattle, Philadelphia, Chicago, Atlanta, or San Francisco potentially being interested.
I think he'll go somewhere between the middle of the second and middle of the third.
Prediction: Buffalo in the third, pick 71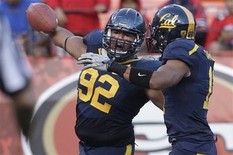 Guyton offers a lot of versility and could be gone as early as the end of the second.
Guyton is a very intriguing prospect who has the versatility to fit multiple defensive schemes.
Known as a hard worker, Guyton has vastly improved in his years as a Golden Bear, and it showed when he posted a 5.07 40-yard. To me, Guyton profiles as a prototypical defensive end in a 3-4, which over half of NFL teams now run.
He can also kick in to be a pass rushing DT in a 4-3 on third down. Teams like New England and Green Bay are drooling over the prospect of Guyton being on their 2012 roster.
Prediction: New England in the third round, pick 76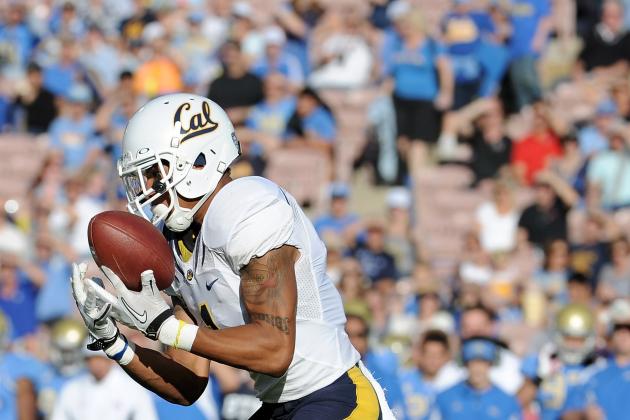 Harry How/Getty Images
Jones will be a steal for the team that drafts him.
Jones had an extremely productive four years for the Golden Bears, posting 62 receptions for 846 yards in his senior campaign, but those numbers could have been even stronger if the Bears had stronger QB play.
The WR who came to Cal as a 4-star recruit has done everything to fulfill his potential, and now looks to help the next team he's drafted to. At almost 6'2", Jones has drawn comparisons to Chad Johnson as a strong possession receiver who can play all over the field at multiple receiver positions.
One of the main problems facing him in this draft is the strength of the position, as he only ranks as being somewhere between the 10th and 15th best available at his position. Ultimately, I think this could cause him to slide to the middle of the third round, with the end of the fourth being the latest he could go.
Prediction: Arizona in the third, pick 80 overall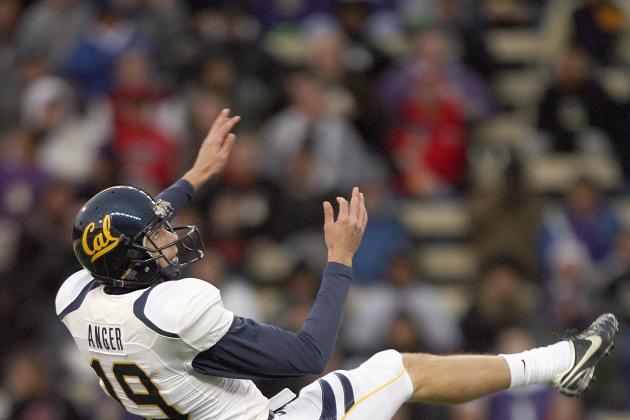 Otto Greule Jr/Getty Images
Anger is the top punter available in 2012.
While Cal fans may have not been happy to see Anger take the field during his magnificent campaign as our punter, at least we knew he would put our opponent in the worst possible starting position for our defense.
With his booming leg and lethal accuracy, I expect him to be the first punter taken in the 2012 draft. Punter is a weird position to mock as teams normally don't draft punters until Round 4, at the earliest.
However, Anger is one of the best punter prospects to come along in the past few drafts, which will help his round position. Profiling similarly to former Michigan and current Patriot punter Zoltan Mesko, I expect Anger to go somewhere in the fifth or sixth rounds.
Prediction: Fifth or sixth round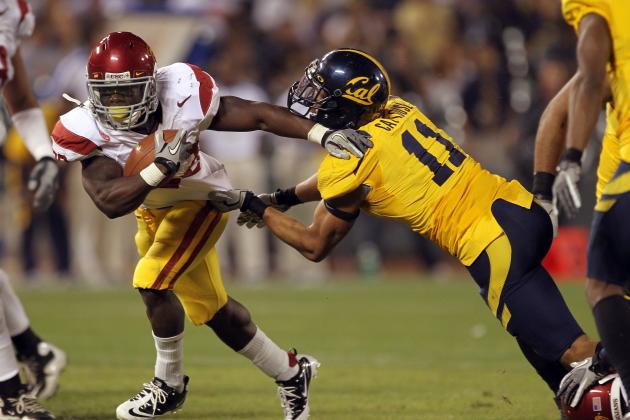 Ezra Shaw/Getty Images
After a productive career, Cattouse will be a latter-round pick.
An extremely productive safety for the Bears, Cattouse faces an uphill battle to be selected in the first few rounds.
Cattouse finished his career with seven picks, recording at least one each season he was active. While former Cal safeties like Thomas Decoud and Chris Conte went in the third round, Cattouse will go somewhere between the fifth and seventh rounds.
This is a fairly weak draft for safeties, which will help Cattouse's cause, but he still ranks as the 15th to 25th best prospect at his position.
Prediction: As high as the fifth round, but potentially undrafted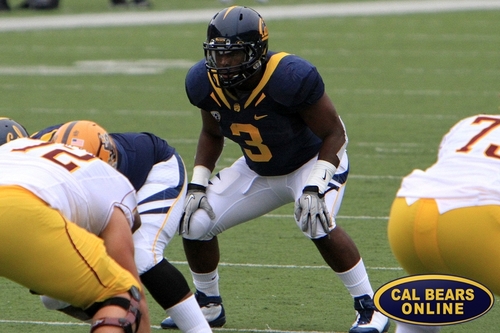 Holt has a good shot at making an NFL team as a special teams player.
Despite lining up next to the Pac-12 Defensive Player of the Year, Holt had an great 4 years as a Golden Bear. He's an above-average athlete and has strong leadership measurables.
However, he's undersized to be an full-time NFL starter. He profiles as a special teams player on the next level, but could still be drafted somewhere in the sixth to seventh round.
At worst, he'll receive a call on Sunday from a team with interest, and could break camp with a spot on the special teams roster.
Prediction: Seventh round or signed, undrafted free agent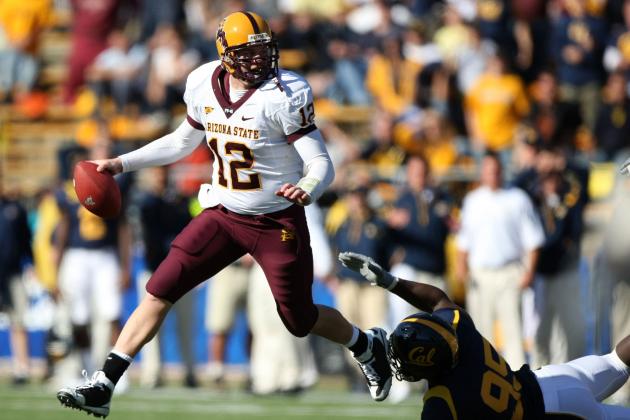 Jed Jacobsohn/Getty Images
While he didn't sack Ostweiler here, Owusu could be a specialist third-down pass-rusher.
While Owusu may have not seen regular playing time until his junior season, he was also backing up future first round picks in Tyson Alualu and Cameron Jordan at defensive end.
Owusu posses great strength as demonstrated at Cal's pro day, when he had 39 reps at the bench and recorded a fast 4.7 40-yard. At 6'4" and 266 pounds, Owusu is undersized to play defensive end in the 3-4, but could become a pass rush specialist in a 4-3, and potentially a 3-4 OLB and special teams player.
The Tennessee Titans have brought Owusu to visit, so while he may not get drafted on Saturday, I expect him to sign with a team soon after.
Prediction: Seventh round or signed, undrafted free agent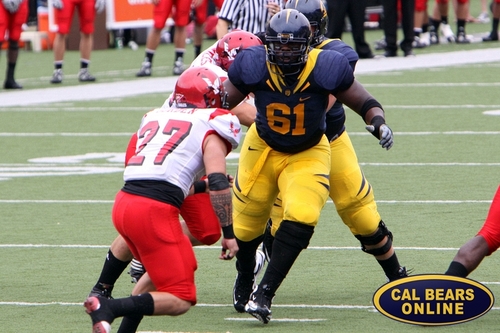 Cheadle needs to add size to have a chance.
The former Cal right guard profiles as an undrafted free agent rookie, but if he adds size he could be signed to a practice squad due to his above-average technique and strong pass protection.
He needs to get stronger and add to his 6'2.5", 282-pound frame.
Prediction: Seventh round or undrafted free agent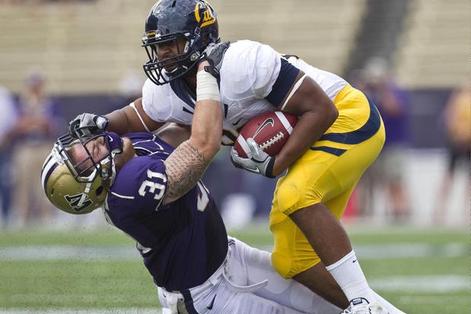 While Miller is slightly small, he's got great hands.
Miller never posted amazing numbers in his four seasons as a Cal Bear, but he was also playing behind former future draft picks Craig Stevens and Cameron Morrah.
Miller has good size at 254 pounds, but is on the shorter side at 6'3". He does have natural hands, and could be a practice squad candidate or even a special teams member on the next level.
Prediction: Seventh round or undrafted free agent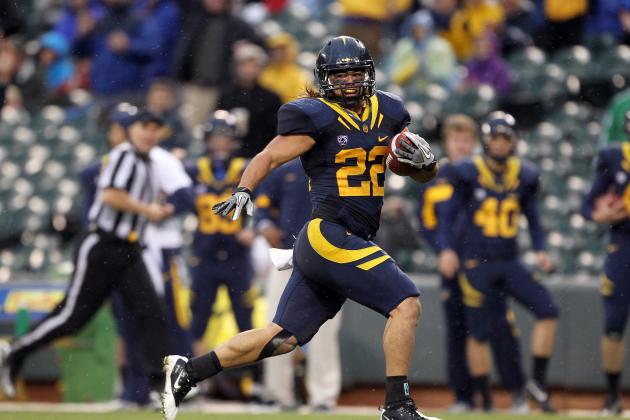 Ezra Shaw/Getty Images
How will Kapp's size affect his chances of making a team?
Fairly undersized at 5'10", Kapp was a team leader and has a high football IQ. While he doesn't project to be drafted, he should be brought into camp. NFL coaches want players with his mentality, and if playing isn't in his near future he could very well come back as a coach for Cal.
Projection: Undrafted free agent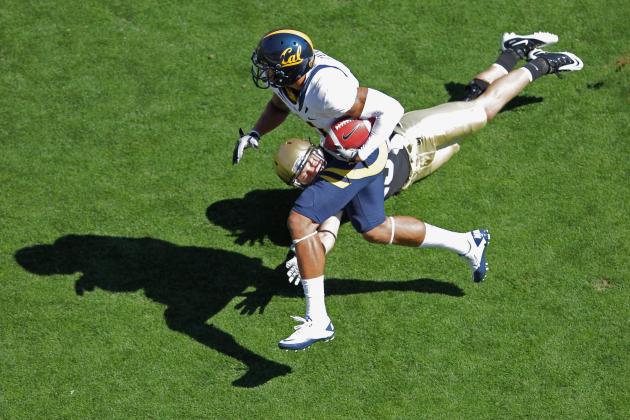 Doug Pensinger/Getty Images
While Calvin posted great numbers at Cal's pro day, will someone take a chance after a relatively unproductive college career?
Calvin shot onto scouts' radars after posting a fast 4.32 40-yard at Cal's pro day, which would have been the fastest at the NFL Scouting Combine. Calvin further showed off his athleticism after posting a 11'1" broad jump and a 40.5" vertical.
However, Calvin wasn't productive as a Bear, as he posted just 42 career receptions and a single touchdown in his five seasons on campus. While he's an intriguing prospect, I doubt he'll be drafted but I expect him to be brought into someone's May rookie camp on a tryout basis.
Perhaps he's the next Boateng?
Prediction: Undrafted free agent, but brought into rookie camp
Campbell attempts the tackle against Colorado, but will he be making tackles on Sundays?
While Campbell spent most of his career as a special teams player and reserve for the Bears, he did impress with a great pro day when he registered 22 reps at the bench, posted a 4.51 40-yard and recorded a 38" vertical.
While special teams may not be the flashiest area of football, Campbell's experience will help him find a job playing on Sundays.
Prediction: Undrafted free agent rookie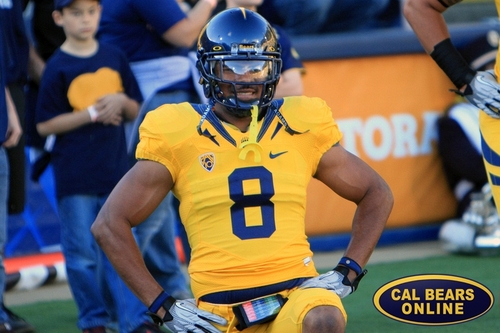 Will Moncrease make it?
Primarily a backup as a Golden Bear, this transfer student has above-average athleticism but little experience.
His best shot is to impress at camp with his work ethic and try to make a team as a special teams player.
Prediction: Undrafted free agent rookie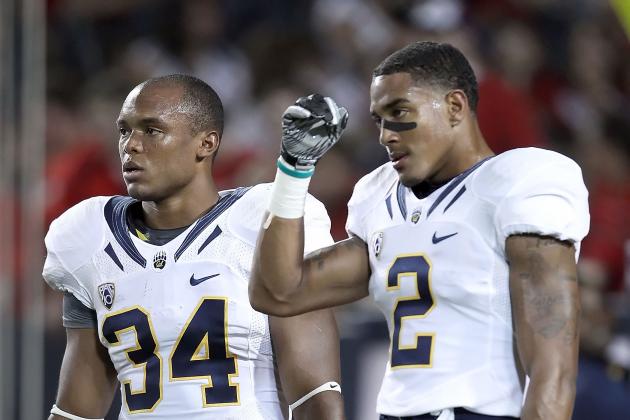 Christian Petersen/Getty Images
Coleman (No. 2) next to former Golden Bear and current Patriot RB Shane Vereen.
After mostly getting reps as a kick returner, Edmond faces an uphill battle to make a team as a WR after posting just one career reception in his two seasons as a Golden Bear.
Prediction: Undrafted free agent rookie
I expect anywhere from five to eight former Cal Bears to be drafted over the course of this weekend, with multiple prospects signing with teams once they're eligible on Sunday as undrafted free agent rookies.
While not being drafted may be heartbreaking to those who have spent their lives preparing to play on Sundays, it's not the end of the world. There are several former Golden Bears who went undrafted who continue to play in the pros including:
LB Lorenzo Alexander
WR Nyan Boateng & Jeremy Ross
G/C Brian De La Puente
LS L.P. Ladouceur & Nick Sundberg
K Ryan Longwell
And to those former Cal Bears who chose not to or may not have the opportunity to continue to play, you at least still have a Cal education to rely on! U$C can't say that!
You can follow Colin at @Metta_Colin and read his sports blog at http://mettachronicles.wordpress.com/