2012 NFL Draft: First Round Mock with Trades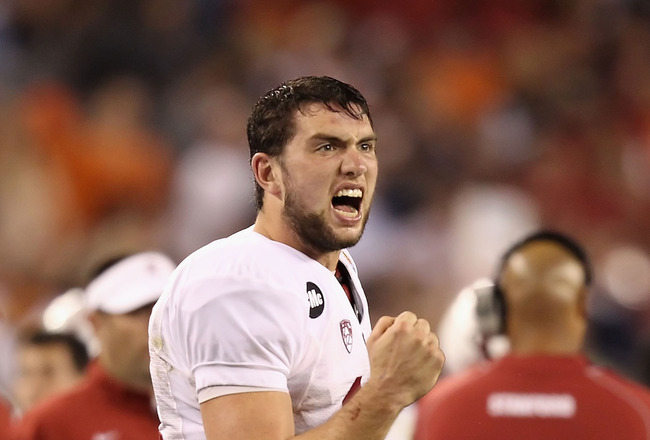 Christian Petersen/Getty Images
Draft day is finally upon us.
By now, we all know where Mr. Luck and Mr. Griffin are headed, but what about the other 30 picks? Which prospects have climbed up the draft boards and who's slipped? Who will trade up to pick up what they deem to be a special player, and who will trade down and accumulate extra picks?
Mocking the draft is always a challenge, but here are my best educated guesses based on my evaluations and the latest reports. I have included trades because at this point I believe we know enough to at least speculate intelligently about them. Plus, it's just more fun that way.
Enjoy my mock, and as always, let me know what you think.
1. Indianapolis Colts: Andrew Luck, QB, Stanford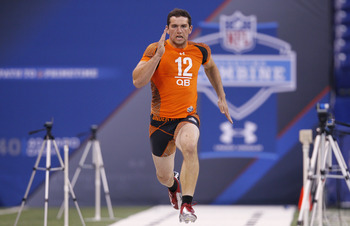 Joe Robbins/Getty Images
What's there to say? Luck's been the favorite to go first overall since he returned to school last year, and he has not disappointed. There were some rumblings about Robert Griffin III overtaking him, but in the end, the Colts go with the safer prospect.
Indianapolis just cut one of the greatest players of all time to make room for Luck, so obviously, they believe in him. The question is, how well will they be able to surround him with talent after gutting the roster in their effort to rebuild from the ashes of the Bill Polian era?
2. Washington Redskins (from St. Louis): Robert Griffin III, QB, Baylor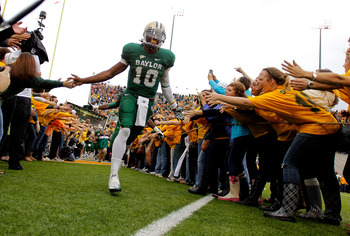 Sarah Glenn/Getty Images
Just as with Luck, this pick is locked in and there's no debate. Washington surrendered quite a bit to move up for the Heisman winner, but it's pretty obvious the Redskins weren't going anywhere without a franchise quarterback, and Griffin has all of the tools to succeed.
He's not quite as safe a pick as Luck, but some believe he has greater upside due to his unprecedented athleticism at the position. Coach Mike Shanahan has his faults, but he's a quarterback guru, and it will be fun to see what he can do with a weapon like Griffin.
3. Minnesota Vikings: Matt Kalil, OT, Southern California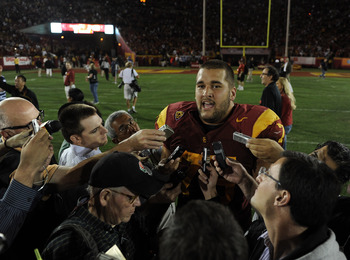 Harry How/Getty Images
The Vikings have made a lot of noise about exploring other options besides Kalil, but the USC left tackle just makes too much sense here. The jury's out on quarterback Christian Ponder, whom many believe was a huge reach last year. But it's clear that if they want Ponder to succeed, they need to shore up his pass protection. Enter Kalil, the best left-tackle prospect in years.
Though the Vikings have said they are also considering Oklahoma State's Justin Blackmon and LSU's Morris Claiborne, this draft is quite deep at both receiver and cornerback. Barring a trade down, which I don't believe will materialize, the Vikings would be foolish to pass up Kalil.
4. Cleveland Browns: Trent Richardson, RB, Alabama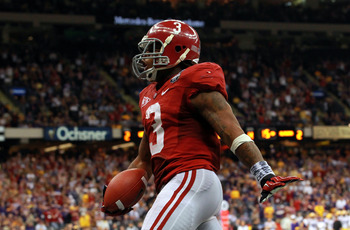 Ronald Martinez/Getty Images
The Browns have the worst set of offensive skill players in the NFL, and they have the chance to drastically upgrade one of several positions.
Texas A&M quarterback Ryan Tannehill is a project who is getting pushed up the draft board because of the demand for his position. Oklahoma State wideout Justin Blackmon is a possibility, but the Browns drafted Greg Little last year and this draft is deep at the receiver position.
That leaves Richardson, a bruising back who can be the workhorse that Peyton Hillis wasn't. Some may question the wisdom of taking a running back this high, but Richardson is the best RB prospect since Adrian Peterson. He can also help out Cleveland's sorry passing game as a receiver out of the backfield.
5. Tampa Bay Buccaneers: Morris Claiborne, CB, Louisiana State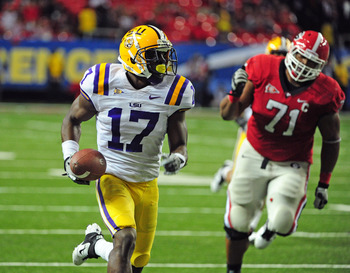 Scott Cunningham/Getty Images
Given Ronde Barber's age and Aqib Talib's legal troubles, cornerback is a big need for the Bucs. Sure, they just handed out a lot of money to Eric Wright, but even if he somehow defies the odds and lives up to that contract, he'll need a partner in the defensive backfield.
Claiborne is considered one of the six elite prospects in this draft, of which he and Justin Blackmon are the only ones left. Receiver is not as pressing a need, so Claiborne is the logical choice here.
6. St. Louis Rams (from Washington): Justin Blackmon, WR, Oklahoma State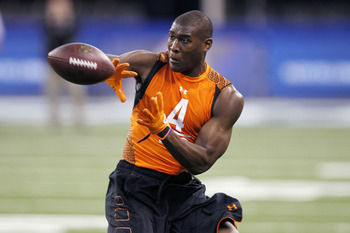 Joe Robbins/Getty Images
Sam Bradford regressed badly in his sophomore year, and while his pass protection was an issue, he also didn't have anyone to throw to other than the recently departed Brandon Lloyd.
Blackmon, who is easily the best prospect left, just makes too much sense to pass up, and he should go a long way toward pushing Bradford's career back in the right direction.
7. TRADE: Dallas Cowboys (from Jacksonville): Fletcher Cox, DL, Mississippi St.
Butch Dill/Getty Images
Jacksonville trades the No. 7 pick to Dallas for the No. 14 and No. 45 picks.
Here we have our first projected trade. After the top six, there's something of a dropoff, and there are rumors that Jacksonville is looking to trade down and recoup some picks after trading up last year.
They find a partner in Dallas, who would love to beef up its defensive line. Cox, who excels as both a run stopper and a disruptor on the interior, has been flying up draft boards. The Cowboys have shown a willingness to trade up for someone they really like, and Cox would present a huge upgrade in their front seven.
8. Miami Dolphins: Ryan Tannehill, QB, Texas A&M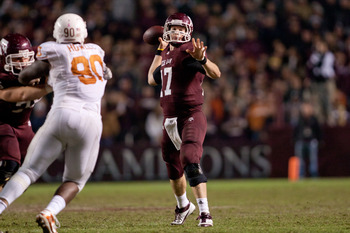 Darren Carroll/Getty Images
This is potentially one of the riskiest picks in the draft, but at this point, Miami has no choice. Despite a strong defense and run game, they've struggled to contend with poor quarterback play. And by now, they've discovered that sloppy second-rounders aren't the way to go. They missed out on both Peyton Manning and Matt Flynn in free agency, so they have to take a shot at finding their franchise QB in the draft.
Tannehill is undoubtedly a project, and he presents a significant drop-off from Luck and Griffin. However, the physical tools are all there, and new coach Joe Philbin and offensive coordinator Mike Sherman, Tannehill's coach at Texas A&M, will look forward to the challenge of getting the most out of him.
9. Carolina Panthers: Quinton Coples, DE, North Carolina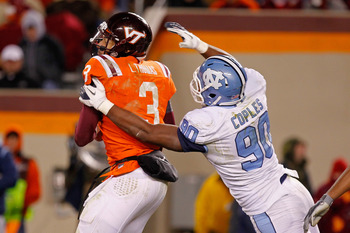 Geoff Burke/Getty Images
Coples is another risky pick. There are concerns about his effort level. That said, he is a monstrous defensive end who can dominate linemen and terrorize quarterbacks.
Carolina has needs all over the defense, and while defensive tackle appears to be more pressing, the Panthers seem to be very taken with Coples. They have spent a lot of time with him and appear to like his versatility, as he can slide inside on passing downs.
10. Buffalo Bills: Mark Barron, S, Alabama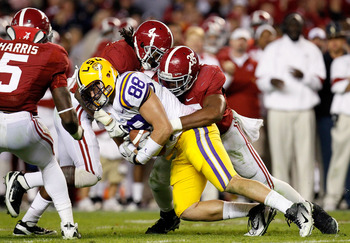 Kevin C. Cox/Getty Images
Mark Barron appears to be a hot commodity right now, and Adam Schefter of ESPN recently tweeted that he would not make it to Dallas at No. 14.
Buffalo is one team that could definitely be interested in the hard-hitting safety. The Bills place a lot of emphasis on the secondary, drafting defensive backs even when it's not an ostensible need. They have to play against New England's deadly tight-end duo twice a year, so a top-end safety is an understandable investment on their part.
11. Kansas City Chiefs: David DeCastro, G, Stanford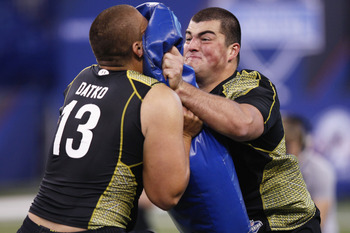 Joe Robbins/Getty Images
The Chiefs don't have many holes and thus can go in a lot of directions. DeCastro is considered a once-in-a-generation prospect who should further solidify an already strong offensive line.
Kansas City's relative weakness is the passing attack, but the Chiefs can compensate by building a strong running game with DeCastro lead blocking for Jamaal Charles and Peyton Hillis.
12. Seattle Seahawks: Luke Kuechly, LB, Boston College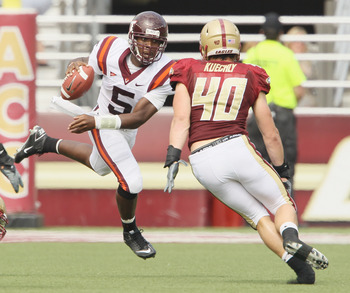 Elsa/Getty Images
The Seahawks just lost David Hawthorne in free agency and will be looking to add a new middle linebacker in his place. Kuechly, who racked up eye-popping tackle totals at BC, is one of the safest prospects in this draft and should lock down the middle of Seattle's defense for years to come.
13. Arizona Cardinals: Riley Reiff, OT, Iowa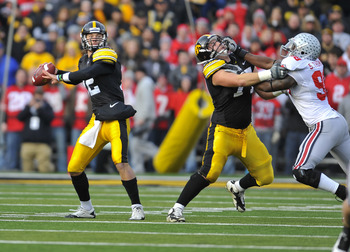 David Purdy/Getty Images
Arizona's gotten by with one of the league's worst offensive lines for years. It's obvious they'll have to fix that if they're going to get any return on their Kevin Kolb investment.
Reiff has drawn comparisons to Packers tackle Bryan Bulaga, another former Hawkeye. If he's anywhere near as good, he'll present a huge upgrade for the Cardinals.
14. Jacksonville Jaguars (from Dallas): Michael Floyd, WR, Notre Dame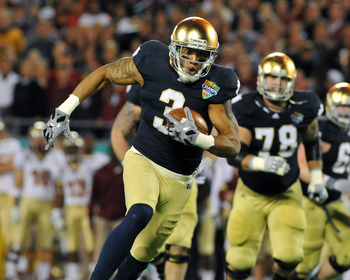 Al Messerschmidt/Getty Images
The Jaguars traded up for quarterback Blaine Gabbert last year, then watched him struggle through an abysmal rookie season. Gabbert may never be the answer, but they've put their faith in him, so now the best thing they can do is surround him with talent.
Floyd has the size, speed, and hands to be a legitimate No. 1 receiver in the NFL. He should make things a lot easier for Gabbert in his second year.
15. Philadelphia Eagles: Stephon Gilmore, CB, South Carolina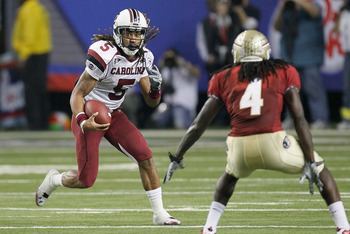 Kevin C. Cox/Getty Images
It's strange that cornerback is one of Philadelphia's top needs just a year after signing Nnamdi Asomugha and trading for Dominique Rodgers-Cromartie. But Asomugha was a disappointment, Rodgers-Cromartie was mediocre at best, and Asante Samuel has been shipped to Atlanta.
Another corner is needed, and Stephon Gilmore has seen his stock rise significantly since an excellent combine. He had a very good college career against some tough receivers in the SEC, and he should appeal to Andy Reid, who has placed a lot of emphasis on the cornerback position in the past.
16. New York Jets: Melvin Ingram, DE/OLB, South Carolina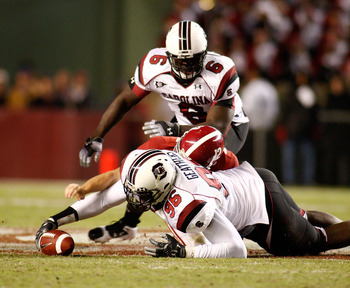 Mike Zarrilli/Getty Images
The Jets defense regressed last season, and the lack of production at outside linebacker was one of the prime culprits. Here, they get very good value with the explosive Ingram, arguably the best OLB in the draft, falling to them at No.16. He should help Rex Ryan pressure opposing quarterbacks without having to blitz.
17. Cincinnati Bengals (from Oakland): Cordy Glenn, OT/G, Georgia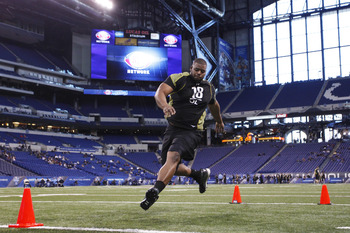 Joe Robbins/Getty Images
The Bengals exceeded everyone's expectations last year, rebuilding their offense very quickly around A.J. Green and Andy Dalton. One of the main reasons for this was their perennially excellent offensive line, which lost guard Nate Livings in free agency.
Glenn, a massive lineman with surprising athleticism, could step in at either guard or right tackle (in the event that Andre Smith's health issues pop back up).
18. San Diego Chargers: Whitney Mercilus, DE/OLB, Illinois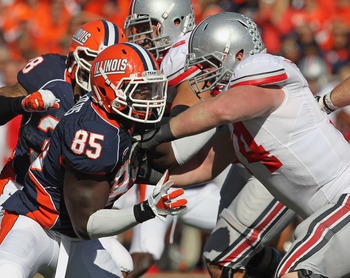 Jonathan Daniel/Getty Images
Outside linebacker is one of San Diego's prime weaknesses, and while the newly signed Jarret Johnson excels against the run and in coverage, he's not much of a pass-rusher. Mercilus, who led the nation in sacks and has some experience rushing from the stand-up position, could rush the passer in sub packages as a rookie and eventually grow into a starting role.
19. Chicago Bears: Chandler Jones, DE, Syracuse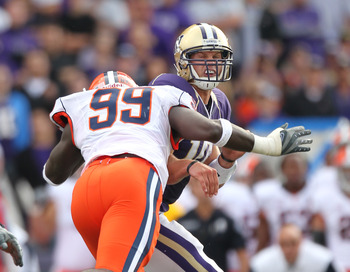 Otto Greule Jr/Getty Images
Nobody's stock has risen faster than that of Chandler Jones, and while he's still a little raw, his length and athleticism undoubtedly reminds people of Julius Peppers. Coincidentally, the Bears could use a complement for Peppers and would be happy to grab Jones here.
20. Tennessee Titans: Michael Brockers, DT, Louisiana State
Joe Murphy/Getty Images
Brockers' stock has been up and down since he declared for the draft. However, there's no denying that he's excellent against the run and has tremendous upside. Tennessee has already addressed the defensive line this offseason by signing Oakland's Kamerion Wimbley. They could also stand to find him a complement to him on the interior.
21. Cincinnati Bengals: Dre Kirkpatrick, CB, Alabama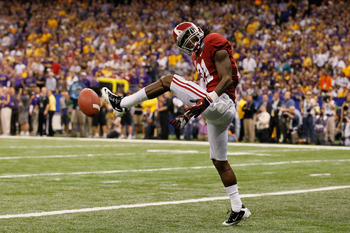 Kevin C. Cox/Getty Images
In a span of months, the Bengals lost Johnathan Joseph in free agency and watched Leon Hall go down with a major injury. Hall will be back eventually, but even so, they need someone across from him. Dre Kirkpatrick is a big, physical corner who learned from one of the best defensive minds in college football in Nick Saban. The Bengals will gladly overlook his off-the-field issues and grab him here.
The Bengals have two picks very close to each other and could pick these two players in either order. I went with Glenn first because the three teams picking in between could all use offensive line help, so Cincinnati is more likely to lose out on Glenn than Kirkpatrick by waiting.
22. Cleveland Browns (from Atlanta): Kendall Wright, WR, Baylor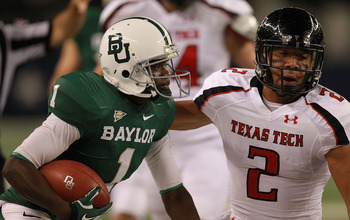 Ronald Martinez/Getty Images
As mentioned previously, Cleveland badly needs to add offensive skill players. After taking a running back with the fourth pick, they upgrade the receiving corps with Wright. The speedy Baylor product was an excellent downfield threat for Robert Griffin III, and he can fill that same role for the Browns while opening up underneath routes for Greg Little and Benjamin Watson.
23. Detroit Lions: Courtney Upshaw, DE, Alabama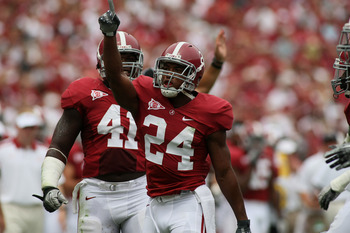 Greg McWilliams/Getty Images
In his time as general manager of the Lions, Martin Mayhew has demonstrated two trends: he will take what he believes to be a better player over one who fills a greater need, and he loves to stockpile defensive linemen who can go after the quarterback.
Upshaw, a highly productive edge rusher for the national champion Crimson Tide, satisfies both requirements. Despite an underwhelming combine, he's still arguably the best player left at this juncture, and the Lions would be happy to add him to an already tremendous defensive line.
24. Pittsburgh Steelers: Dont'a Hightower, LB, Alabama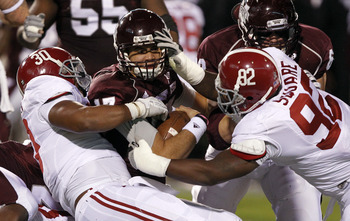 Butch Dill/Getty Images
Not a very original pick, I know, but everyone mocks him here for a reason. The Steelers are rebuilding their defensive nucleus, and Hightower is the perfect replacement for the recently cut James Farrior. He has the size to take on blocks and rack up tackles from the inside linebacker spot.
25. Denver Broncos: Dontari Poe, NT, Memphis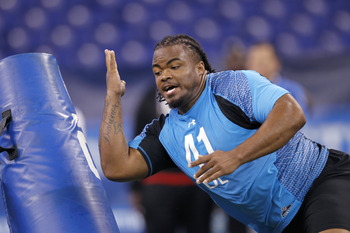 Joe Robbins/Getty Images
The massive yet surprisingly athletic Poe was the star of the combine. However, his stock has fallen since then due to underwhelming game tape against small school competition.
Still, he has the potential to be a wrecking ball and Denver will gladly slot him in the center of its defensive line. His ability to occupy blockers will only help the pass-rushing duo of Elvis Dumervil and Von Miller.
26. TRADE: Green Bay Packers (from Houston): Shea McClellin, OLB, Boise State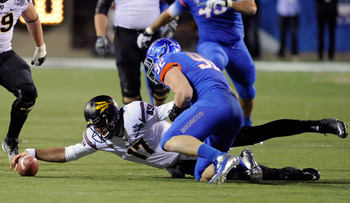 Ethan Miller/Getty Images
Houston trades the No. 26 pick to Green Bay for the No. 28 and No. 134 picks.
I'm projecting a minor trade up here. Shea McClellin is a versatile and well-rounded player who will appeal to both the Packers and Patriots. New England picks first, so Green Bay trades up two spots to secure its man.
The Packers defense really slipped last season, and one major reason was the lack of a credible pass- rushing complement to Clay Matthews. In turn, that also affected Matthews' production, as he saw more blocking attention.
Green Bay traded up (with New England, coincidentally) for Matthews in 2009, and they could do the same here to find his pass-rushing partner.
27. New England Patriots: Kendall Reyes, DE/DT, Connecticut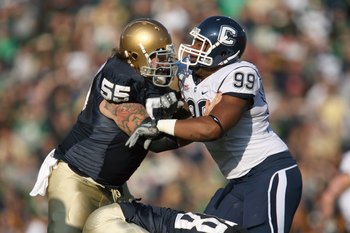 Jonathan Daniel/Getty Images
New England once boasted arguably the top three-man defensive front in the league. Nose tackle Vince Wilfork remains, but Richard Seymour and Ty Warren have moved on, leaving a group of mostly mediocre ends in their place.
Coach Bill Belichick curiously passed up the chance to draft a defensive end in 2011, but he will likely rectify that this year. Kendall Reyes, who has excellent athleticism at his size, could be the solution.
28. Houston Texans (from Green Bay): Jonathan Martin, OT, Stanford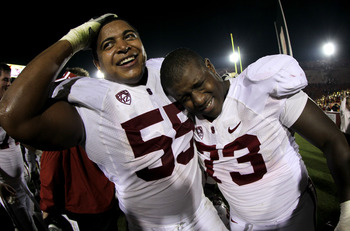 Stephen Dunn/Getty Images
Houston has one of the most stacked rosters in the league and can more or less take the best player available. Their biggest need is a second receiver, but with the WR depth in this draft, they don't necessarily have to expend a first-round pick to solve that problem.
Instead, they take Jonathan Martin, who protected Andrew Luck's blind side at Stanford. Martin didn't have a great senior year and saw his stock fall quite a bit, but he's a very talented player who can step in at right tackle and take over for the recently departed Eric Winston.
29. Baltimore Ravens: Peter Konz, C, Wisconsin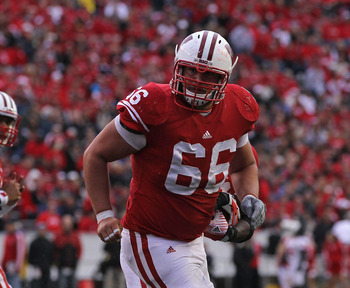 Jonathan Daniel/Getty Images
Like Hightower to the Steelers, this is a boring pick that makes all the sense in the world. The Ravens need to replenish the middle of their offensive line, as they just lost Ben Grubbs and Matt Birk is nearing the end of the line. Konz, who is the consensus best center in the draft, can play guard for a year and then slide over to center once Birk retires.
30. San Francisco 49ers: Stephen Hill, WR, Georgia Tech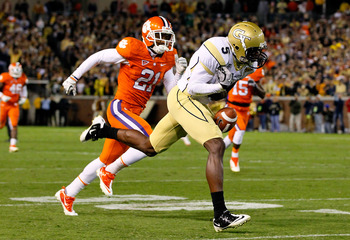 Kevin C. Cox/Getty Images
The 49ers are another team with few holes. They attempted to upgrade the quarterback position with Peyton Manning, only to fall short and bring back incumbent Alex Smith. Given what transpired, the best they can do is surround Smith with offensive weapons. They've already done that in free agency with Randy Moss and Mario Manningham, but Moss is a wild card and it's always a good idea to invest in youth.
Stephen Hill is somewhat of an unknown commodity, as the rush-heavy Georgia Tech offensive didn't really give him much of a chance to shine. However, he excelled at the combine and reportedly looked excellent running routes at his pro day, so somebody will take a chance on him in the first round.
31. TRADE: Kansas City Chiefs (from N. England): Brandon Weeden, QB, Oklahoma St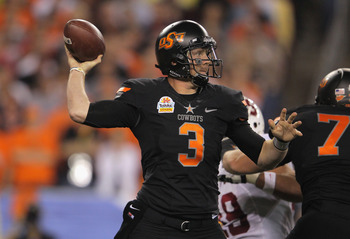 Doug Pensinger/Getty Images
New England trades the No. 31 pick to Kansas City for the No. 44 and No. 75 picks.
Weeden may well be the most frustrating pick in the draft. If he were five years younger, he'd be a top-10 pick. As it is, he'll turn 29 as a rookie, so despite his talent and the fact that he plays the most in-demand position in the game, it's hard to project his draft position and his future.
One team that could be interested in Weeden is Kansas City, which is a quality quarterback away from being an immediate contender. If they believe that Weeden's maturity could help him make a quick transition to the NFL, they could pull the trigger. The Browns are also reportedly interested in Weeden, so Chiefs general manager Scott Pioli pulls off a trade with his former employers here to jump in front of Cleveland.
32. New York Giants: Coby Fleener, TE, Stanford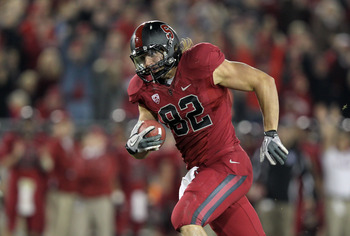 Ezra Shaw/Getty Images
The Giants are notorious for drafting the best player available. While they could go for USC defensive end Nick Perry here due to their affinity for pass-rushers, I believe the best player left is Fleener. He was Andrew Luck's favorite target at Stanford and fits the rising trend of athletic pass-catching tight ends. A trio of Fleener, Hakeem Nicks and Victor Cruz would make an embarrassment of riches in the Giants receiving corps.
Keep Reading