NHL Playoffs 2012: Bruins Fans Attacking Joel Ward Ignore Their Own History
April 26, 2012

Bruce Bennett/Getty Images
This author cannot wait to hear what Willie O'Ree has to say about the aftermath of the Boston Bruins first-round loss to the Washington Capitals in the 2012 Stanley Cup playoffs.
Moments after Joel Ward's overtime goal finalized Washington's victory Wednesday night, a sector of Boston's fanbase took to Twitter to assail Ward based on the color of his skin.
Of all the 30 NHL fanbases, this one should know better. And while these chauvinists are quite isolated, just one person of their kind is too many.
It's pretty safe to assume those fans forgot, chose to forget or somehow didn't even know the first thing about O'Ree. They overlooked the fact that they root for America's oldest NHL franchise and the first to suit up a black player, namely O'Ree.
Even if these bitter bigots are not up to speed on their history homework, as all responsible fans should be, the O'Ree milestone is hard to escape. The pioneer Bruin was honored by his old team on the 50-year anniversary of his debut in 2008 and was on hand for another ceremony before a game against Florida in January 2011.
And presumably, the majority of those with a Twitter account are old enough to remember Anson Carter's stint in Boston.
Carter, now a studio analyst on the NHL Network, played 674 games in The Show with eight different teams over 10 seasons. Three of those seasons, plus the post-trade-deadline portion of another, were in a Bruins uniform. All told, Carter played 211 games in Boston.
In 1998-99, his second of three full seasons with Boston, Carter placed third on the team with 24 goals despite missing 27 regular-season games.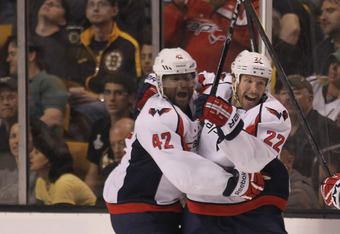 Bruce Bennett/Getty Images
And get this: In the subsequent playoffs, Carter scored a double-overtime goal that gave the Bruins a 3-2 upper hand en route to a six-game, first-round victory over the Carolina Hurricanes.
Ward, who is six years younger than Carter and whose major-junior career coincided with Carter's time with the Bruins, had every right to be inspired by Carter's path. Both men still doubtlessly feel indebted to O'Ree for breaking the barrier in the first place.
The same goes for Darren Banks, Sean Brown, Sandy McCarthy, Ray Neufeld, Nathan Robinson and Graeme Townshend. Those would be the other six NHL players of African descent who have played for Boston.
The same goes for Mike Grier, who delighted at least part of the local sports scene in his days as a Boston University Terrier, complete with a 1995 national title, two Beanpot titles and two Hockey East pennants.
The same goes for Grant Fuhr, the first black honoree in the Hockey Hall of Fame who probably holds the record for thanking O'Ree in public remarks.
Were there Bruins fans giving the Ward treatment to Fuhr when he backstopped the Edmonton Oilers to the 1988 Stanley Cup or the Buffalo Sabres to a sweep of the first round in 1993 at Boston's expense?
If so, it is even more shameful now than it was then, if such an increase is possible.
Here we are in the second decade of the third millennium and 54 years removed from O'Ree's NHL debut, yet there are still those who insist on pulling us back with a right hook.