2012 NFL Draft: Top 10 Players That Teams Will Trade Up for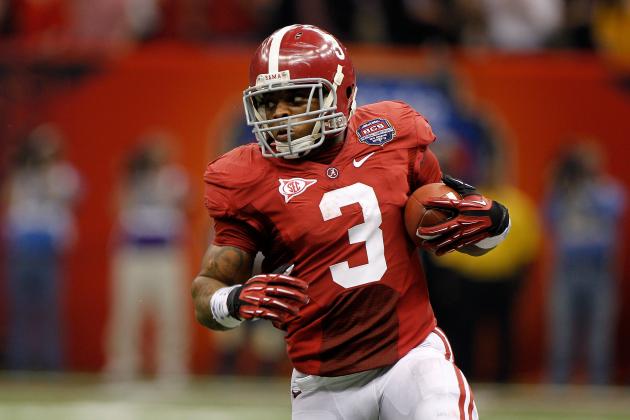 Chris Graythen/Getty Images

Trades are what make the NFL draft fun, and the Washington Redskins were the first team to pull one off, sending three first round picks to the St. Louis Rams to move from the sixth to the second spot in this year's draft.
There will almost assuredly be several more first-round trades, especially from those teams that hold multiple picks in the first round. Teams want to move up to assure themselves of a specific player, even if it means sacrificing multiple selections to pick one guy.
The following 10 players are the ones that teams will definitely be looking to trade up in order to pick.
Begin Slideshow

»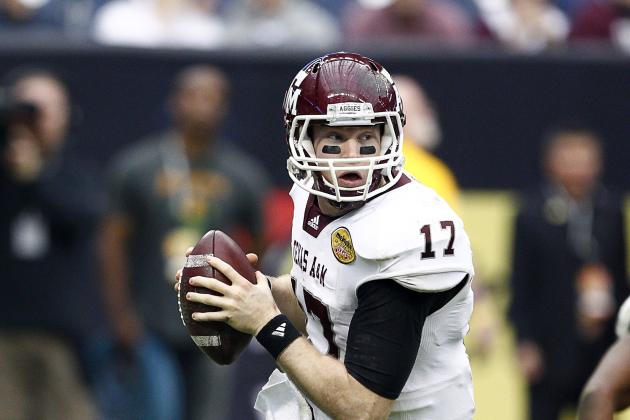 Bob Levey/Getty Images

Ryan Tannehill conceivably could go anywhere in the draft from third overall to late in the first round. The Minnesota Vikings won't take him at three with Christian Ponder waiting, but the Cleveland Browns could go after him at the fourth selection.
With that in mind, a team could leap over the Browns at fourth to be in position to draft Tannehill, the media choice as the best quarterback in the draft (other than the Hall of Fame caliber Andrew Luck and Robert Griffin III). Tannehill may also go to the Miami Dolphins at eighth, which could cause a team to move up to the Jacksonville Jaguars' pick at seventh to be in line to draft Tannehill.
Realistically, I don't see a team trading up for Tannehill, but the demand for quarterbacks could cause a coach to go for him.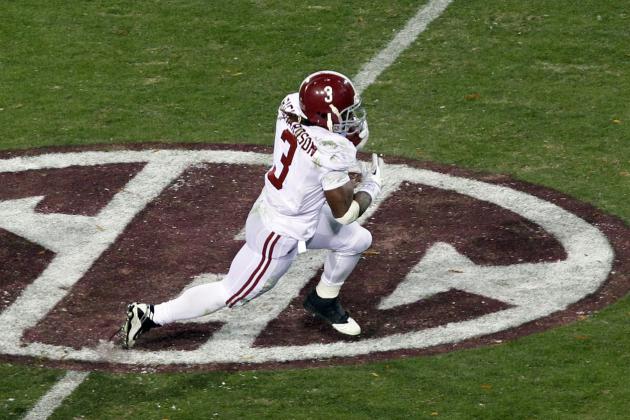 Butch Dill/Getty Images

Trent Richardson is really the only running back guaranteed to go in the first round, and he's a sure bet to go in the top 10 of the draft, barring an unforeseen drop.
Richardson is one of the best backs to come out of college football in recent years, and he has been heavily linked to both the Cleveland Browns at fourth and the Tampa Bay Buccaneers at fifth.
The Browns need a running back with last year's starter Peyton Hillis having departed for the Kansas City Chiefs, and the Buccaneers hoping for an upgrade from LeGarrette Blount, especially with new head coach Greg Schaino having come run from a run-oriented offense at the college level.
That could cause a team—the St. Louis Rams, Buccaneers, and the New York Jets are the main candidates—to trade up to acquire the rights for Richardson. The Rams need a replacement for Steven Jackson and Richardson would be a perfect fit in the Tim Tebow offense in New York.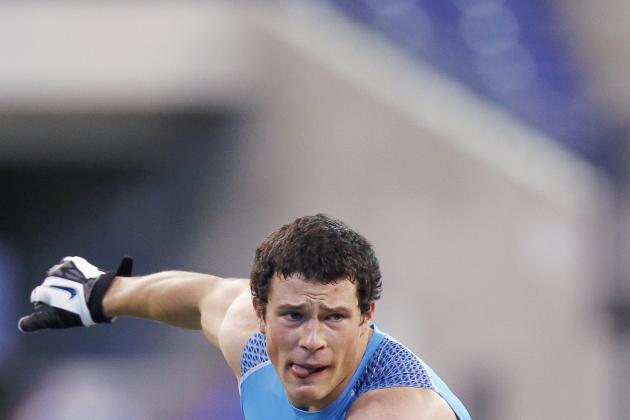 Joe Robbins/Getty Images

Luke Kuechly is far and above the best linebacker in this year's draft, and he's said to be one of the safest picks in recent years.
Kuechly is an absolute tackling machine, having set the NCAA record for career tackles in just three seasons, and he could go as high as fifth overall to the Tampa Bay Buccaneers.
The Philadelphia Eagles were heavily linked to Kuechly before the acquisition of DeMeco Ryans from the Houston Texans. The Seattle Seahawks seem like prime candidates for Kuechly, especially with David Hawthorne having departed for the New Orleans Saints, and the Carolina Panthers could use an upgrade with both Jon Beason and Thomas Davis coming off season-ending injuries.
Kuechly is worth trading up for, and a team may find it best to swap with the Carolina Panthers at ninth to be in line to pick him. The Cincinnati Bengals are also interested in trading up to the Seahawks' spot at No. 12, as Evan Silva reports.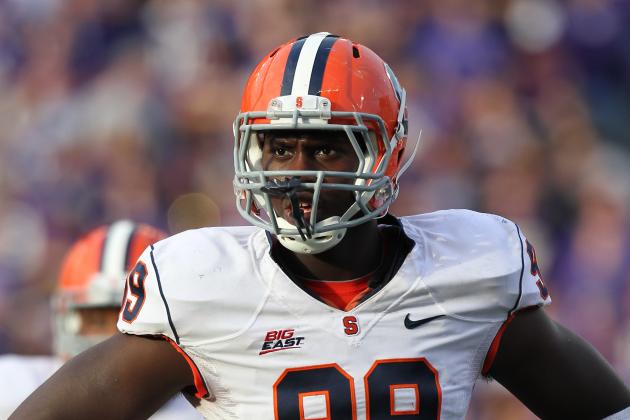 Otto Greule Jr/Getty Images

NFL Network analyst Mike Mayock said three years from now, we will look at Chandler Jones as the best defensive player out of the draft. Jones has seen his draft stock rise recently, and defensive ends have a tendency to go high in drafts.
Jones could go to the Seahawks at pick No. 12 or anywhere from the 12-22 range, but it's also not out of the question for a team to trade up for Jones. Andy Reid loves trading up to get defensive linemen that he thinks will fit the system (see Jerome McDougle and Brandon Graham), and he could see the Eagles as a good suitor for Jones.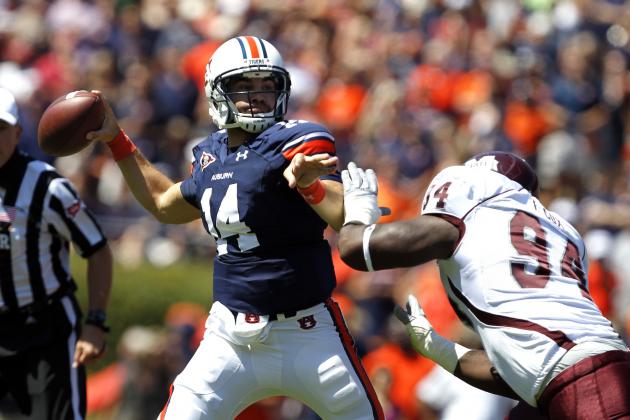 Butch Dill/Getty Images

Fletcher Cox is likely the most coveted defensive linemen in this year's draft, and he could go as high as the St. Louis Rams at the sixth overall pick.
Cox is versatile and he's a good pass rusher and run stopper, and the Philadelphia Eagles are seen as a likely candidate to trade up to the Carolina Panthers' spot at number nine to pick Cox.
Again, Andy Reid loves his defensive linemen, and he may want Cox as solid depth on the interior of the defensive line behind Cullen Jenkins and Mike Patterson. Cox could also go to the Seattle Seahawks at pick 12, but a team may trade up to be in line to select Cox.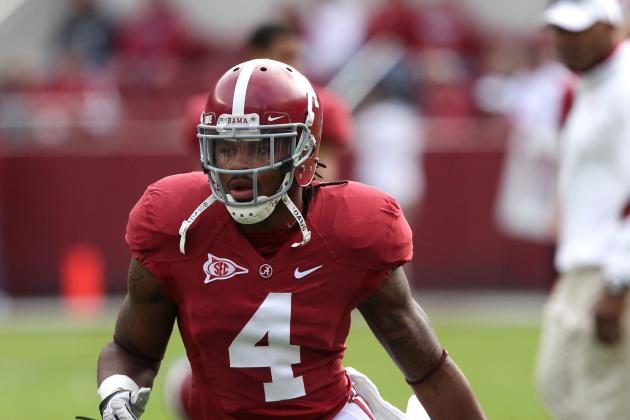 Mike Zarrilli/Getty Images

Several teams have Mark Barron as high as the sixth overall player on this big board, and since he's clearly the top safety in the draft class, a team could definitely trade up to be in line to select Barron. He could go as high as the Miami Dolphins at eight, and the Dallas Cowboys and Philadelphia Eagles at 14 and 15 are good suitors but Barron likely won't be around by that point.
That means either the Cowboys or the Eagles may need to trade up to select Barron.
I don't see Andy Reid doing it because he has never drafted a safety in the first round and Reid typically doesn't sway too far from his norm. But Dallas desperately needs safety playmakers, especially with the rest of the division getting better.
Buffalo has also said that they are very interested in Barron, and they could look to switch spots with the Jacksonville Jaguars at pick seven to be in line to pick him.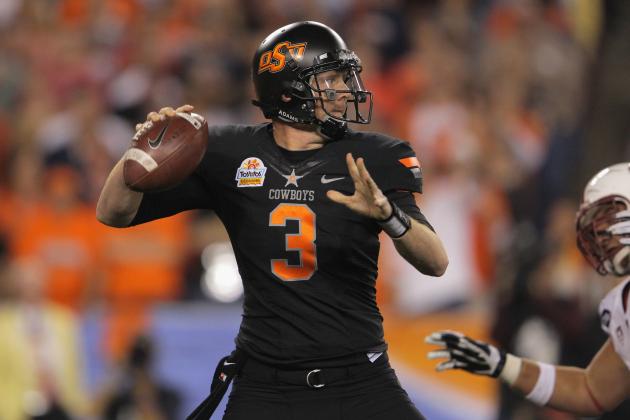 Doug Pensinger/Getty Images

Brandon Weeden could easily end up going in the first round, and if he wasn't already 28 years old, he would probably be a top five selection in the draft class.
Weeden could be a good fit for the Cleveland Browns if they want to get a player to at least compete with Colt McCoy for the starting job this season and eventually take over.
The Browns have the 22nd pick and may select Weeden there, or they may trade a second and third round pick to move up to the New England Patriots' spot at 27 or 31 and select Weeden.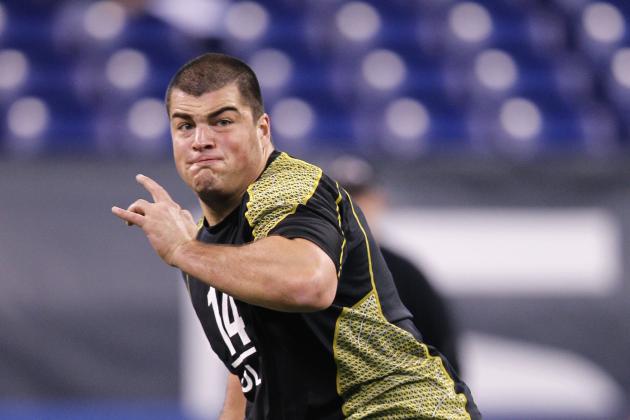 Joe Robbins/Getty Images

Many analysts feel David DeCastro is the best interior offensive linemen to enter the NFL draft since Steve Hutchinson was selected 17th overall by the Seattle Seahawks in 2001.
Guards typically don't go in the first half of the first round, but DeCastro has a chance to go in the first 10 overall picks. It's not out of the question that the St. Louis Rams will select him at number six, and if they pass on him, the Kansas City Chiefs and Arizona Cardinals will definitely take a long look at him with the 11th and 13th overall picks, respectively.
That may cause a team wanting to assure DeCastro to trade up to get him. He is only a guard, but he's said to be a perennial All-Pro talent, and that's the kind of guy any GM would take.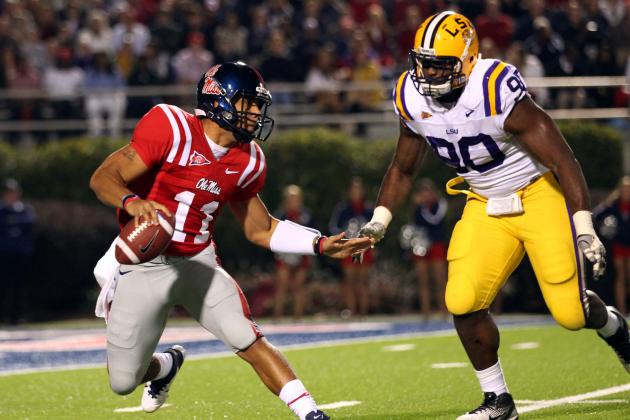 Joe Murphy/Getty Images

Matt Miller, Bleacher Report's draft analyst, says the St. Louis Rams should pick Michael Brockers with the sixth overall pick in the draft. That seems a little high for Brockers, who is incredibly talented but very rare.
Still, his potential is endless, and a team that needs a good defensive lineman could trade into the top 10 or 12 picks to be in line to select Brockers.
The Philadelphia Eagles are obviously candidates, as Andy Reid loves defensive tackles, but the Dallas Cowboys and Kansas City Chiefs could also be seen as good suitors if the price is right.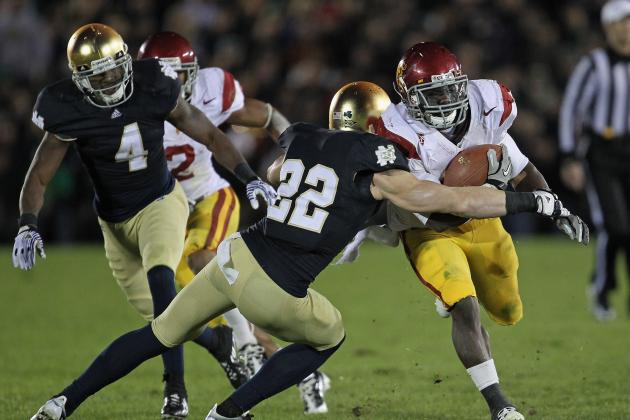 Jonathan Daniel/Getty Images

Mark Barron is undoubtedly the best safety in this year's draft class but Harrison Smith could sneak into the first round, especially with the Baltimore Ravens needing an eventual replacement for Ed Reed, and the Green Bay Packers looking to find their replacement for Nick Collins.
That may cause a team in need of a safety to panic and trade up to the New England Patriots' spot at pick 27 to be in line to pick Smith; the Patriots would definitely do that because Bill Belichick loves trading down.