2012 NFL Draft Grades: Full Analysis of Andrew Luck to Colts
April 26, 2012

Doug Pensinger/Getty Images
With the Indianapolis Colts taking Andrew Luck with the No. 1 pick in the 2012 NFL draft, they will be getting one of the best quarterback prospects of all time.
According to Mel Kiper and Todd McShay, Luck is the best quarterback prospect in the past 30 years and a once-in-a-generation player.
Scouts have him in the same class as NFL quarterbacks such as Hall of Famer John Elway and future Hall of Famer Peyton Manning.
Everyone has been waiting for Luck to come to the NFL. Last year he was going to be the No. 1 pick, but Luck decided to stay at Stanford another year.
Now that he is finally here, everyone is finally ready to see Luck work his magic.
What makes Luck so great is that he has all the tools an NFL quarterback needs. Physically he is a good as it gets. At 6'4" and 235 lbs. you could not ask for a better-sized quarterback.
It is like he was sculpted by the "NFL Quarterback Gods."
To go along with his size, Luck has great mobility for a pocket quarterback. At the NFL combine, he ran a 4.6 40-yard dash. Luck has an Aaron Rodgers-like scrambling ability, which will help make him an elite quarterback.
In terms of his football skills, he is nearly perfect. He excels in every single part of the game.
His only knock is that his deep ball is good, not great.
That is like comparing Scottie Pippen to Michael Jordan. His arm strength will still be among the best in the league, but it will not be the best.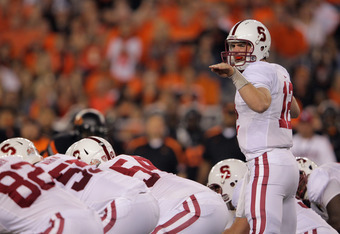 Doug Pensinger/Getty Images
Colts fans have become accustomed to seeing a quarterback lead their offense and call all the plays. Manning has become the face of audible calls at the line.
Heck, even the Madden video games have made Manning an audible-calling machine.
Luckily, the Colts are not just getting a quarterback who has all the physical tools. Luck has that Manning presence at the line. At Stanford he was in charge of that offense, and he called the shots.
Luck is the Mini-Me, and Peyton Manning is Dr. Evil.
Luck's intelligence is the best attribute of his game. Anyone can work on physical skills and improve. However, what puts the elite quarterbacks ahead of everyone else is their high football IQ.
Sure, Luck will deal with some rookie struggles this season like every other quarterback has dealt with. NFL analysts are going to critique every throw and decision he makes.
However, Luck will quickly become a top-10 quarterback in the NFL within his first couple of seasons.
The Colts could not have planned this any better. It was a blessing for them to be the worst team in the league in 2011 because they are getting one of the best cornerstone pieces to build around in Luck.
Grade: A+