2012 NFL Mock Draft: Final Round 1 Picks for Steelers, Browns, Ravens, Bengals
April 26, 2012

Ronald Martinez/Getty Images
This is it: the final hours before the first round on the 2012 NFL draft kicks off and everyone's last chance to refine their first round mock drafts, yours truly included.
Here are my final first-round predictions for all four teams in the AFC North, picks that do not take into account the myriad of trades which may or may not take place, because that would simply be insanity.
Round 1, Pick 4: Cleveland Browns Select RB Trent Richardson, Alabama
I know, I know. There's a ton of talk that the Browns will get trumped by another team, perhaps the Tampa Bay Buccaneers, in their quest to land the game-changing running back Trent Richardson. There's also been talk that the Browns are among those squads trying to move up to No. 3, where the Minnesota Vikings currently sit, to assure they can get Richardson.
Most of this is a smokescreen, in my estimation, and while there's much bluster of a team trying to snag Richardson out from under Cleveland, I don't see it coming to pass. Nor do I see the Browns taking wide receiver Justin Blackmon here. This pick just screams Richardson, and he's the multi-layered talent that struggling offense needs.
Round 1, Pick 17: Cincinnati Bengals Select OG David DeCastro, Stanford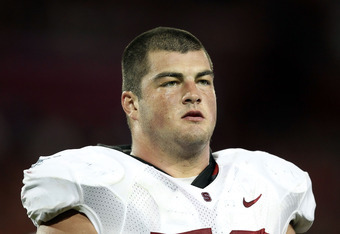 Christian Petersen/Getty Images
Part of me really wants to mock cornerback Stephon Gilmore to the Bengals here, because I believe the talk of him being a top-10 pick is just value inflation in the final days leading up to the draft. However, between the two, I think the Bengals will ultimately choose David DeCastro, the draft's best offensive guard. He's almost guaranteed to be a multi-year Pro Bowler who can anchor their offensive line for the next decade.
Round 1, Pick 21: Cincinnati Bengals Select CB Dre Kirkpatrick, Alabama
The Bengals already have their No. 1 wideout in A.J. Green and simply need to add a talented possession receiver to the mix. This is something I believe they can get in the second round, however, and an elite-level cornerback, one worthy of finally replacing Johnathan Joseph, is a first-round must. I have the Bengals selecting Dre Kirkpatrick here because I don't think they'll be able to nab Stephon Gilmore; however, if Gilmore is still on the board, I fully believe he'd be the pick here.
Round 1, Pick 22: Cleveland Browns Select WR Kendall Wright, Baylor
The Browns need to find a fast receiver to take true hold of the No. 1 spot on the roster, and none seems to be a better fit in the late first round than Baylor's Kendall Wright. I fully believe the Browns can find the offensive tackle they need at No. 37 in the second round and need to bring in some serious offensive weaponry in Round 1. Wright's stock has been a bit wobbly in the past months, but that doesn't make him any less perfect for Cleveland than he was in late February.
Round 1, Pick 24: Pittsburgh Steelers Select LB Dont'a Hightower, Alabama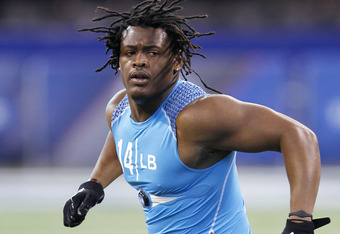 Joe Robbins/Getty Images
Alabama inside linebacker Dont'a Hightower is tailor made for a 3-4 defense, with his excellent pass-rushing abilities and blitzing skills. Though there is a chance that Hightower goes off the board before the Steelers select at No. 24, I don't think it's enough of a risk that I should mock another player going to them in the first round. Hightower is a prototypical Steelers linebacker who gives them youth and energy where they'd otherwise have Larry Foote this year.
Round 1, Pick 29: Baltimore Ravens Select LB Shea McClellin, Boise State
Boise State linebacker Shea McClellin may not make it past the New England Patriots at No. 27, but if he does, he's squarely the Baltimore Ravens' first-round target at No. 29. He's a "tweener" who could potentially play defensive end in a 4-3, but he projects far better as a 3-4 outside linebacker. While he doesn't completely fill the hole left by ILB Jarret Johnson, McClellin still has a huge amount of upside, especially in a hybrid defense like the Ravens'. He will need to add some bulk, however, without sacrificing speed.