Mike Mayock 2012 NFL Mock Draft: Where NFL Network's Guru Got It Wrong
April 26, 2012

Joe Robbins/Getty Images
NFL Network's draft analyst Mike Mayock released his one and only mock draft Wednesday. While he's one of the most respected draftniks in the business, his mock doesn't come without criticism. 
Here are a few picks that Mayock may have gotten wrong:
Justin Blackmon to Cleveland Browns (No. 4)
Blackmon is the top receiver in this class and fills a major hole on the Browns' roster, but I don't see how GM Tom Heckert and vice president Mike Holmgren pass on Alabama running back Trent Richardson at No. 4 overall. Cleveland needs the identity and security offensively that an elite back like Richardson could provide.
While Mayock eventually gives the Browns a three-down back in Doug Martin later in the first round, Cleveland can't bank on that scenario. Too risky.
And overall, the Browns would be better off with a combination of Richardson and Kendall Wright/Stephen Hill in the first round than Blackmon and Martin. Richardson could be a 1,200-yard rusher in year one, and Wright is a perfect fit for the Browns' West Coast offense.
The gap is just too wide between Richardson—who many think is the top back since Adrian Peterson—and the next player at the position (likely Martin) for Cleveland to take Blackmon at No. 4.
Stephon Gilmore to Philadelphia Eagles (No. 15)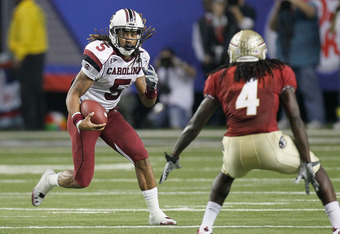 Kevin C. Cox/Getty Images
I struggle to see how the Eagles improve in 2012 if Gilmore is the pick at No. 15. Philadelphia just shipped Asante Samuel to the Atlanta Falcons for nothing more than pocket change in return, and Gilmore probably isn't going to be an impact guy behind Nnamdi Asomugha and Dominique Rodgers-Cromartie early on.
The Eagles should stay away from cornerback in the first round, and instead stockpile another pass-rusher like Chandler Jones (Syracuse) or Whitney Mercilus (Illinois) to keep pace with the Super Bowl champion New York Giants. Philadelphia can replace Samuel with a mid-round pick.
Stephen Hill to Tennessee Titans (No. 20)
Mayock defends the pick by questioning the reliability of No. 1 receiver Kenny Britt, but that perception shouldn't deter Tennessee from taking the defensive lineman they need at No. 20 overall.
Plenty of solid names are available in Mayock's mock: Whitney Mercilus (Illinois), Courtney Upshaw (Alabama), Dontari Poe (Memphis), Nick Perry (USC) and Shea McClellin (Boise State). 
The Titans can get a receiver later in the draft that isn't such a risk. Get a bona fide pass-rusher in the first round and worry about the passing game down the line.