NBA Playoffs 2012: J.R. Smith and Players Who Must Explode in the Postseason
April 26, 2012

Chris Trotman/Getty Images
When looking at the upcoming 2012 NBA playoffs, each team has one or two players that must have huge performances for their respective squads to make a title run.
It's easy to say LeBron James must have a good postseason for the Heat to win a title, but that's not exactly what I'm talking about here. What I'm looking for is a few lower-profile type players that need to explode throughout the course of the next few weeks.
Here's a look at a few of those players who can make or break their respective team's postseason success.
J.R. Smith, New York Knicks
When J.R. Smith is hitting the perimeter shot, he can be as explosive a scorer as anyone in the league. But when he's cold, he can shoot a team right out of the game.
Smith has been good so far for the Knicks, bringing energy and scoring. But he's attempting 5.6 three-point attempts per game and only shooting .347 from behind the arc.
If he gets hot, the Knicks will have a chance of pulling a first-round upset.
Steve Novak, New York Knicks
The Knicks' turnaround this season is almost directly tied to Jeremy Lin being inserted into the starting lineup, but just as important was that Novak joined the Knicks rotation at the same time.
Novak exploded through the rest of the regular season and leads the NBA in three-point shooting at .471. He needs to stay hot in the playoffs for the Knicks to have a chance.
If Novak and Smith are knocking down shots consistently, the Knicks' depth becomes tough to deal with.
Avery Bradley, Boston Celtics
Bradley has played so well after the All-Star break that he replaced future Hall of Famer Ray Allen as the starting 2-guard.
While Bradley is an outstanding defensive guard, the Celtics are going to need some production from him at the offensive end.
Bradley has scored in double figures in eight of his past 10 games and is shooting .527 from the floor during the month of April.
He could end up becoming Boston's most important player when it's all said and done.
Mike Miller, Miami Heat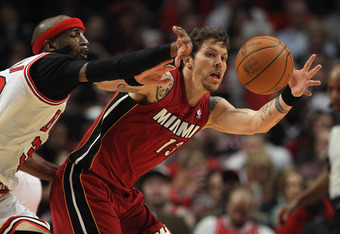 Jonathan Daniel/Getty Images
It doesn't matter what LeBron, Dwyane Wade and Chris Bosh do in the postseason. If the Heat don't get production from their bench, then they have no chance of winning a championship.
Miller's been hurt for half the season and has only averaged 6.0 PPG in his 38 games played. He's a guy with a reputation of being able to knock down some big shots and will have to do so for Miami to make a lengthy run.
Devin Ebanks, Los Angeles Lakers
With Metta World Peace suspended and Matt Barnes playing with a bum ankle, Ebanks is going to have to step up and produce for the Lakers.
If you look at his season numbers (3.6 PPG, 2.1 RPG), you would think he doesn't have a chance. But after world Peace was ejected against Oklahoma City, Ebanks came in and scored eight points, grabbed five rebounds, recorded two steals and blocked a shot in 27 minutes.
If he can give the Lakers something similar on a game-to-game basis in the playoffs, the Lakers will be tough to beat.
Zach Randolph, Memphis Grizzlies
It's been a rough year for Randolph, who's been limited to only 27 games due to a knee injury.
He's been working himself back into game shape and has been coming off the Memphis bench, but for the Grizzlies to duplicate any postseason success from a season ago, Randolph needs to explode.
Memphis needs Randolph to be that 20-and-10 force that he was last season. He's been rounding back into form, and if Randolph plays at an All-Star level, the Grizzlies will be very tough to beat.