2012 NBA Playoffs: Sizing Up the Philadelphia 76ers and Chicago Bulls Matchup
April 27, 2012

Jonathan Daniel/Getty Images
With the Philadelphia 76ers and Chicago Bulls set to tip off on Saturday, it's time to evaluate how these two teams match up in this intriguing first-round series. Although the Bulls took the season series 2-1, the Sixers have been able to hold their own against the Eastern Conference's best team on several occasions throughout the last two seasons. Although the Bulls do appear to outmatch the Sixers, this one may be closer than you think.


Point Guard

Perhaps the easiest position to evaluate in this Eastern Conference clash, Derrick Rose takes the cake despite matching up against a slowly improving Jrue Holiday. Rose is the reigning MVP, and is far and away the best player in this series.
However, Rose has been battling several injuries as of late. While I don't expect Rose to be hampered by these nagging injuries, it can't hurt the Sixers chances that he has been off the floor for so long. In the end, Rose's sheer dominance at the point guard position is enough to give the Bulls the edge they need in the backcourt. Advantage: Bulls


Shooting Guard
For the 76ers, it's really a question of who's going to step up at the two-guard in this series. Jodie Meeks has been cold lately, and Evan Turner has become more of a factor both offensively and defensively. Although there's no indication that Turner will be given starters minutes, he will be the first man off the bench if Meeks can't perform.
A sleeper, newly acquired Sam Young could be a factor defensively in this series if Doug Collins determines that his team needs a boost. Just look at Young's performance in last year's first-round series against the Spurs.
For the Bulls, Ronnie Brewer is an efficient scorer, and he is certainly a better player than Meeks. If Turner's recent play earns him starters minutes, he could prove to be a mismatch for Brewer. Don't be surprised to see Turner guard Derrick Rose at times, as their rivalry dates back to high school. Advantage: Sixers


Small Forward

The most intriguing position battle in this series, All-Stars Andre Iguodala and Luol Deng will square off in a matchup of two athletic swing men. While Deng is a more proficient scorer (over 15.0 points per game), Iguodala has proved he's the more complete player.
Iguodala has been Philadelphia's most consistent and unselfish player this season, averaging just over 12 points, five assists and six rebounds per game. While both Iguodala and Deng are known as good defenders, Iguodala has earned the title as one of the league's most feared wing defenders.
Neither player will struggle to make an impact in this series, but Iguodala will be looking to advance to the second round of the playoffs for the first time in his career. He's hungry and ready to prove he's one of the NBA's elite talents. Advantage: Sixers


Power Forward

In a matchup of two former Duke Blue Devils, Chicago will have the edge in the frontcourt. While both players are averaging well below their career averages, Boozer has been more reliable this season.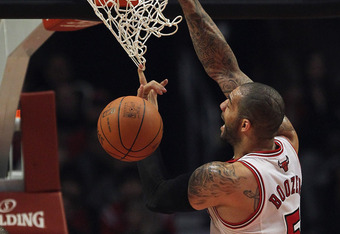 Jonathan Daniel/Getty Images
Posting 15.1 points and nearly nine rebounds per game, Boozer has been a steady force in the Bulls' frontcourt alongside Joakim Noah. The same cannot be said about Brand. Brand has averaged under 30 minutes per game in this truncated season and has posted mediocre numbers, at best. Although Brand has shown flashes of his old self at times, he's clearly not the same player he was with the Clippers.
Brand has averaged just 11 points per game, down from 15 points a year ago. While both players boast similar styles of play at 6'9'', Boozer will be the more effective player in this series. Advantage: Bulls


Center

Three months ago, this may have been a discussion. Now, it's a foregone conclusion that the Bulls have a much more dominant center. Spencer Hawes has not been the same player since coming off of his Achilles injury, and Noah is downright scary on the glass. While he may not have the offensive versatility that Hawes does, Noah is one of the league's top centers.
Noah was just percentage points away from averaging a double-double this season, and although Hawes wasn't too far off himself, it's clear that Noah is a more physically imposing force down low. Hawes has a two inch height advantage on Noah, but that won't phase the former Florida Gator.
Look for the Chicago to dominate the boards throughout this series. Advantage: Bulls
Bench

Now this is where it gets interesting. Lou Williams, the 76ers' leading scorer, is one of the league's streakiest shooters, but if he gets hot, he could pose problems for the Bulls. However, the Bulls can counter Williams' scoring with C.J. Watson. Watson filled in admirably this season for the oft-injured Rose, and the Sixers must keep him under wraps if they hope to put up a fight in this series.
At power forward, the Sixers will throw Thaddeus Young out against Taj Gibson, a matchup of two players who flash contrasting styles. Gibson has intermediate range, but he's known as more of a banger down low. Young, on the other hand, is a finesse player who possesses a skill set similar to that of Lamar Odom. As mentioned earlier, the Bulls' size and aggression down low could prove to be too much for an undersized Sixers team. Advantage: Sixers (barely)
Pick: Bulls in five