2012 NFL Draft Positional Rankings: Top 5 RBs Teams Will Target
April 26, 2012

Chris Graythen/Getty Images
The utilization of running backs has changed dramatically, and so the ranking of running backs has also changed.
It is no longer essential to have an elite running back to win in the NFL. It is far more important to have an elite passing game and pass rusher.
However, it doesn't mean that the running game is no longer important. It is now more important to have two or even three guys who have different skill sets.
Teams like to have a reliable back who doesn't fumble as well as a good blocker and a good receiver out of the backfield.
Therefore, running backs will still be targeted in this year's draft.
Teams will rank guys differently based on what specific skill set they're looking for, but here's a look at the top five running backs based on how complete that player is.
1. Trent Richardson
It is a no-brainer that Richardson is the top running back in this year's draft.
Richardson is the only true running back who has all the skills to be a featured back in the NFL.
There are not too many faults in Richardson's game. He can run by you or through you. He rarely fumbles. He is a reliable pass-protector and has good hands.
Richardson split time with Mark Ingram at Alabama in 2009 and 2010 but still managed over 700 rushing yards each season.
In 2011 as a full-time starter Richardson tallied over 1,600 rushing yards and was a Heisman Trophy candidate.
Richardson compiled those impressive numbers against the toughest competition in college football - the SEC.
Richardson is consistent, reliable and the total package at the running back spot. Expect his name to be called in the top five Thursday night.
2. Doug Martin
The running back out of Boise State has had solid workouts and has moved up draft boards recently.
Doug Martin has proven he has a knack for compiling yards and finding the end zone. Martin has scored at least 12 rushing touchdowns the last three years and rushed for more than 1,200 his last two seasons.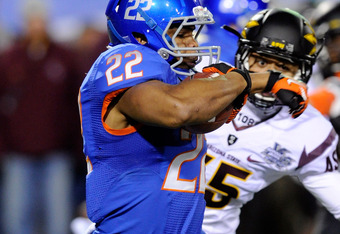 Ethan Miller/Getty Images
Martin's biggest strength is his ability to block and catch out of the backfield.
Martin doesn't have breakaway speed and didn't play against the best competition at Boise State.
However, his receiving skill set would make him a very good complementary running back in the right offense.
Martin could sneak into the end of the first round to the Broncos, Patriots, Packers or Giants.
Wherever he goes, Martin should be a productive running back at the next level.
3. David Wilson
David Wilson had an impressive year in 2011 at Virginia Tech as he compiled 1,709 yards on the ground on an impressive 5.9 yards a carry. 
At 5' 10" and 210 pounds, Wilson has good size to play running back in the NFL.
Wilson has great speed and excellent acceleration as he hits the hole. Wilson is a good receiver out of the backfield and is fairly strong for his size.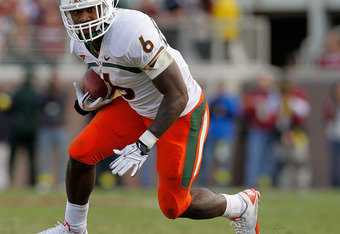 Mike Ehrmann/Getty Images
Wilson needs work with his pass protection and needs to show he can run between the tackles on a consistent basis.
Overall, Wilson is a prospect with game-breaking potential which will likely intrigue teams during the second round.
4. Lamar Miller
Lamar Miller is another running back with good speed for his size. Miller is coming off a redshirt sophomore season at Miami where he ran for 1,272 yards and nine touchdowns.
Miller passes the eye test for an NFL running back at 5'11" and 210 pounds.
Miller runs well for his size and also has shown to have good agility. Miller possesses good hands which make him a good option in the receiving game.
Miller tends to run too upright at times, which leads to him not being as powerful as he should. He also needs to work on pass protection.
There are areas for Miller to work on as he only started at Miami one full season.
However, with some proper coaching on technique, Miller has shown to have the tools to make him a very good running back.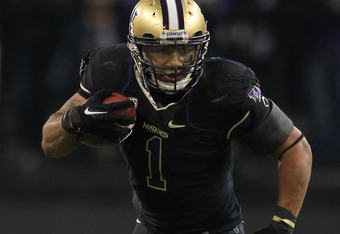 Otto Greule Jr/Getty Images
Miller will likely go in the second or third round.
5. Chris Polk
Polk shed about 15 pounds at the beginning of the 2011 season to get faster.
It turned into another 1,000 yard season for Polk, who had three consecutive seasons of more than 1,000 yards at the University of Washington.
Polk is only the seventh player in Pac-10 history to total over 4,000 yards rushing in his career.
Polk is a thick runner who shows toughness in between the tackles. Polk also is an excellent pass-catcher and will make for a good complementary back in the NFL.
Like Miller, Polk tends to run too upright and could get better pad leverage.
Miller has proven to be a productive running back and will likely be chosen in the second or third round.