In what was truly irony at its finest, the very same day I published an article asking if Beth Phoenix's near record-tying Divas Title reign was really something worth recognizing, she dropped the strap to none other than Nikki Bella.
And the world let out a collective, "Huh?"
The shocking title change this past Monday certainly raised a lot of questions.
First: Is Phoenix's ankle injury an act or legitimate? She certainly had us all duped, as the general consensus throughout the IWC seems to be that the injury is in fact a work and Phoenix is just a damn good actress.
Second: Are the Bellas leaving the WWE or aren't they? Word on the dirt sheets is that their contracts expire on the the last of the month and they don't plan on renewing. As of right now, their true status remains unclear.
Third: Then why bother giving the title to Nikki? Two words: transitional champion. It seems that, whether she's leaving or not, a lot of people are of the opinion that Nikki is simply a placeholder until Kharma returns and destroys her.
This scenario makes a lot of sense. The Bellas embarrassed and ridiculed Kharma after she announced her unexpected high-risk pregnancy; and because the WWE certainly isn't above using sensitive real-life situations as part of their story lines, the tragedy Kharma suffered in losing her child is certainly more motivation for her to completely annihilate Nikki and Brie.
Furthermore, giving the title to Nikki and injuring the former champion allow build-up for the match we've been waiting to see for more than a year now: Kharma vs. Beth Phoenix.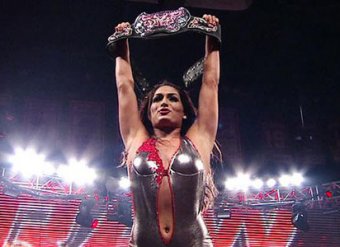 That leaves one final burning question: When will Kharma return?
As of right now there's no Divas match planned for Extreme Rules this Sunday, and there's an extremely limited selection of rivalries from which a match could be planned.
By "extremely limited" I mean "one." That one is AJ and Natalya, whose rivalry extends all the way back to last Friday's episode of SmackDown.
But hey, matches have been spawned from far less. If there is to be a Divas bout on Sunday, I think AJ vs. Natalya is a considerable possibility. However, that doesn't by any means diminish the likelihood of a Kharma return in the Windy City.
Perhaps AJ and Natalya will be doing their thing in the ring. Natalya is dominating the spunky yet much smaller AJ...when Kharma appears and lays waste to either one or both of them. While it would spoil a rare good Divas match, it would also set up a confrontation between Nikki and Kharma the next night on RAW.
This would be a good way to reintegrate Kharma back into the division. However, there is another more exciting scenario that could also pan out.
RAW GM John Laurinaitis has added a new member to his team in Eve Torres, who he recently named Executive Administrator. As we found out this past Monday, that apparently gives Eve the power to change match stipulations and perhaps even create matches.
If that's the case, then Nikki could very well be forced to defend her title this Sunday.
Think about it: Eve books an open challenge for the Divas Championship, and unfortunately for Nikki the first one to accept is Kharma.
And Chicago will see the crowning of a new, much more dominant champion.
Katie Gregerson is a pro wrestling trainee turned pro wrestling journalist and blogger. You can read her posts for theScore's Aftermath blog, subscribe to her blog Ring the Bell! and follow her on Twitter @katiegregerson