2012 NFL Draft Grades: Highlighting the Best Defensive Prospects
April 26, 2012
"The best offense is a good defense," as the old saying goes. Without a good defense, an offense might as well run its head against a brick wall, since it doesn't matter if you put up 100 points if your defense is allowing 101. 
Now that the 2012 NFL Draft is finally here, NFL franchises are going to be able to sink their teeth into one of the best defensive draft classes in recent memory. 
Some top prospects are better than others, though, so here's how I would grade this year's top defensive prospects. 
Defensive End: Melvin Ingram, South Carolina  Grade: A
Ingram is an animal at the defensive end position. His unnatural combination of speed and strength, coupled with his unyielding desire to smash ball-carriers makes him this year's top prospect at the position. 
During his senior campaign, he racked up 10 sacks and nearly 50 tackles. He even managed to score on two fumble recoveries. Pretty impressive stuff.
Ingram has the ability and know-how to be very good against both the run and the pass. He beats blockers time and time again but never seems to tire and is consistently the first player off the snap. 
There are very few flaws to Ingram's game. The worst that combine scouts could say about him is that he has short arms and may be too small to play defensive tackle, which is fine since he's probably going to be a 4-3 defensive end or an outside linebacker.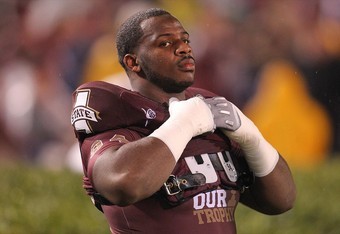 Ingram is a great overall prospect with a lot of upside. Easily one of the safer picks in this year's draft. 
Defensive Tackle: Fletcher Cox, Mississippi State Grade: B-
Cox is a quick and powerful defensive force who has proven he can make the big play consistently during his two-and-a-half-year college career. He is very quick and aggressive off the snap and has the know-how and the body control to dip and move around would-be blockers. He has the ability to be a dominant force on whichever defensive unit he finds himself on next season. 
Cox does not get the "A" due mostly to his ineffectiveness against a double-team. Cox has shown that his biggest weakness is in this category, as he tends to get totally washed away when faced with one. 
If Cox wishes to be the the dominant force that experts are saying he will be, he'll need to devise a way to overcome this shortcoming. He'll be faced with bigger, stronger and more technically sound interior linemen now that he's in the NFL. These veterans will be able to key in on this weakness and take him out of play without much effort. 
If he starts breaking double-teams, he will easily move up to an "A" in my book. 
Inside Linebacker: Luke Kuechly, Boston College Grade: A-
Kuechly is billed as one of the most instinctive, technically-established linebacker prospects in recent memory. He lived up to the title by showing superb play at the position throughout his BC career. He is excellent at avoiding the wash and breaking blocks and possesses outstanding footwork and power. He also has supreme speed and agility that allow him to track down ball-carriers anywhere on the field.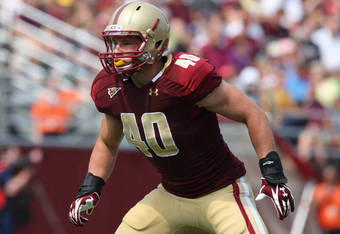 He recorded top marks in all but one measurable category at the combine and was given a score of 91.0, which, in scout terms, means that he will be an immediate starter in the NFL. 
Kuechly fails to get a full "A" because he's shown that he's only a threat beyond the line of scrimmage. Over the course of his three-year career at BC, he managed to rack up an astounding 516 tackles, but he only had 2.5 sacks. This, coupled with any game film you may watch of him, proves that he does not like to step up and make plays at the line. He relies heavily on reading the ball carrier and picking him off after he crosses the line of scrimmage. 
Kuechly is an outstanding player, don't get me wrong, but his lack of line play makes him a little less valuable to me. Regardless, he will still see a lot of play and success on an NFL roster. 
Outside Linebacker: Courtney Upshaw, Alabama Grade: A
Upshaw has the extreme strength and natural football ability to become one of the premier pass-rushers in the NFL next season. At will, he can use his devastating bull rush to overpower would-be defenders and get to ball-carriers and quarterbacks alike. 
Upshaw also possesses extreme lower body strength, a trait that often lends to a lack of mobility, but he has beaten that stereotype by demonstrating solid body control and fluidity to dip and step around tackles and defenders to get to the quarterback or ball-carrier. 
The only thing that can be said against Upshaw is that he doesn't have the speed to make plays on the opposite side of the field. I dismiss this discredit mostly because today's professional defensive schemes rarely call for a far-side linebacker to make plays on the opposite side of the field. The defenses consist mostly of check-downs and assigned priorities that give each player an established niche that they will excel the most in.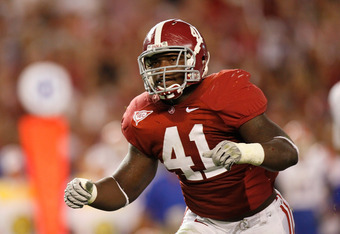 Kevin C. Cox/Getty Images
Upshaw will have no issues with adjusting to the NFL. His skills and prowess will easily translate into a productive career.
Cornerback: Morris Claiborne, LSU Grade: A+
Claiborne is easily the most polished and NFL-ready defensive player in this year's draft class.
He possesses everything that is needed to become a dominant corner in the NFL. He's quick, agile, tough—everything. He's a dominant force in both the man and zone schemes who can consistently make plays in the air and on the ground.
He has the makings of an All-Pro corner already and can only get better come NFL practices. Scouts were hard-pressed to find anything wrong with his game, other than he can grow too confident with how he's playing and become lax in his posture and tackling.
Claiborne gets the highest grade of any defensive prospects on my list and will be the first defensive player taken in the draft. He is already an NFL-level corner and could have been a starter in the league last year if he had chosen to do so.
Free Safety: Harrison Smith, Notre Dame Grade: B+
Smith demonstrated excellent play at the position during his tenure with the Fighting Irish. He's a very quick and explosive read-and-react safety that has excelled at both run and pass defense.
Despite having a relatively small frame, Smith possesses NFL-level speed and strength for the position. Arguably one of his biggest assets has to be his reliability when tackling. Smith won't normally be the one to deliver the knock-out hit, but his drag-down tackling philosophy has worked wonders for the Irish and should translate well to NFL defenses.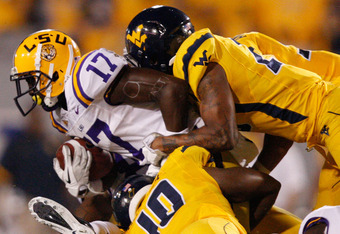 Jared Wickerham/Getty Images
Smith doesn't get the "A" because he has shown a sizable weakness in the man cover game. He is often caught out of place and unable to make the play in the air. He just does not have the technical ability to be relied on in this department.
He will thrive in a read-and-react zone NFL defense where his excellent recognition and instincts will benefit his game greatly.
Strong Safety: Mark Barron, Alabama Grade: A
Barron is another former Alabama defensive player who will do very well at the next level. Like Upshaw, Barron is a very aggressive and powerful back that can make consistent, plays against both the run and the pass. 
Barron reads both receiver routes and running lanes very well, allowing him to quickly react and attack before the play has time to develop. This keen sense of awareness, coupled with his ability to cover and control any position he may come in contact with, make him an elite selection at this position.