Stephon Gilmore: 6 Biggest Strengths and Weaknesses of 2012 NFL Draft Prospect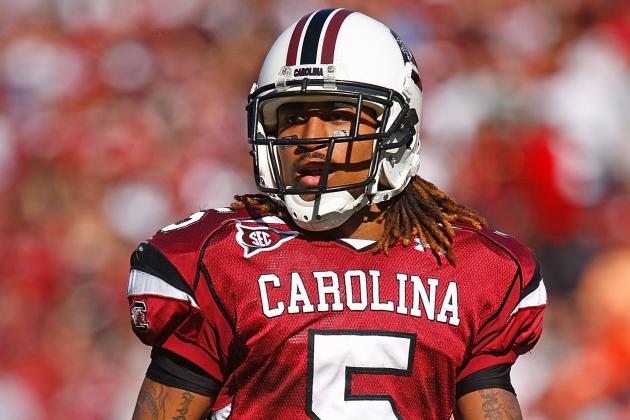 Scott Halleran/Getty Images

Former South Carolina standout Stephon Gilmore has seen his draft stock take a huge leap in the final weeks leading up for the NFL draft.
This standout cornerback has started every game he's played in at South Carolina since he arrived on campus in 2009. He has great measurables and exceptional speed and athletic ability, which is needed to play defensive back at the NFL level.
So does this guy have any flaws in his game?
Let's go ahead and break down six strengths and weaknesses of Stephon Gilmore's game.
Bleacher Report Style!
Begin Slideshow

»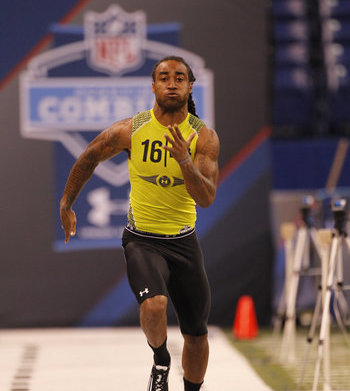 It's not often that you see a cornerback who is 6'0" or taller and has exceptional speed as well.
That is the case with Stephon Gilmore, which is why he is a lock to be a first round selection in the NFL draft.
Gilmore ran a 4.4 second 40-yard dash at this year's NFL combine, which was the third fastest time among defensive backs in this draft class. He also ranked among the top five defensive back performers in both the 20-yard shuttle (3.94, second) and the 60-yard shuttle (11.15, fourth).
Gilmore covers a lot of ground with his speed and also has the height to match up in man coverage against bigger receivers.
This kid has all the tools to be a special player at the next level.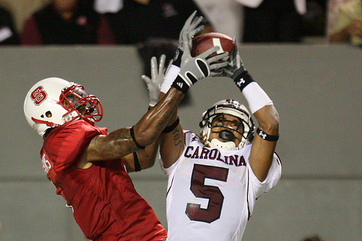 Gilmore's skill set suggests that he could be an elite man-cover corner in the future, but in college, he seemed more comfortable in zone schemes.
Gilmore wasn't asked to press very often in college and he would often give too much cushion to opposing receivers. He seemed hesitant at times in man coverage and doesn't always trust his reads.
Gilmore had the luxury of being able to rely on his size and athleticism in college, but in the NFL, he could get exposed early on by fundamentally sound receivers who are crafty in getting into open space and making plays.
Gilmore will learn how to press better and play faster once he's coached up at the next level.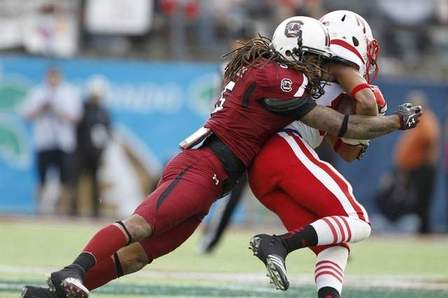 If you've watched Stephon Gilmore play the cornerback position, you will see that he has the speed of a corner, the size of a safety and the physicality of a linebacker.
In other words, this kid isn't your average defensive back.
Gilmore stands at 6'0", 195 pounds and he plays even bigger. He may not have a ton of experience in press coverage, but he loves to be in the mix near the line of scrimmage, especially when coming up on run plays. Despite the reputation that cornerbacks have of avoiding contact, Gilmore is a guy who will gladly lower his shoulder and deliver a heavy blow from time to time.
This kid has no problem with coming up and supporting the run. He is a physical tackler, who could make the move to safety later on in his playing career.
They just don't make them like this anymore.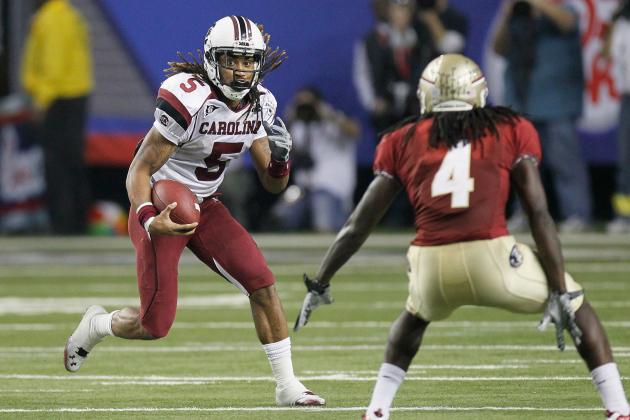 Kevin C. Cox/Getty Images

Stephon Gilmore has the speed and athleticism to make up for some of his mistakes, which are often made when he is late diagnosing a play.
Gilmore doesn't make too many mistakes, but from time to time, you can see that he has inconsistent ball reactions where he gets a late jump on the ball. His instincts aren't always right, and that can get him in trouble at times.
Gilmore also needs to work on his route recognition as he guesses routes at times, and isn't always right, which leads to getting his feet crossed up and out of position.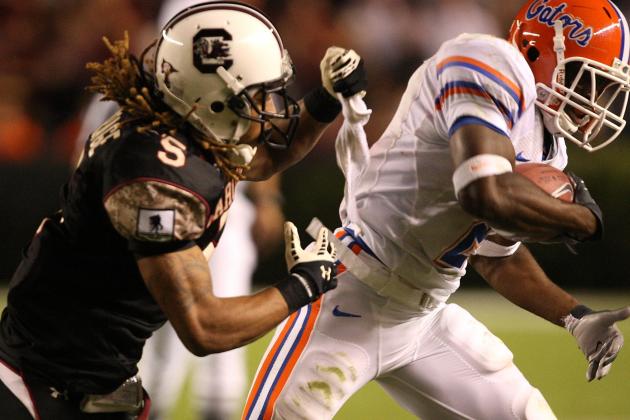 Streeter Lecka/Getty Images

Stephon Gilmore was a starter for South Carolina from the second he stepped on campus and handled the pressure brilliantly.
Not only is the kid experienced and mature for his age, but he has been playing against the top competition in college football over the past three seasons.
During his career at South Carolina, Gilmore has gone up against the likes of Julio Jones, A.J. Green, Sammy Watkins and Riley Cooper and has held his own each and every time.
You can teach mechanics to rookies at the NFL level, but you simply can't teach experience. This kid will not back down the first time he is matched up against an elite NFL receiver, but coaches should love to see from a rookie defensive back like Gilmore.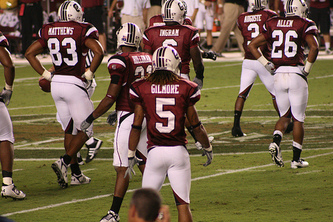 Stephon Gilmore is a guy who really excels when playing zone because it allows him to play freely and rely more on his reactions.
But, scouts could be concerned that Gilmore might struggle when forced to work within specific schemes that don't allow him as much freedom to roam the field.
When watching Gilmore, it becomes obvious that he is more comfortable reacting to plays in front of him than he is playing with his back to the ball.
Either way, Gilmore will work on this on his way to becoming an elite NFL cornerback one day.