2012 NFL Draft Projections: Picks That Will Leave Fans Scratching Their Heads
April 26, 2012

Sarah Glenn/Getty Images
In this 2012 NFL draft, there could be some really questionable decisions made. Hopefully your favorite team does not make a franchise-altering mistake.
Unless your name is Ozzie Newsome or Bill Belichick, every NFL draft is a crapshoot.
It has become a monumental task selecting the right player to fit your team, and even the best drafters can get it wrong from time to time.
Minnesota Vikings Not Selecting Matt Kalil
Reports have surfaced that the Vikings are considering trading out of the third spot of the draft.  Minnesota is in desperate need of a franchise left tackle, and Matt Kalil fits the bill more than anyone in recent memory.
Before that, some were predicting the Vikings to select LSU cornerback Morris Claiborne instead of Kalil.
Kalil is the best tackle prospect since Joe Thomas, and if Minnesota passes on him, it could be the franchise's biggest draft flub since it forgot to turn in its first-round selection in 2003.
Team That Selects Ryan Tannehill Inside the Top 10

Joe Robbins/Getty Images
Tannehill didn't start until midway through his junior season, and he played well during his senior year. Now he has somehow magically parlayed that into a Top 10 billing in this year's draft.
NFL teams are desperate for franchise signal-callers, and their value always inflates this time of year. But in no way is Tannehill worth a selection in the first half of Round 1.
The Cleveland Browns and Miami Dolphins have been rumored as landing spots for the Texas A&M product, but there is a huge "buyer beware" sticker on the forehead of Tannehill.
Team That Picks Michael Floyd Over Justin Blackmon
Before the NFL Scouting Combine, Blackmon was the clear choice as the top wide receiver in this year's draft. A gaudy pro day by Floyd, though, has managed to close the gap between the two.
Floyd has all the physical tools, but character concerns and questions about his speed remain. At Notre Dame Floyd produced at a high level, but he will struggle to get separation from top corners in the NFL.
Blackmon produced at an alarming rate during his tenure at Oklahoma State, and he also has the dreaded "character concerns" label but the difference between him and Floyd is clear.
Blackmon plays much taller than his 6'1" size and is absolute phenom when it comes to technique. He uses his creativity to find open space in the field, and Blackmon will produce early in his NFL career.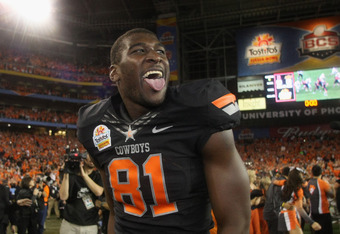 Donald Miralle/Getty Images
Browns Selecting Justin Blackmon Instead of Trent Richardson
Blackmon is a supreme talent, and the NFL is becoming a pass-first league, but passing on a running back like Trent Richardson would be a huge mistake by the Browns.
Running backs like Richardson don't come along too often, and he would fit in nicely in Cleveland.
A true workhorse in every sense of the word, Richardson has all the skills to become an elite running back during his rookie season, and the Browns desperately need a face for their struggling franchise.
Team That Ignores the Defensive Talent in This Draft
This season's draft is remarkably more offensively top-heavy than any other in recent memory. It is quite a contrast to the 2011 class.
The 2011 draft featured Von Miller, Patrick Peterson, Aldon Smith and J.J. Watt being selected early, but NFL teams would be remiss to ignore the defensive stars in this year's draft class.
Luke Kuechly, Melvin Ingram and Morris Claiborne headline the class this year, and there is a host of other defensive players ready to make a rookie impact in 2012.