WWE Extreme Rules: 5 Reasons Why Cena vs. Lesnar Should Not Be Extreme Rules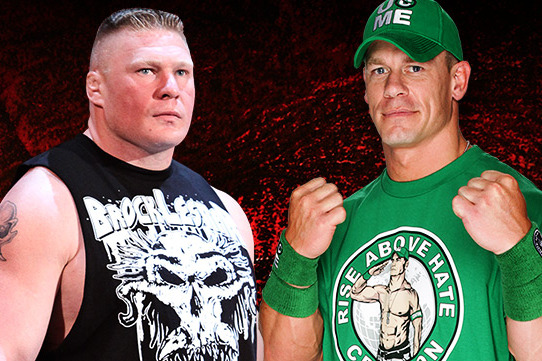 Photo courtesy of WWE.com
The Extreme Rules pay-per-view is just around the corner and one of the most anticipated matches of the night will undoubtedly be John Cena vs. Brock Lesnar. These two giants will face off in an extreme rules match, which means anything goes.
Was this the right match to start the Cena vs. Lesnar feud, though?
Lesnar was a former UFC champion, and hasn't wrestled in eight years. With this match being anything goes, how much of a chance does Cena have? Why not a table match or even an "I quit" match? We as fans could at least get to see if Lesnar can still wrestle.
An extreme rules match was the wrong decision to start this Cena vs. Lesnar feud. Here are five reasons why.
Begin Slideshow

»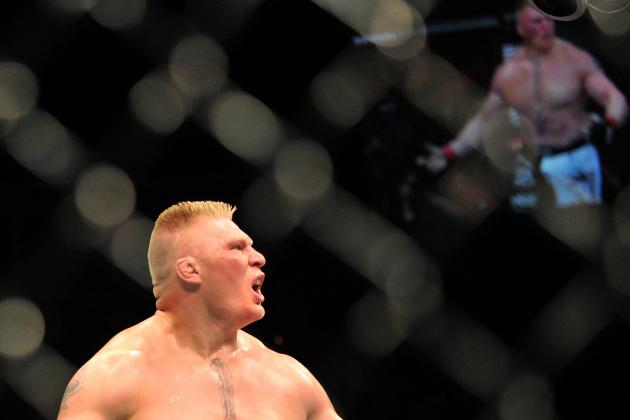 Jon Kopaloff/Getty Images
Can Lesnar go from UFC back to wrestling?
One of the biggest problems with an extreme rules match is that it throws wrestling right out the window. This match could quickly spill to the outside of the ring, which would turn it into a street fight instead of a wrestling match.
Lesnar needs to show the WWE universe that he can still wrestle.
We have seen that he can at least still do the F-5, but how much ring rust does Lesnar have? Can he go into an extreme rules match and not seriously injure John Cena? We all saw what happened on Raw when these two scuffled. I'm not sure if Lesnar was suppose to actually make Cena bleed, but that's what happens when a wrestler, who is already known for wrestling stiff, comes back from UFC and tries to tone it down somewhat for professional wrestling.
Lesnar's ring rust is just one concern, though. Let's not forget that Lesnar has had major surgery.
Will this also affect his wrestling ability? Not having to take the regular bumps that come with a wrestling match can help Lesnar avoid injuring himself. But what if he takes a bump the wrong way? There is always a chance he could hurt himself in an extreme rules match.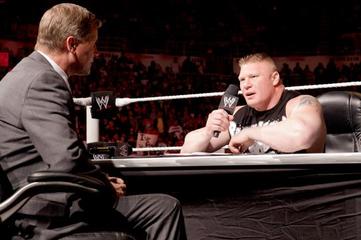 Photo courtesy of WWE.com
Without a doubt, a match with no rules is the type of match that ends a feud. With the feud finally heating up between Cena and Lesnar, why start it with a match that can easily end in blood?
We have finally seen the extent to Lesnar's heel character, essentially wanting to run Raw, and with Edge telling Cena he needs to win because he basically represents the WWE, why are Cena and Lesnar seemingly putting it all on the line with their first match?
A tables match, or even an "I quit" match would have worked much better for the feud. John Laurinaitis, for example, could have easily got involved in an "I quit" match, telling Lesnar he could not meet his demands, which would have led Lesnar to quit the match of his own free will. This could setup a future match around the contract that Lesnar signed with the WWE and keep the feud between these two alive.
An extreme rules match is the type of match that ends a feud. With this Cena vs. Lesnar feud heating up, why end it so quickly?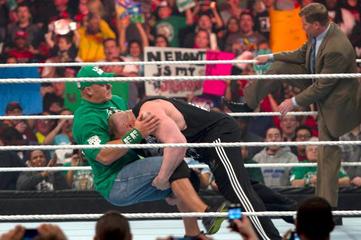 Photo courtesy of WWE.com
I admit that I am not a John Cena fan. I believe that Cena always wins, and frankly I get sick of it.
However, after seeing him lose cleanly to the Rock at WrestleMania 28, John Cena has started to show that he, in fact, can lose.
This match, though, is not Cena vs. The Rock. This is not going to be two face characters who can wrestle, going at it in a regular match.
This is going to be Brock Lesnar, who is the heel character and a former UFC champion, going against John Cena, who just had arguably the biggest loss of his career at WrestleMania 28.
Cena is clearly at a disadvantage, and making this match extreme rules only hurts Cena even more. Of course, this could arguably be part of John Laurinaitis' plan to give Lesnar the advantage, but even beyond that, how can Cena stand a chance against a UFC champion?
Lesnar could seriously hurt Cena in an extreme rules match.
And while I am not a fan of John Cena, I don't want to see the face of the WWE beat to a pulp.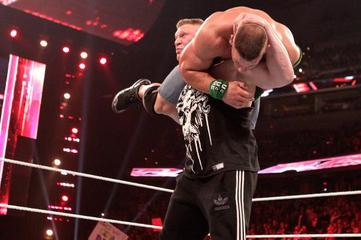 Photo courtesy of WWE.com
Since this extreme rules match can easily be seen as a match that ends a feud, the question remains: what will happen once this match is over?
If John Cena wins this match, Brock Lesnar and his claim to legitimize the WWE and all the demands he made on Raw this week will seem pointless. Will the WWE really have Lesnar come back and lose in his first match? More than likely not.
However, what happens if Lesnar wins this match?
At this point it has been established that Cena represents the other WWE superstars. If he loses to Lesnar, what does that say about Cena himself? He is the face of the WWE, and having lost to the Rock and then to Brock Lesnar seems like a little too much for a man who is not only the face of the company, but is also representing the other superstars going into this match.
How can this feud continue and setup possible other matches with so much on the line already going into this match?
Lesnar could disappear (since he isn't signed to a full-time contract), but what will happen to John Cena?
Photo Courtesy of WWE.com
Clearly, when all is said and done and this match is over, the fact will remain that this brawl between Cena and Lesnar could have been so much more. The match itself, the build up and even what happens after could have easily benefited from this match not being an extreme rules match.
There was the potential for so much more.
Seeing if Lesnar could still wrestle and also toning down the match type would have made it easier for Lesnar or Cena to win this match and allow the feud carry on to the next pay-per-view.
With everything that has already been mentioned, it is clear that the potential that Cena vs. Lesnar could have had has easily been cut short because of this match.
With the WWE looking to continue to move forward in big ways after the amazing build up of WreslteMania 28, what will happen to all that steam once this match is over?
Will Lesnar stick around or disappear? Will Cena be the same person after this match? These are questions that we won't know the answer to until next Monday night. The Cena vs. Lesnar feud has been great so far, so why cut its potential by making the first match these two face off in an extreme rules match with so much on the line?