Toronto Blue Jays: Is Kyle Drabek's Hot Start Proof He's Officially Arrived?
April 26, 2012

Tim Umphrey/Getty Images
There are many questions asked in spring that have to wait until fall to be answered. In the case of Kyle Drabek, we may need to only wait a few more weeks to see how he answers the titled question. To this early point in the season, Drabek has been looking very impressive, to say the least. 
Throughout spring training, it was believed that the five-man rotation going into the season would be Rickey Romero, Brandon Morrow, Brett Cecil, Henderson Alvarez and one of Jesse Litsch, Dustin McGowan, Aaron Laffey, Joel Carreno and Drabek. He was far down on the depth chart and a lot of people assumed he would start the season in Triple-A Las Vegas.
I was one of those people that didn't think Drabek would be able to show enough change to warrant starting the season at the major league level. As spring continued and the injuries started to occur, reports indicated that Drabek may be on the plane heading back north when the season began.
His spring numbers were impressive: 2-0 with a 3.72 ERA, but he gave up 45 hits in 41.2 innings pitched, although he only surrendered 19 earned runs. I didn't know what to think at this point. Is this the Drabek that teased us at the beginning of last year? Or is it a Drabek that disguised himself as a horrible pitcher and got sent down to the minors?
There is no denying that he has talent and is gifted with all the skills needed to be in a major league starting rotation. It's that self-frustration and the composure he has needed to work on. Through four starts, he has shown a little more of a level head; of course, he did throw out some big words after throwing that wild pitch in Kansas City.
Over the course of the year, he is bound to get upset and frustrated at times, but it's going to be how he bounces back that will solidify his spot in the rotation.
In his first start against the Red Sox, he went 5.1 innings pitched, only giving up three hits and one run while striking out four and picking up the win.
In his next outing, Drabek worked 7.1 innings against the Orioles, giving up six hits and one run while striking out six, also picking up the win.
Last Friday in Kansas City, he didn't pick up the win, but he pitched well enough to go 5.1 innings while giving up just four hits and two earned runs and striking out six.
Then last night, in his second appearance against the Orioles, he picked up his first loss in probably his most impressive game yet: six innings pitched, five hits and two earned runs while striking out three. The only runs he gave up were solo home runs.
There is nothing wrong with giving up a few solo shots here and there, especially when they only account for two runs. Bob Gibson is a Hall of Famer and considered one of the greatest pitchers ever. He gave up a lot of home runs over his career, but he gave them up when there was no one else on base and ended his career with a 2.91 ERA.
Drabek has a long way to go before being compared to guys like Gibson, but if he keeps runners off base, he will be making his manager happy.
Some positives to take from all of that are this:
Getting into the later innings
Although he has only gone past the sixth once so far, he is making it easier on the bullpen by at least getting into the sixth inning. Obviously, not allowing runs has been huge so far, and it has allowed him to keep his ERA down.
Winning against the Red Sox
Although they aren't what people expected them to be with all of that projected power, they are still one of the teams to beat in the AL East, and any time you can get a "W" over Boston, it's definitely a positive in the personal stats sheet.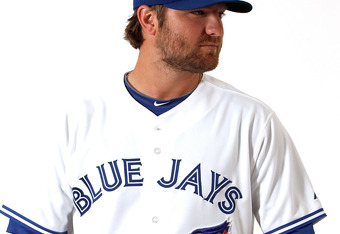 Jonathan Ferrey/Getty Images
What does he have to work on? His walks are a little too high for my liking, especially on Friday when he gave up six of them to the Royals. Doing this against a good team like the Yankees, Rays and Angels will not result in just two earned runs.
Those are the teams that thrive on the opposition getting itself into trouble. Drabek will need to avoid that against not only those mentioned teams, but in every start he makes.
I would also like to see him completing his six innings. I said earlier that it helps the bullpen when you can have your starting pitcher make it to that point, but it would help even more if he could be counted on for at least 18 outs a start so that the bullpen only needs to retire the last nine.
In a perfect world, Drabek is here to stay. He becomes a solid No. 4 pitcher the rest of the year and works his way to becoming an eventual ace. But again, this is not a perfect world, and rarely do these things happen for any of Toronto's sports franchises.
However, I think Drabek could be the exception. He has shown a lot of poise and character so far this season, and for a guy that wasn't even supposed to be on the big league roster at the beginning of the year, he has shown that he is ready to prove the critics wrong.
Of course, he teased everyone last year and went from "Rookie of the Year" candidate to September call-up work-in-progress project. The project may almost be over and the progress just about complete. Baseball is not a sprint, it is a marathon, and it will be a debate all year long as to whether Drabek is the real deal or not.
Based on his recent performance, I am starting to jump on the Drabek bandwagon, and I'm hoping that his current flashes of brilliance are just the beginnings of a star that is ready to explode and shine bright.