50 Pictures of Hotties Playing Sports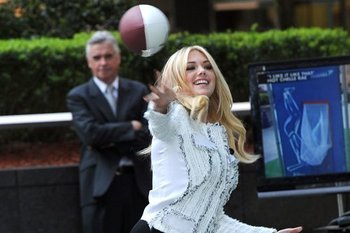 Image via withleather.uproxx.com
Arms are cocked, firm grips perfected and smiles in full flight. There's nothing quite like watching beautiful women chuck professional balls farther, harder and more violently than the athletes we pay good money to watch.
With swimsuit supermodel Kate Upton showing off her rocket arm at the humorously-mislabeled "Fox Flash" yesterday, we felt the need to dig for more instances of hotties with balls (excuse the pun).
Ready yourself for a free fall towards athletic beauty, an intriguing, entertaining ride indeed.
Here are 50 pics of hotties tossing or enjoying pigskins, baseballs and whatever other piece of athletic equipment we can find.
Prepare to duck.
50. Lauren Conrad Fights the Stereotypes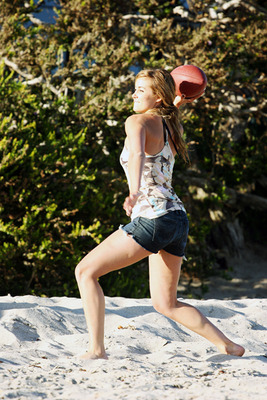 Image via dailyfill.com
If you like enjoy like endless likes and continuous no ways, then Laguna Beach: The Real Orange County star Lauren Conrad is your kind of girl.
And with form like this, she'd offer a memorable backyard catch as well.
49. Hilary Rhoda Does the Stretch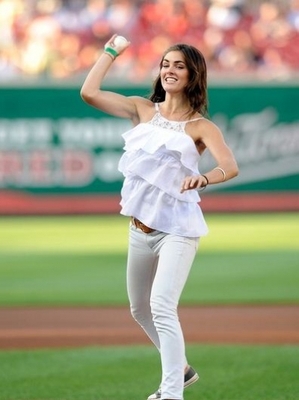 Image via superbooyah.com
Let's chill out with the shrieking smile over there.
But hey, it's all part of the distraction. Those hitters never have a chance.
48. Natalie Von Bertouch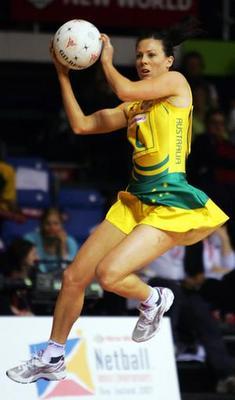 Image via theage.com.au
Australia clearly has an endless collection of scintillating athletes, all eagerly awaiting a new pair of lenses to peer in on them.
The focus is breathtaking, if not historic.
47. Kim Kardashian Fights Back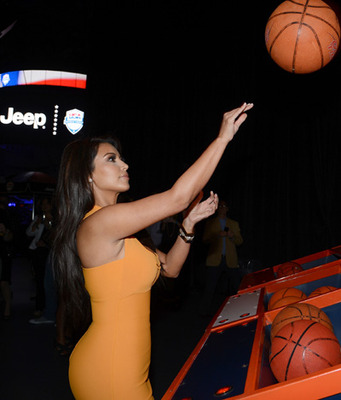 Image via thebiglead.com
The Kardashians were made to complement the basketball court, and it's only a matter of time before Kim permanently strays from the gridiron and solidifies herself as a hardwood hag.
Chris Paul's jeep party was just another chance for her to not go away.
46. Looking for Daylight
Image via laist.com
As the speck of baseball increases in size, it becomes clear we only have several moments before the lens is shattered.
She's got a wicked aaaaaammm.
45. Anna Kournikova Continues to Shine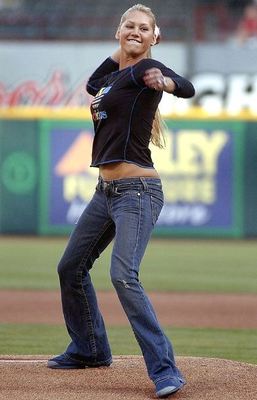 Image via superbooyah.com
The white-man overbite is a nice touch, but let's work on the jerky windup.
Smooth it out.
44. Ace of the Staff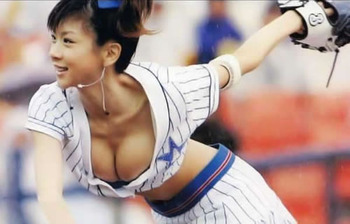 Image via benisawesome.net
With world-class beauty and off-the-chart skills, this hurler is quickly heading for greatness.
The sweat bands truly complete the uniform, it's all about the swag.
43. Michigan's Fab Fine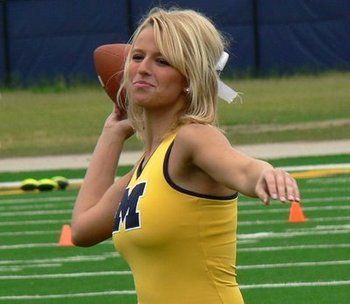 Image via theplayingfieldblog.com
Left arm extended, right cocked behind, bow in hair eloquently tied: She's a star in the making.
But her joyful game face needs a bit of intimidation work.
42. Lindsey Vonn Never Fades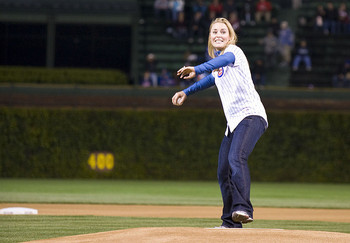 Image via fit-ink.com
Somehow, between dominating the photo shoot scene and throwing out ceremonial first pitches, Lindsey Vonn managed to win four overall World Cup championships as an alpine ski racer.
How does she do it?
41. Eastbound & Doubt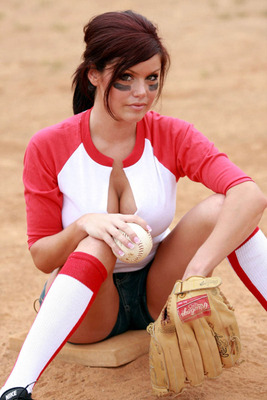 Image via 2dorks.com
Don't even disagree for a second that this scrappy ballplayer doesn't look like Katy Mixon from Eastbound & Down.
But seriously, she's got that innocent, yet feisty aura.

40. Victoria Beckham Remains at Large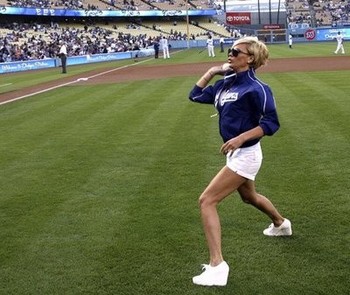 Image via theoffside.com
This shot is presented more for a taste of humor than for its attempted sexiness.
Posh Spice's gaping expression reeks of confident discomfort; she's owning it, but not feeling great about it.
39. Needing No Introduction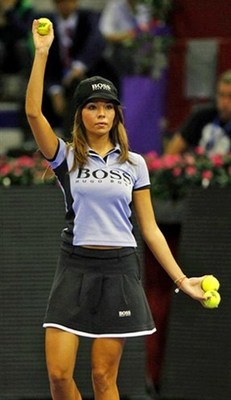 Image via sport.malaysia.msn.com
They just might be the most gifted ball girls in the world—the Madrid crew in the flesh.
The undeniable stare, world-class agility and flexibility. Wow.
38. Hola Padre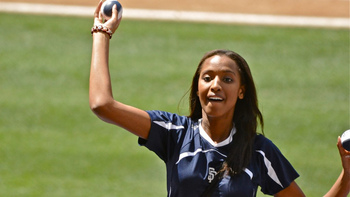 Image via operanite88.blogspot.com
Not sure what's going on with the face, but this San Diego ball girl clearly has her accuracy mastered.
Angled arm directed straight ahead—one lucky fan waits in the wings.
37. Rima Fakih Works the Corners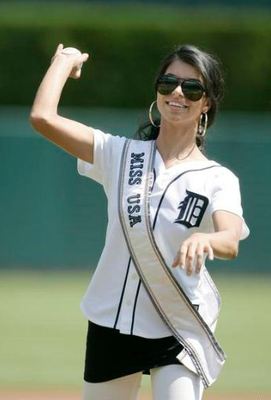 Image via superbooyah.com
Having dated Jays pitcher Ricky Romero since last year, you know 2010 Miss USA Rima Fakih learned a bit about tossing a masterful two-seam fastball.
But more importantly, she's perfected her mound presence.
36. Illegal Formation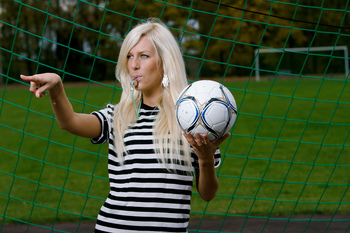 Image via commons.wikimedia.org
And by throwing a ball we mean thrusting her pointer finger at the penalized footballer.
She's getting ready to put a lethal bend on that round mix of synthetic leather.
35. A Reversal for Natasha Henstridge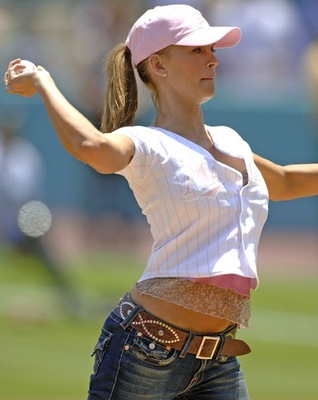 Image via spletnik.ru
A collection of decent film roles finally reached the spotlight when Natasha Henstridge threw out a ceremonial first pitch.
The Canadian actress was glued to the catcher's mitt.
34. Breaking the Mold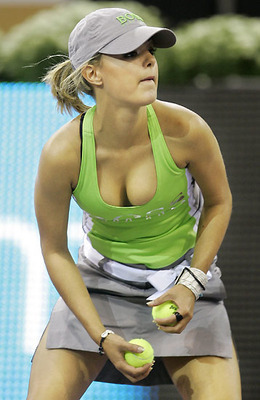 Image via kudlabluez.blogspot.com
Don't be fooled by this Madrid ball girl's innocent stare and unsuspecting grip, she looks quite ready to thrust this pair of yellow spheres towards the crowd.
Although, we'd prefer a hilarious chuck at the players instead.
33. The Famed Formation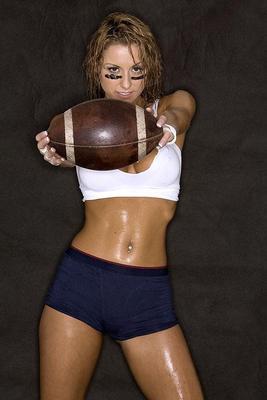 Image via lockerz.com
Despite what looks like a chest pass, this bone-crushing beauty looks ready to pummel all who cross her path.
A perfect wildcat specimen.
32. Maria Menounos Expands Her Resume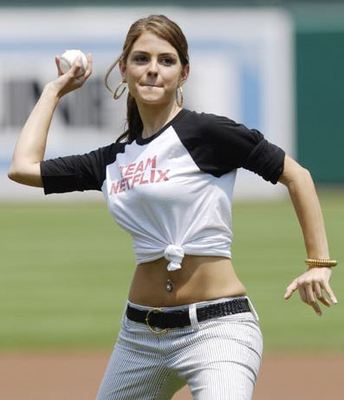 Image via superbooyah.com
From bikini-clad in Times Square to ferociously sexy on Dancing with the Stars, Maria Menounos seems determined to fill every crevice of elite sports reporting.
A threatening palmball is the latest surprise in her repertoire.
31. Not Quite a Minnie Driver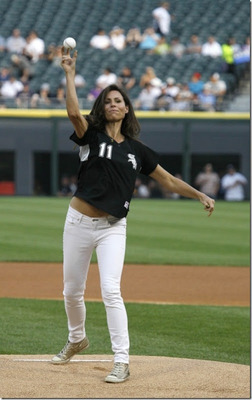 Image via listal.com
Preparing herself for a vicious downward snap, Minnie Driver perfects the arm angle and extends the leg.
She must've learned it from Will Hunting in Kindegaaaaden.
30. Finning for Victory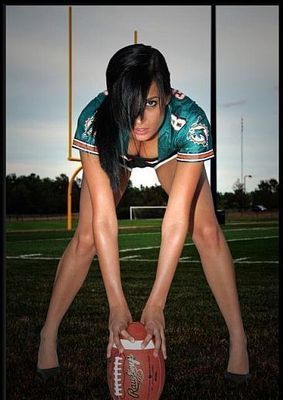 Image via freebash.org
With a one-eyed stare down, it doesn't get any more intimidating.
The goal posts are a nice touch.
29. Skyscraping Greatness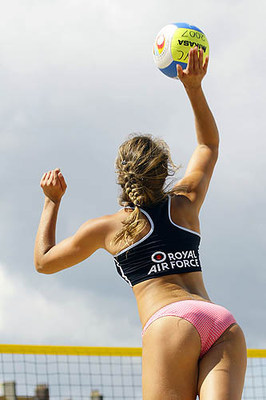 Image via stokereport.com
Such brilliant footage, masterful focus and precise depth.
This photographer certainly did his homework.
28. Amanda Beard's Diversity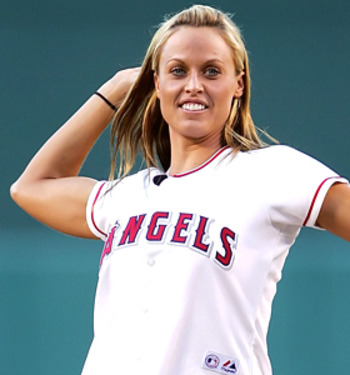 Image via msn.foxsports.com
As a seven-time Olympic medalist swimmer, Amanda Beard doesn't need to worry about dominating the pitching mound.
Worst case scenario, she becomes an aerodynamic base stealer after she retires from swimming.
27. Audrina Patridge Flips the Script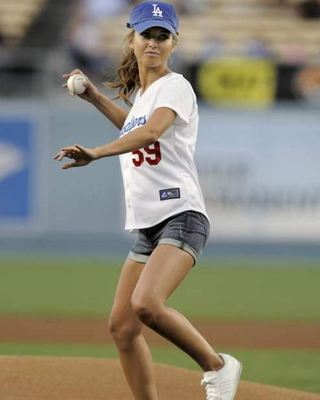 Image via superbooyah.com
If you enjoy unnecessarily dramatic reality shows and typical, dumb-teenager slasher films, Audrina Patridge is your actress.
But she also seems to throw a wicked forkball.
26. Jessica Alba's Quest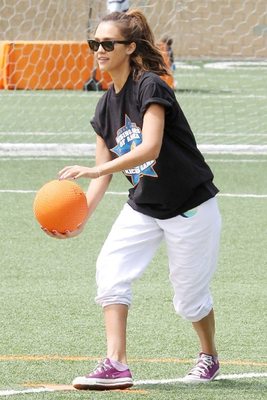 Image via space.yoka.com
Despite having the ability to instantly silence a crowd, Jessica Alba decided to play it cool on the kickball mound.
Wearing Risky Business-esque sunglasses, Alba can't be intimidated.
25. New Honcho in Town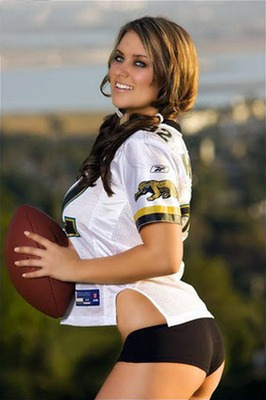 Image via espn1530.com
Despite a glistening smile on her face, this fan shows us that true talent lies deep beneath the surface.
Blaine Gabbert may look the part of a fearless signal caller with the long-hair-don't-care approach, but a subtle trim may significantly improve his awareness.
24. The Multi-Talented Kate Upton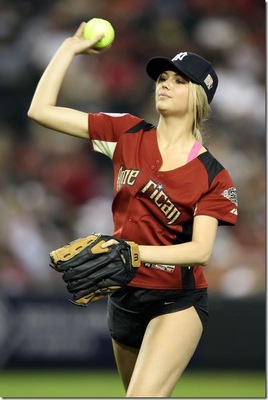 Image via sportznutz.com
She's thrown a football in heels, performed the Dougie at a Clippers game and chucked a neon-bright baseball (here during the 2011 MLB All-Star festivities).
What more can Kate Upton possibly do to get noticed?
23. Earning Her Doll-Hairs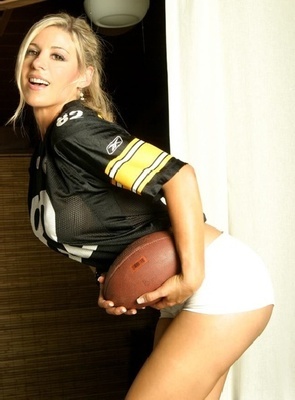 Image via homemcomh.com
She may seem to be taking the ball to the house herself, but this fan is clearly a team player and is always looking for a down-field pass.
The smile is solely to distract the defense.
22. The Art of Sexiness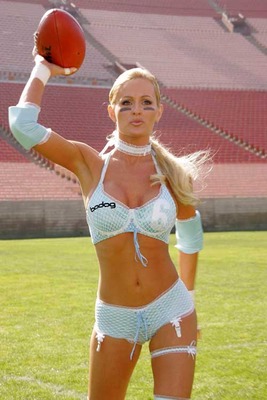 Image via holytaco.com
The Lingerie Football League is a beautiful thing, let's just be honest.
No need to fluff its effect any further.
21. Halle Berry Is a Strikeout Machine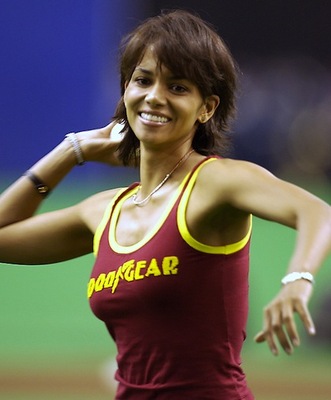 Image via totalprosports.com
The windup seems a bit off, but we trust Halle Berry's obtuse form.
We already know she can play a mean outfield after being married to David Justice for three years (1993-96 for those keeping score at home).
20. Leryn Franco Feels the Jav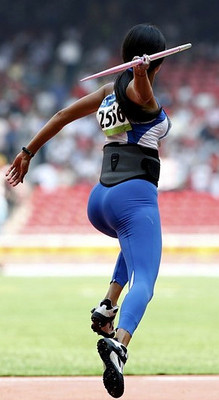 Image via celebbest.com
She's known more for her Sports Illustrated Swimsuit Issue appearances than her athletic prowess, but it's nice to finally see Leryn Franco honing her craft on the field.
A vicious javelin toss indeed.
19. Kayla Ewell Changes the Pace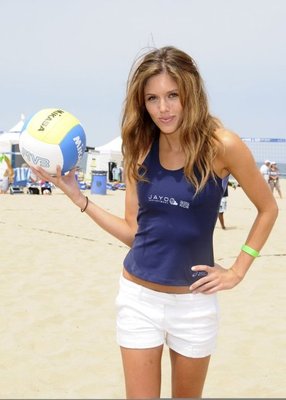 Image via listal.com
Normally a "slutty" high school student in a town shadowed by vampires, Kayla Ewell seems determined to expand her repertoire.
Volleyball seems like a solid (albeit expected) transition.
18. Liv Boeree Shows Her Hand
Image via greenobles.com
17. Remembering Jennie Finch's Legend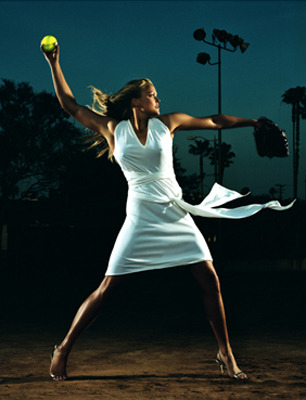 Image via businessinsider.com
Always dominant, often flashy, Jennie Finch is now offering fans a new side of the story.
Dark and ominous, with a mysterious flavor, we've yet to witness such a beautiful nightmare.
16. Doutzen Kroes Rules the Mound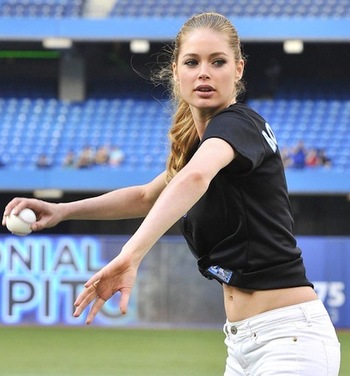 Image via totalprosports.com
Dutch model Doutzen Kroes became a worldwide sensation overnight (it seems) when she was offered a ceremonial first pitch opportunity with the Blue Jays.
The Victoria's Secret angel seems to be winding up a flimsy circle changeup.
15. The Only Samurai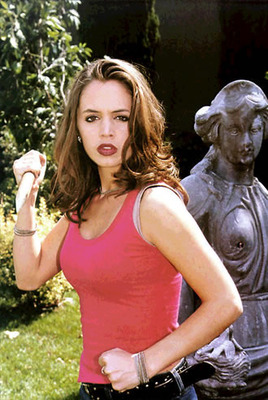 Image via blog.naver.com
So maybe she's thrusting a sharp dagger at the camera, but let's not forget that Eliza Dushku has been with former baller Rick Fox for some time now and certainly picked up some athletic tricks along the way.
Particularly the game face.
14. Reby Sky Reaches for the Stars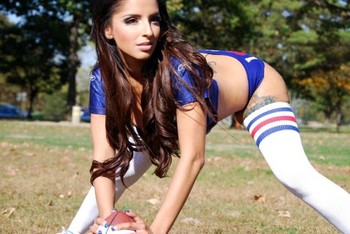 Image via forumbiodiversity.com
She's the Giants superfan flooding the Internet, hogging the cameras and tarnishing opponents.
Reby Sky is always ready to hike the ball when needed.
13. Clemson Roar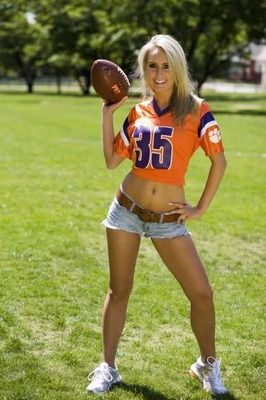 Image via 43tigers.wordpress.com
Just before she releases the pigskin, this diehard fan offers a bright smile and a swaggerous hip lean.
She's got it going on.
12. Chalkboard Talk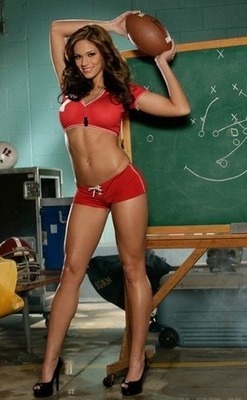 Image via thestallseat.com
This can't possibly be good for team focus.
But it's the perfect way to eliminate any bounty systems. Don't ask why.
11. Eva Longoria Keeps Coming Back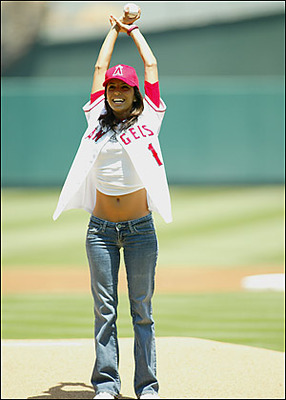 Image via sportsillustrated.cnn.com
We've yet to lose our interest in Eva Longoria, as her scintillating smiles always keeping us engaged.
Tony Parker will forever be despised for his ways.
10. Everybody's Free to Wear Sunscreen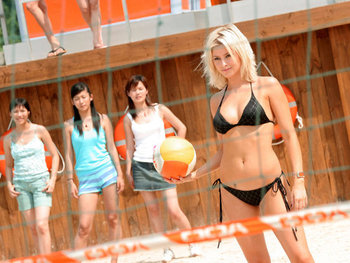 Image via gotowall.com
It's the shot that continues to shadow the sports world.
A scintillating beach bum preparing for a vicious chuck, it doesn't get any better.
9. The Junk Grip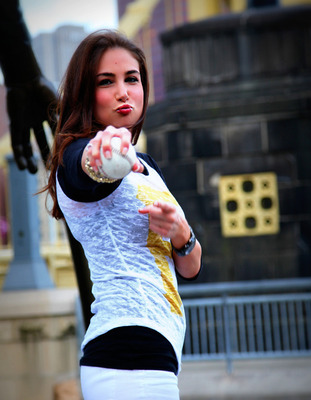 Image via guymanningham.com
With an adjusted, lazier version of the eephus pitch, this budding star seems moments away from a silly strikeout.
She decides to show us the intricacies first.
8. Sunny Delight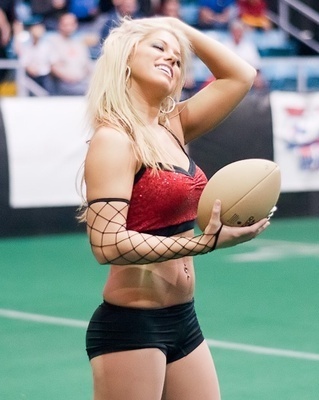 Image via rootfun.net
Looks like the sun took a hold of this sexy cheerleader, as she yet again forgot to throw the ball.
All she can do is bask in the camera's snaps.
7. Giant Memories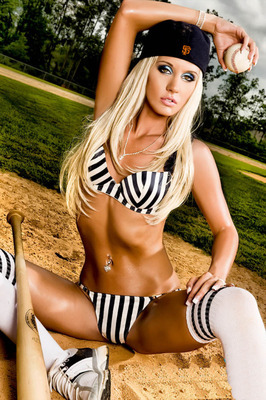 Image via xaxor.com
Ball in hand, arm revved up and game face perfected, she seems ready for practice.
The oak bat is for her also-bikini-clad partner.
6. Marisa Miller Gets Involved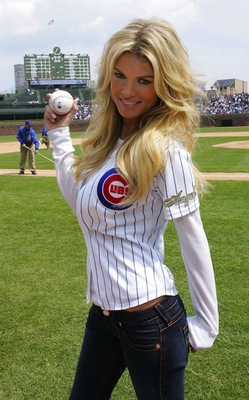 Image via totalprosports.com
Half windup, half pose—we'd expect nothing less from swimsuit legend Marisa Miller.
Solid Chi-town promotion that day.
5. The Rugby School of Beauty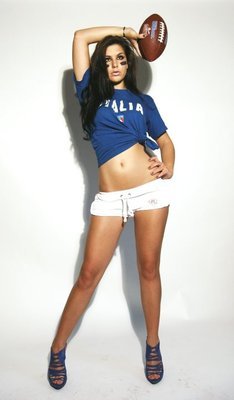 Image via taringa.net
The endless stare is magical, sure, but the lethargic approach is what really gets the scouts drooling.
Ms. Italia has all the makings of a boom-or-bust quarterback.
4. Kate Upton Perfects the Spiral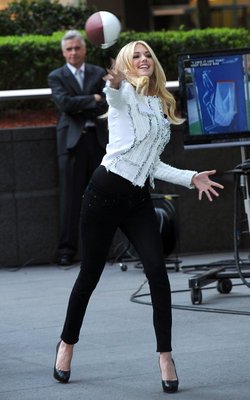 Image via withleather.uproxx.com
Heels were perhaps a fatal addition to Kate Upton's outfit when she joined Giants phenom Jason Pierre-Paul in midtown yesterday to help promote a Fitness Without Borders upcoming event.
On second thought, they don't seem to be hindering her precision.
3. Jenn Brown's Heisman Pose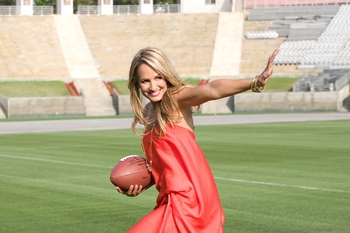 Image via blogs.orlandosentinel.com
With a stiff arm like that, throwing the pigskin seems unnecessary.
The former Gators softball player and current ESPN hottie seems determined to take it to the house herself.
2. Dirt-Covered Prowess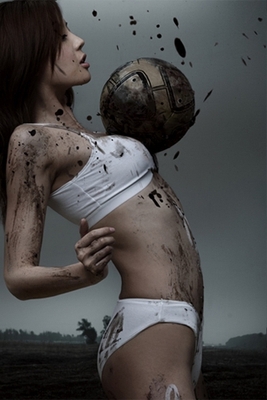 Image via sportsclb.com
Hands are unacceptable in soccer, so players must rely on their strengthened chests as a way to advance the ball.
This star has perfectly combined seduction and skill.
1. Nicky Whelan Can't Be Stopped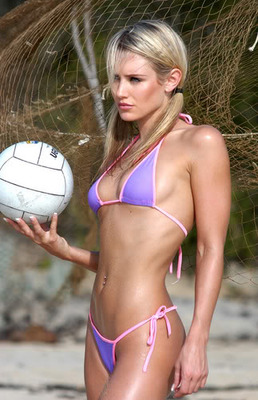 Image via s628.photobucket.com
Crikey! What a catch.
With a stare like this, Australian model Nickey Whelan gives the folks down under quite the masterpiece.
Keep Reading