2012 NFL Mock Draft Round 2: Alshon Jeffery and More Day 2 Gems
April 26, 2012

Streeter Lecka/Getty Images
The second round of the NFL draft is where general managers and a scout's ability to do great research on players is brought to the forefront.
Finding a second-round gem can really strengthen your draft class and help your team tremendously if your first-round pick turns out to be a bust.
Let's look at some potential second round gems in this fresh second-round mock draft.
For a first round mock draft, click here.
33. St. Louis Rams: Kendall Reyes, DL, Connecticut
The Rams need a defensive tackle who can stuff the run and force offensive linemen to double team him, which is what Reyes will be able to do in the pros.
34. Indianapolis Colts: Janoris Jenkins, CB, North Alabama 
Character issues might scare the Colts away from Jenkins, but he's one of the 10 most talented players in this draft, and the Colts badly need an elite cornerback. 
35. Minnesota Vikings: Harrison Smith, S, Notre Dame
The Vikings' lack of a talented safety is really hurting their ability to defend the pass well enough to compete.
36. Tampa Bay Buccaneers: Doug Martin, RB, Boise State
The Buccaneers would be smart to add some running back depth to their roster if they don't draft Trent Richardson in round one.
37. Cleveland Browns: Rueben Randle, WR, LSU
The Browns would be smart to give quarterback Colt McCoy a sure-handed receiver who is reliable like Rueben Randle if they pass on Justin Blackmon in the first round. 
38. Jacksonville Jaguars: Lavonte David, LB, Nebraska
The Jaguars defense needs a pass rusher, but an upgrade at linebacker is also not out of the question.
39. St. Louis Rams: Zebrie Sanders, OT, Florida State
The Rams need to strengthen their offensive line because young quarterback Sam Bradford cannot take any more injuries in his young career. 
40. Carolina Panthers: Alshon Jeffery, WR, Jaguars
Alshon Jeffery has fallen down the draft boards of many experts in recent months, but he could be one of the better offensive rookies next season.
Jeffery doesn't have the speed many coaches want in a star receiver, but he has sure hands and phenomenal upper-body strength. 
He makes tough catches and runs pretty good routes, too. Jeffery could be the best second-round player in this class and a great target for Panthers quarterback Cam Newton.
41. Buffalo Bills: Dwight Bentley, CB, Louisiana-Lafayette
The Bills need cornerback depth given the immense talent at quarterback in the AFC East division. 
42. Miami Dolphins: Mohamed Sanu, WR, Rutgers
The Dolphins need to give their quarterback some more weapons on offense due to the departure of star receiver Brandon Marshall via trade this offseason.
43. Seattle Seahawks: Coby Fleener, TE, Stanford
Fleener's ability to catch passes on a consistent basis and block well in the running game makes him a solid choice at pick No. 43.
44. Kansas City Chiefs: LaMichael James, RB, Oregon
LaMichael James is an all-around back who can rush well and play a major role in the passing attack, which is good for a Chiefs team that has been hit hard with injuries at the running back position recently.
45. Dallas Cowboys: Devon Still, DT, Penn State
The Cowboys defensive line has to improve at the defensive tackle position or the team will struggle to compete in a very competitive NFC East division.
46. Philadelphia Eagles: Zach Brown, LB, North Carolina
The Eagles must get better at the linebacker position to improve their defense from last season, which means they must take a linebacker in round one or two.
47. New York Jets: Bobby Massie, OT, Mississippi    
Giving Mark Sanchez some more pass protection isn't a bad idea in a division that has some very talented pass rushers.
48. New England Patriots: Lamar Miller, RB, Miami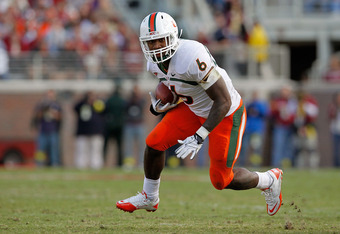 Mike Ehrmann/Getty Images
Since BenJarvus Green-Ellis is no longer with the team, Patriots head coach Bill Belichick should use one of his four picks in the top two rounds on a running back who can start Week 1 next season. 
Miller has the strength and durability needed to be an every-down back, which is what the Patriots offense could really use.
They have used a running back-by-committee type of approach over the last few years, and the lack of a star running back has hurt them at times.
Miller's field vision and fundamental skills will make him a quality NFL player.
49. San Diego Chargers: Kelechi Osemele, OT, Iowa State
The Chargers offensive line was really hurt by injuries last season at the tackle positions, so adding some depth at that position through the draft is the best move for San Diego.
50. Chicago Bears: Kevin Zeitler, G, Wisconsin
If the Bears can draft Stanford offensive tackle Jonathan Martin the first round, then they can look at taking a guard in the second round in their offensive line rebuild.
51. Philadelphia Eagles: Josh Robinson, CB, Central Florida
With the Eagles trading star corner Asante Samuel to the Atlanta Falcons, the team could use some more depth at that position.
52. Tennessee Titans: Bobby Wagner, LB, Utah State
Wagner's ability to stop the run would be a nice addition to a Titans team that's only a few pieces away from being a playoff-caliber team. 
53. Cincinnati Bengals: David Wilson, RB, Virginia Tech
The Bengals didn't have much success in the running game last season, so they need to improve that position to create a more balanced offensive attack.
54. Detroit Lions: Chris Polk, RB, Washington
Injuries hurt the Detroit Lions' depth at running back last season, so drafting a player like Chris Polk, who could start from Week 1, is a smart move.
55. Atlanta Falcons: Dwayne Allen, TE, Clemson
Tony Gonzalez won't be an elite tight end forever, so the Falcons need to think about finding his long-term replacement.
56. Pittsburgh Steelers: Amini Silatolu, OG, Midwestern State
The Steelers must strengthen their offensive line so quarterback Ben Roethlisberger is healthy at the end of the year heading into the playoffs.
57. Denver Broncos: Vinny Curry, DE, Marshall
The Broncos could use another strong pass rusher to bolster their young defense, which makes Marshall's Vinny Curry a good fit at No. 57.
58. Houston Texans: Orson Charles, TE, Georgia
Injuries to Owen Daniels in recent seasons means that taking a tight end in the second round is a safe and smart choice for the Texans.
59. Green Bay Packers: George Iloka, S, Boise State
With the Packers releasing former pro bowl safety Nick Collins, the Green Bay defense must improve at the safety position.
60. Baltimore Ravens: Mychal Kendricks, LB, California
The Ravens need to find Ray Lewis' replacement sooner or later, and also must get faster and more athletic at the linebacker position.
61. San Francisco 49ers: Jeff Allen, OG, Illinois
The 49ers need a receiver, but I think they will address that area in the first round. I would expect them to look at a guard like Jeff Allen of Illinois in the second round. 
62. New England Patriots: Trumaine Johnson, CB, Montana
The Patriots' talent at cornerback is quite weak, which makes the selection of a corner a must in the first two rounds for New England.
Johnson is not a household name since he played at Montana, but these are the kinds of gems that Belichick can find in the second round.
Johnson has great speed and his coverage skills are also good. In a draft in which the cornerback depth is pretty strong, Johnson's name has gotten lost.
Johnson will be an important player on defense for the team that drafts him.
63. New York Giants: Brandon Brooks, OG, Miami (OH)
The Giants would love to add some youth and quickness to the guard spots on their offensive line.