NFL Draft Rumors: Buffalo Bills Looking to Trade Up for Matt Kalil
April 26, 2012

Joe Robbins/Getty Images
The Buffalo Bills need an offensive tackle in the 2012 NFL draft, and it seems they do not want to wait and hope a good one falls into their lap.
Mark Gaughan of BuffaloNews.com reports that the Bills are willing to trade up to acquire USC tackle Matt Kalil.
Last week, general manager Buddy Nix reportedly told the media:
There are a high percentage of them that's drafted in the top 10 - left tackles. Again, don't read into that, but most of the starters in this league, especially Pro-Bowlers, were taken in the first eight or nine picks.
Buffalo currently has the No. 10 pick in the draft. While this will certainly not be early enough to get Kalil, the team might be able to settle for Iowa's Riley Reiff or Georgia's Cordy Glenn.
However, there is no denying that these players represent a large drop from the top offensive lineman.
If the Bills want someone who can be a cornerstone at left tackle, there is no doubt that they should attempt to trade for a higher selection.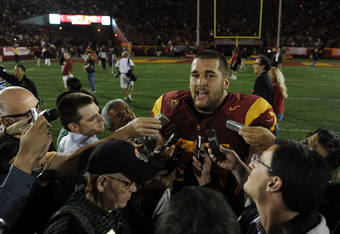 Harry How/Getty Images
The front office has reportedly said that it's willing to part with its second-round pick in order to make a trade happen, but that might not be enough to move all the way up to the No. 3 pick.
Considering that the Minnesota Vikings are still attempting to trade down only a few spots, the Bills would have to provide much more to make a move happen.
A more likely scenario is one where the Vikings make a different choice when they are on the clock. If Minnesota selects LSU cornerback Morris Claiborne, Kalil could fall down a few picks.
At that point, Nix should be ready to jump on a trade with any team willing so he can get his guy.
Kalil is the right man for Buffalo, and the price to move up will be worth it in the long run.
Update: Minnesota is apparently willing to swap the picks for the price of Buffalo's second-round selection, but will still wait until the last minute if a better offer comes along. 
This would be an ideal situation for the Bills and a desperate move for the Vikings.