2012 NFL Draft Predictions: Late-Round Selections Who Will Make a Major Impact
April 26, 2012

Tyler Barrick/Getty Images
"There's genius everywhere, but until they turn pro, it's like popcorn in the pan. Some pop... some don't."
Tom Cruise said this in "Jerry Maguire," and it never rings as true as it does on draft day. The first round is where the money is, but late-round picks can reverse the direction of a franchise.
It could be an injury or a height issue that prevents a college standout from being picked early, but these under the radar selections are primed to make an impact for your NFL team immediately.
Isaiah Pead—Running Back

Isaiah Pead was not on many people's radar at this time last year, but after an eye-popping senior season in which Pead scored 12 touchdowns, he garnered the attention of NFL teams.
A little on the smaller side, Pead is a running back that does everything with quickness. His versatility made him a star at Cincinnati.
Pead is very much in the conversation when experts are discussing the top backs available in this year's draft, but the value of quality runners has diminished lately due to the popular two-back system.
He may never be the guy to carry the ball 20 times per game in the NFL, but Pead is poised to make an impact quickly.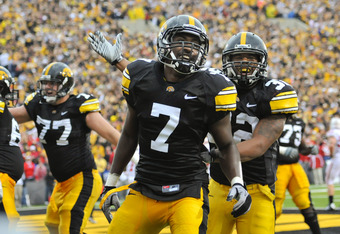 David Purdy/Getty Images
Marvin McNutt—Wide Receiver

He has been dubbed by some as a classic "possession receiver," but whichever team takes Iowa's Marvin McNutt will be getting an absolute monster at the wideout position.
McNutt plays with physicality and has remarkable body control for a guy his size.  His top-end speed leaves a little to be desired, but he makes up for it with quick feet and route-running skills.
Projected as a fourth- or fifth-round selection, McNutt is a polished product who could compete for a starting job on many teams.
Ladarius Green—Tight End

Playing at a small school like Louisiana-Lafayette may have hampered his draft stock some, and despite that, Ladarius Green is going to make some team very happy. 
The NFL is a passing league now, and nothing opens up the throwing game quite like a speedy tight end that works the middle of the field.
Green is a matchup nightmare standing 6'6" with great quickness. He probably needs to add some muscle to his frame, but Green is a late-round pick who should pay dividends to whichever team selects him.
Omar Bolden—Cornerback

Omar Bolden was one of the top corners in the country before an ACL injury derailed his senior year before it even got started.
Bolden possesses great closing speed and has the physical ability to cover any receiver on the field, but his injury history has many teams worried.
If he can stay healthy, the former Sun Devil will play his way up some team's depth chart in a hurry.