Asante Samuel Trade: Philadelphia Eagles Must Target a CB in 2012 NFL Draft
April 26, 2012

Kevin C. Cox/Getty Images
The Philadelphia Eagles were so desperate to trade Pro Bowl cornerback Asante Samuel that the team were willing to part with the star for a seventh-round pick in the 2012 NFL draft.
However, as bad as that return was, it made perfect sense from a financial standpoint.
With a couple of paydays coming up for some of the their younger players, the Eagles had to do their best to get rid of Samuel's $9.9 million salary in 2012 and $11.4 million salary in 2013.
Now that Nnamdi Asomugha and Dominique Rodgers-Cromartie are the two clear starters in Philadelphia, it's time for the team to start thinking about the depth and talent they lost with Samuel.
Expect Philadelphia to draft a cornerback or safety in the first round if the right man falls to them. Otherwise, expect them to snag one in the second round. The Eagles have two second-round picks, so this wild ride could get even more nutty.
Players to Consider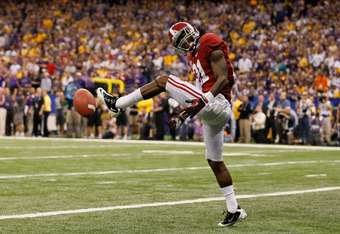 Kevin C. Cox/Getty Images
Dre Kirkpatrick
The Eagles have been talking about trading up in the first round. However, if they fail to move, there will be an interesting dilemma at No. 15. With a cornerback like Dre Kirkpatrick sitting right in front of them, the need may force Andy Reid to pull the trigger.
Trumaine Johnson
While most fans won't know who Trumaine Johnson is, the Montana star CB has the talent and size to walk right into the NFL and be a viable option. With the depth at the position, the Eagles will be able to groom him into a potential megastar.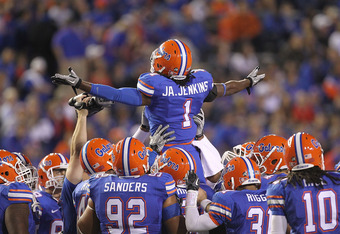 Mike Ehrmann/Getty Images
Janoris Jenkins
There is no question that Janoris Jenkins is arguably the best cornerback in the entire NFL draft, but off-field issues have scared almost every team away. With a mentor like Nnamdi Asomugha, they could give Jenkins the best place to grow as a man and mature into a star.
Check back for more on the National Football League as it comes, and check out Bleacher Report's NFL Page to get your fill of all things football.