NBA Playoffs 2012: Breaking Down Every Opening-Round Series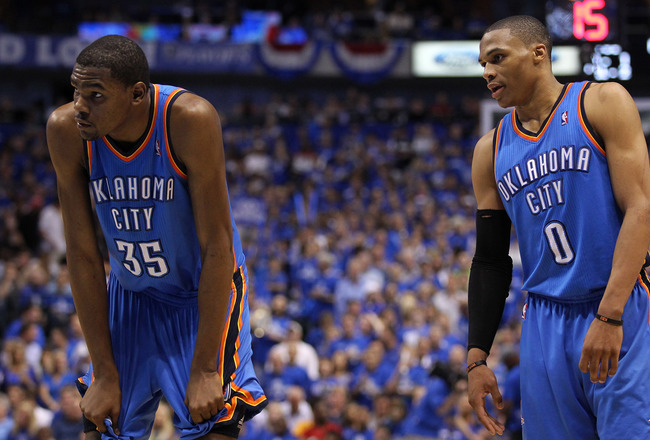 Ronald Martinez/Getty Images
The beginning of the NBA playoffs is Saturday, and every matchup is fascinating in its own way.
The playoff picture came into focus Thursday night as the Grizzlies, Nuggets and Knicks secured their seeds over the Clippers, Mavericks and 76ers, respectively. Out West, No. 2-seeded Thunder host the defending champion Dallas Mavericks on Saturday; and on Sunday, the top-seeded Spurs host the Jazz, the No. 4 seeded Grizzlies have home-court over the No. 5 Clippers and the No. 6-seeded Lakers host the Nuggets.
In Eastern Conference action on Saturday, the top-seeded Bulls host Philadelphia, No. 2 Miami hosts the Knicks in a blockbuster of a first-round matchup, and No. 3 Indiana has home court over the Dwight Howard-less Magic. On Sunday, the ageless wonder-ing Boston Celtics travel to Atlanta to face the 4th-seeded Hawks.
Let's take a look at each matchup and see how each first-round series will play out.
No. 1 Chicago Bulls vs. No. 8 Philadelphia 76ers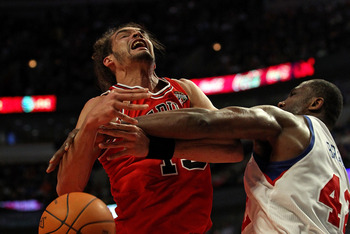 Jonathan Daniel/Getty Images
Bulls Record in Last 10: 7-3
Sixers Record in Last 10: 6-4
Season Series: Chicago 2-1
Difference-Maker: Derrick Rose
If you're a fan of high-scoring basketball, this may not be the series for you, as it features the top two teams in points allowed in the NBA (Bulls 88.4, Sixers 89.1)
Chicago having not only Rose back, but its starting five playing together will be the difference in this series. The Sixers had no answer for Rose in the two regular-season matchups that he played, as he averaged 26.5 points and 7.0 assists.
For the Sixers, keep an eye on point guard Jrue Holiday, who has had some success against the Bulls this season. He's averaged 21.0 points per game in their three meetings.
Philadelphia has talent and will battle. It will keep things close, but ultimately the Bulls' depth and overall talent will win out.
In close situations, the Bulls have a closer in Rose. The Sixers don't really have that go-to guy in the clutch.
Prediction: Bulls in five
No. 2 Miami Heat vs. No. 7 New York Knicks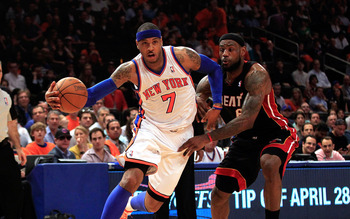 Chris Trotman/Getty Images
Heat Record in Last 10: 6-4
Knicks Record in Last 10: 7-3
Season Series: Miami 3-0
Difference-Maker: Home-court advantage
It's playoff time, so all eyes will be on Miami Heat superstar LeBron James.
Despite winning the season series by an average of 10.5 points per game, the Heat are going to have their hands full with the Knicks in the first round. Drawing New York in the first round doesn't do Miami any favors, as it will have a fight on its hands throughout.
This will certainly be one to watch.
New York has turned things around under interim head coach Mike Woodson, posting a 17-6 mark and showing a much-improved effort on the defensive end.
If the Knicks can successfully take one of Miami's Big Three out of each game, the Heat don't have the depth to defeat New York in this series, so there's a potential for a big upset on the board.
On the other hand, Miami must contain all of the Knicks' weapons. They are a much deeper team, and if J.R. Smith and Steve Novak are knocking down shots off the bench, the Knicks are flat-out dangerous.
For Miami, it will be key to see how much LeBron is matched up with Carmelo Anthony. No player in the NBA is playing better in the month of April, where Anthony has averaged 29.8 points per game, shooting .495 from the floor.
Amar'e Stoudemire is also healthy, so the Heat will have some matchup problems down low.
The key for New York could be taking Chris Bosh out of the series. You have to figure that James and Wade are going to get theirs. If Bosh struggles to make an impact, the Knicks can win this series. But if Bosh averages the 18.0 points and 10.3 rebounds that he did against the Knicks this season, Miami should be fine.
At the end of the day, though, Miami having home-court advantage will make the difference. The Heat are an impressive 28-5 at American Airlines Arena, while the Knicks were just a 13-19 team away from Madison Square Garden.
This one could go the distance, but the Heat should prevail.
Prediction: Heat in seven
No. 3 Indiana Pacers vs. No. 6 Orlando Magic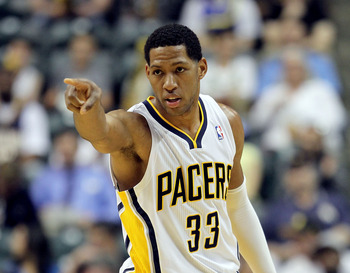 Andy Lyons/Getty Images
Pacers Record in last 10: 8-2
Magic Record in last 10: 4-6
Season Series: Orlando 3-1
Difference-Maker: Magic Injuries
Orlando won the season series, but without Dwight Howard and Hedo Turkoglu, the Magic have little chance against an athletic Pacers team.
The Pacers are long, physical and deep—three things the Magic are not right now. Indiana plays good defense and is the fifth-best rebounding team in the NBA (43.9).
This is Danny Granger's chance to have a real coming-out party. He averaged 19.3 points per game on the season against Orlando and should be the focal point of the Pacers attack.
The only way the Magic win this series is if they are unconscious from behind the arc. That could happen in a game or two, but it's doubtful they shoot it that well for an entire series.
Prediction: Pacers in five
No. 4 Boston Celtics vs. No. 5 Atlanta Hawks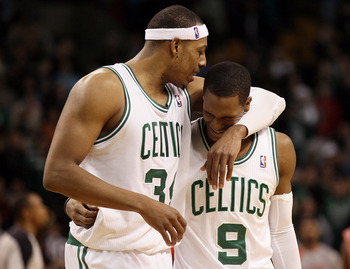 Elsa/Getty Images
Celtics Record in Last 10 games: 7-3
Hawks Record in Last 10 games: 7-3
Season Series: Celtics 2-1
Difference-Maker: Celtics Defense
The Celtics are the No. 4 seed, but the Hawks have home-court advantage in the series, which could play a big factor in a lengthy series.
Boston got its big pieces some rest down the stretch, which will ultimately prove to be big.
Rajon Rondo has been playing better than any point guard in the NBA since the All-Star break and the move of Kevin Garnett to the 5 will continue to pay dividends for Boston. He's a very tough matchup for the Hawks.
It's also playoff time, so expect Paul Pierce to come up with something big during the series.
The biggest difference, though, will be the Celtics defense, which could be the best in the NBA since the All-Star break.
Atlanta has talent but has struggled to score against good defensive teams. This is just a bad matchup for the Hawks.
Prediction: Celtics in six
No. 1 San Antonio Spurs vs. No. 8 Utah Jazz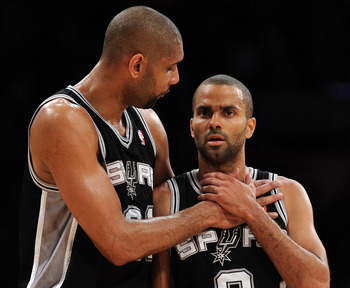 Harry How/Getty Images
Spurs Record in Past 10 games: 10-0
Jazz Record in Past 10 games: 7-3
Season Series: Spurs 3-1
Difference-Maker: Spurs' experience
It's been a nice run as of late for Utah to sneak into the playoffs, but this is a horrible matchup for them.
San Antonio has won 20 of its last 22 games and Gregg Popovich got his starters some rest down the stretch.
Tony Parker has had an MVP-type season and presents a huge mismatch in the point guard battle against Devin Harris.
Utah has a bright future, but the Spurs' experience will win out in a big way. San Antonio will put on a clinic on how to play team basketball and could end this one very early.
Prediction: Spurs in four
No. 2 Oklahoma City vs. No. 7 Dallas Mavericks
Thunder Record in Last 10 games: 6-4
Mavericks Record in Last 10 games: 5-5
Season Series: Thunder 3-1
Difference-Maker: Kevin Durant
You can bet the defending champs won't go down without a fight.
Dallas has as much talent as last season's team, but it's in different areas and Dirk Nowitzki won't go down easily. He averaged a solid 22.5 points per game against the Thunder this season and he will do something big to keep Dallas in this series.
The Mavericks are a bad matchup for Oklahoma City and these games will be extremely hard-fought.
But in the end, the one-two punch of Kevin Durant and Russell Westbrook, the defense of Kendrick Perkins and Serge Ibaka, and the bench production of James Harden will be too much for the Mavericks to contend with.
I expect something magical out of Durant in Game 7 to carry the Thunder.
Prediction: Thunder in seven
No. 3 Los Angeles Lakers vs. No. 6 Denver Nuggets
Stephen Dunn/Getty Images
Lakers Record in past 10 games: 6-4
Nuggets Record in past 10 games: 8-2
Season Series: Lakers 3-1
Difference-Maker: Andrew Bynum
It's the playoffs, so Kobe Bryant is focused on one thing and that's winning a championship. No one on the Nuggets can effectively defend him.
But the key here is that Andrew Bynum will completely outclass JaVale McGee. I expect some huge numbers out of the first-time All-Star.
Lakers fans will get to see for the first time how truly big the Ramon Sessions acquisition was and the Lakers should be fine even without Metta World Peace.
For the Nuggets, they've played well as of late and could provide a threat to the Lakers, but while their offense leads the NBA in scoring at 103.7, they are next to last in the league in points against (101.2). It's the playoffs and you have to get stops at the defensive end to win.
I just don't think Denver can do that.
Prediction: Lakers in five
No. 4 Memphis Grizzlies vs. No. 5 Los Angeles Clippers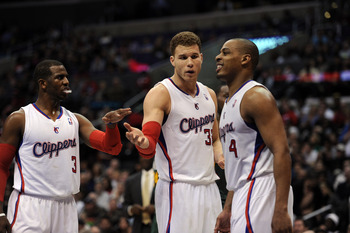 Harry How/Getty Images
Grizzlies Record in Last 10 games: 8-2
Clippers Record in last 10 games: 6-4
Season Series: Clippers 2-1
Difference-Maker: Grizzlies' depth
This could be the most exciting opening-round series. While the Clippers will have their moments soon, this year won't be one of them.
Zach Randolph will resemble that 20-and-10 guy from last season and outplay Blake Griffin to give the red-hot Grizzlies a good chance to advance.
Chris Paul will be a difference-maker, but I don't see him outplaying Mike Conley by enough to determine the winner of the series.
When it's all said and done, I don't think the Clippers have the depth to win this series and Rudy Gay could make a big impact before this series ends.
I like the Grizzlies to make another postseason run.
Prediction: Grizzlies in six
Keep Reading