NFL Draft Start Time 2012: Storylines to Watch and Round-by-Round TV Schedule
April 26, 2012

Darren Carroll/Getty Images
Andrew Luck and Robert Griffin III are undoubtedly the two biggest names, but they are nowhere near the only players and storylines worth talking about in the 2012 NFL draft.
This draft is deep, which means teams will have the ability to snag high-quality players and yes, even starters, up into the third or even fourth rounds.
The draft class is also very deceiving though, meaning teams will have the opportunity to draft the wrong guy, and that's something a fan never wants to have to go through.
Like I said, there's a ton of players and storylines worth talking about.
Here's the biggest storylines you'll want to keep an eye on while watching the draft:
How Desperate are the Miami Dolphins for a QB?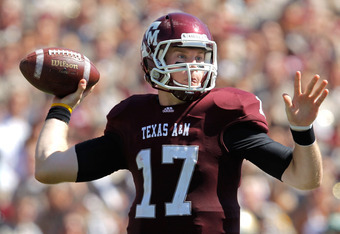 Sarah Glenn/Getty Images
The Miami Dolphins are in the somewhat enviable, yet very dangerous position of being able to drastically impact the course of their franchise with one decision.
The Dolphins have to decide if the need and pressure to make a play for a franchise quarterback is really worth it at No. 8 overall.
It doesn't get more dramatic than this.
My Take: We all know they need a quarterback, but frankly, Ryan Tannehill out of Texas A&M is not starting material in the NFL, and he's certainly nowhere near the value of the No. 8 overall pick.
He was never elite in college, so I have a hard time seeing how people can expect him to be a starting quarterback in the NFL.
How Much Will "Character Issues" Impact Draft Stock?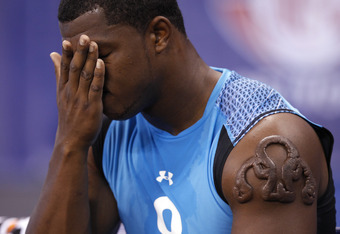 Joe Robbins/Getty Images
Players like North Carolina defensive end Quinton Coples and North Alabama cornerback Janoris Jenkins have the measurables and talent to be superstars at the next level, but there are "character issues" that have plagued them through the draft process, thus severely impacting their draft stocks.
This is one of the age-old draft conundrums: talent or character?
It will be interesting to see what teams really feel about these two players and the rest of the prospects with concerns.
My Take: I'm very 50/50 when it comes to these two guys. The knock on Coples is that his tape would lead one to believe that his worth ethic isn't too high, and that's something I don't think you can teach a guy; thus I don't see much NFL success in his future.
The biggest issue with Jenkins is the fact that he was dismissed from the Florida Gators and there are many concerns regarding his off-field history. That being said, from a talent standpoint he's a top-15 player in this draft, and I firmly believe that if the right team and system takes a chance on him, he can be a star in the NFL.
Potential Sleeper Picks Worth Knowing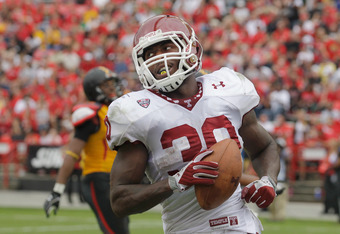 Rob Carr/Getty Images
Every general manager wants to find the next Tom Brady in the draft. If a team can snag a superstar in the fourth, fifth or sixth round, not only are they getting extreme value, but they make themselves and their organization look very good—just ask the Patriots.
This draft is extremely deep, so the potential to find a sleeper pick is very high. Now the only question becomes: who are the sleepers?
My Take: A big name worth mentioning is Temple running back Bernard Pierce. He's not one of the bigger names in this draft, but he's got a great combination of speed, strength and has great vision for a back. He also looks like he can carry the load for an offense. Pierce notched 1,481 yards and 27 touchdowns for the Owls on 273 attempts in 2011.
TV Schedule on NFL Network
Round 1: Thursday, April 26, at 8 p.m. EST
Rounds 2-3: Friday, April 27, at 7 p.m. EST
Rounds 4-7: Saturday, April 28, at 12 noon EST
TV Schedule on ESPN
Round 1: Thursday, April 26, at 8 p.m. EST
Round 2-3: Friday, April 27, at 7 p.m. EST
Rounds 4-7: Saturday, April 28, at 12 noon EST