Knox Talks: NFC South Mailbag, 4/26 Edition
April 26, 2012

Jim McIsaac/Getty Images
Every Friday (it's Thursday, but the upcoming NFL draft changed our schedule a bit) I'll ask for NFC South questions to be submitted via e-mail or Twitter. I'll post the best ones here, and answer the rest in a personal response. So, like Pat Benatar so wonderfully said, "Hit me with your best shot."
What's on your mind?
Happy 2012 NFL Draft Day!
Believe it or not, I expected your questions to revolve solely around the draft today, but Atlanta went and made a huge trade on Wednesday. By giving up a seventh-round pick for a perennial Pro Bowl corner in Asante Samuel, not only did the Falcons greatly enhance their secondary, but they filled a pressing draft need.
But there are still questions about the deal. Here's what you wanted to know: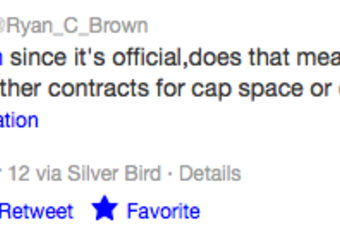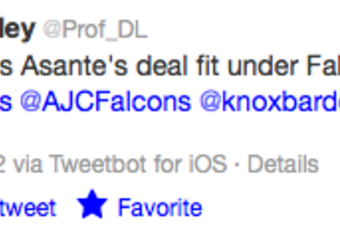 Great questions about the Samuel deal, and yes, there is still work to do. The only salary negotiation that the Falcons have completed is the deal where Samuel restructured his contract to extend to three years for $18.5 million. This helps a little with the salary cap situation, but Atlanta still has to do more.
A lot of people are asking me which players will get cut because of this. Let's hold off on the pink slips yet. First the Falcons will talk to a number of players currently on their roster and ask about restructuring their current deals.
The first person that comes to my mind is cornerback Brent Grimes, who just signed his offer sheet and is the Falcons' franchise player making $10.26 million in 2012. That's just a one-year deal, however, and if Grimes and the Falcons don't come to terms on a long-term contract, Grimes will be a free agent after 2012.
Grimes can help Atlanta drastically by working out a long-term, cap-friendly deal. And if he does it before July 15 his current $10.26 million cap hit can be greatly reduced.
After that, look for the Falcons to talk to guys like fullback Ovie Mughelli and offensive tackle Sam Baker, to name a few. It's going to be a team effort to get below the salary cap, but the addition of Samuel will be worth it.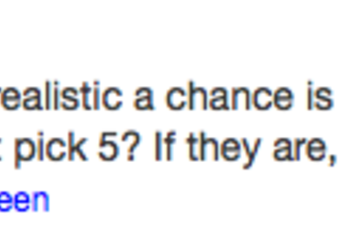 I think it's very possible that both Morris Claiborne and Trent Richardson are gone by the Buccaneers' pick at No. 5, especially if a team were to trade up and slide into Minnesota's spot.
If this occurs, the Bucs have a number of options. I'll cite four:
1) Tampa Bay could draft offensive tackle Matt Kalil. Quarterback Josh Freeman admitted to forcing balls into protection last season, and a big part of that is because he didn't have a lot of time. Kalil helps with that immediately.
2) The Bucs could draft wideout Justin Blackmon. This wouldn't help as much as adding Kalil, but giving Freeman another top option at wide receiver could kick start this offense.
3) Linebacker Luke Kuechly is another option for the team to look at. Kuechly can instantly step in and notch 100 tackles for this defense as a rookie.
4) Tampa Bay could trade out of the No. 5 spot and gain a few more picks. I'm on record as saying the Bucs are on the right track, but nowhere near a contending team. Extra picks might help more than any one draft pick at No. 5.