NBA Playoffs Bracket 2012: Chicago Bulls and Teams Under Most Pressure
April 26, 2012

Jonathan Daniel/Getty Images
The 2012 NBA playoffs tip off this weekend, and a few teams will be feeling the heat much more than others. 
Whether they're trying to rebound from last year's performance or have a really intense matchup, some teams will be places under a great deal of stress in the first round and beyond. 
Given how many great NBA teams there are this year, reaching the NBA Finals will be no easy task. 
With that said, here are three teams under the most pressure for the 2012 NBA playoffs. 
Chicago Bulls 
Just like a year ago, Chicago has the best record in the Eastern Conference. This time around, though, the Bulls can't afford to struggle in the postseason.
Even though they won the first two rounds last year in six games or less, a lot of those games weren't a walk in the park like they should have been. 
Since they're the top team in the Eastern Conference, the Bulls are a big target, which means the heat is on big-time. 
The No. 1 seed is expected to reach the finals, but the Bulls have a difficult path along the way, which amplifies the pressure. 
San Antonio Spurs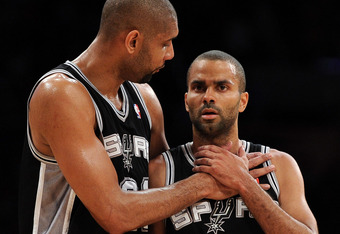 Harry How/Getty Images
The Spurs have been on a tear this season, crushing a majority of their opponents with ease en route to a first-place finish in the Western Conference  
However, after last year's debacle of losing to the No. 8 seed, San Antonio will definitely be feeling a ton of pressure this postseason. 
Having been so good all year long, the Spurs must now keep it up with everyone gunning for them. Losing in the first round again to another No. 8 seed would be extremely painful. 
San Antonio should be fine for Round 1, but the further the Spurs advance, the more pressure that's placed on them. 
Los Angeles Lakers 
Last postseason, the Lakers had a major collapse, failing to look like a true playoff contender. The way they played against Dallas, the Lakers didn't belong in that series.
It's a new year, though, and now they get a fresh start at the playoffs. However, because of last year, the pressure to win big for Los Angeles is through the roof. 
Since they have Kobe Bryant and have won so many championships in the last decade or so, people expect them to go far. 
With the Western Conference being very good and very deep, the Lakers will have a hard time making it to the finals. Much is expected of Los Angeles, which makes it even more difficult to play because of the pressure.