Mel Kiper Jr. 2012 NFL Mock Draft: Grading ESPN Guru's Round 1 Projections
April 26, 2012
Slaven Vlasic/Getty Images
The die is all but cast, the hay all but in the barn, and after months and months of countless mock drafts, endless debate and nonstop coverage, the 2012 NFL draft is finally here.
One man has brought it harder and more frequently than most, and that is the incomparable Mel Kiper Jr. of ESPN.
A man of legendary hair and, at times, legendary folly, draft coverage wouldn't be what it is today without Kiper. Love him or hate him, he was the forerunner to so many that have now entered the NFL draft analysis game.
Here's a look at his final picks for this year's first round—where Kiper even projects a trade. 
1. Indianapolis Colts (2-14): Andrew Luck, QB, Stanford
No-brainer.
Grade: A
2. *Washington Redskins (5-11): Robert Griffin III, QB, Baylor
Just as easy.
Grade: A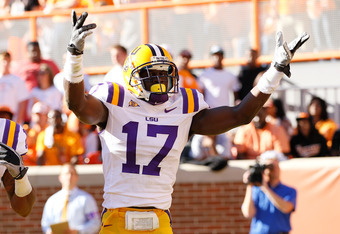 Kevin C. Cox/Getty Images
3. Minnesota Vikings (3-13): Morris Claiborne, CB, LSU
The best move for the Vikes is to trade down the board. If they don't get too greedy and offer the Bucs a fair price, they can move down to No. 5 and still land Claiborne or Matt Kalil there—No. 3 is too early.
Grade: B
4. Cleveland Browns (4-12): Trent Richardson, RB, Alabama
This could be the best pick of the draft within the first five years.
Grade: A
5. Tampa Bay Buccaneers (4-12): Matt Kalil, OT, USC
The Bucs will work like all hell to get out of No. 5 if this scenario plays out. Kalil is an elite left tackle, but coach Greg Schiano and company are better suited to move down the board and acquire more picks...the problem is there won't be a ton of people looking to move up.
Grade: B
6. *St. Louis Rams (2-14): Justin Blackmon, WR, Oklahoma State
Enough is enough in St. Louis; Sam Bradford needs a weapon and Blackmon is a superstar in waiting.
Grade: A
7. Philadelphia Eagles (Projected Trade with Jaguars): Fletcher Cox, DT, Mississippi State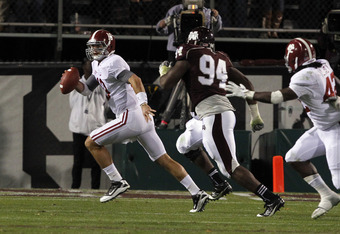 Butch Dill/Getty Images
Philly is always going to what it pleases when it comes to drafting, and if trading up for a versatile defensive lineman is what it wants to do then, by all means, go for it.
The Jags, meanwhile, make their smartest draft decision in years.
Grade: B
8. Miami Dolphins (6-10): Ryan Tannehill, QB, Texas A&M
This is simply the only thing Miami can do at this spot. It won't help the Dolphins immediately, but they have only themselves to blame for that.
Grade: B-
9. Carolina Panthers (6-10): Luke Kuechly, LB, Boston College
Kiper gets things right here as the Panthers land a superstar-in-waiting at linebacker for years to come. Coach Rivera has to be thrilled with this pick.
Grade: A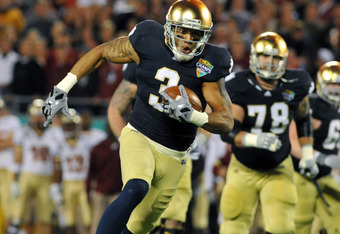 Al Messerschmidt/Getty Images
10. Buffalo Bills (6-10): Michael Floyd, WR, Notre Dame
It is hard to argue with this move by the Bills, as they've been linked to a number of players. Floyd is one of the few that immediately helps them.
Grade: B+
11. Kansas City Chiefs (7-9): David DeCastro, OG, Stanford
Kuechly or Floyd will fit, but DeCastro helps this team in more ways than one.
Grade: A
12. Seattle Seahawks (7-9): Chandler Jones, DE/OLB, Syracuse
This is a reach from Kiper, plain and simple. The 'Cuse pass-rusher has huge upside, but he's far from a sure thing.
Grade: C+
13. Arizona Cardinals (8-8): Melvin Ingram, DE/OLB, South Carolina
Kiper is making a mistake thinking Ingram can play in a 3-4 at the next level, but this is a position of need for them.
Grade: C+
14. Dallas Cowboys (8-7): Mark Barron, S, Alabama
A lot has been made of Barron in the last few weeks, but he'll fall to the Cowboys and he fits perfectly—even though he's an overrated prospect.
Grade: B+
15. Jacksonville Jaguars (Projected trade with Eagles): Stephon GIlmore, CB, South Carolina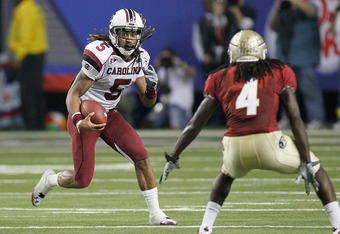 Kevin C. Cox/Getty Images
The projected trade by Kiper is a fantastic move by the Jags, and Gilmore is a great fit for them going forward with the new regime.
Grade: A
16. New York Jets (8-8): Quinton Coples, DE, UNC
Kiper lets a potentially elite talent fall down the board to Rex Ryan and it is unlikely he'll pass him up.
Grade: B+
17. Cincinnati Bengals (8-8, via OAK): Cordy Glenn, OL, Georgia
Kiper is thinking long term here and it is hard to blame him. With Floyd and Gilmore off the board the Bengals get a chance to land a guy who can play guard or tackle for years to come. It is a slight surprise that Riley Reiff is still on the board though.
Grade: B+
18. San Diego Chargers (8-8): Riley Reiff, OT, Iowa
It remains to be seen if Chargers GM A.J. Smith is smart enough not to pass on a rock-solid guy like Reiff here—Kiper may be too generous. But if the pick is made it would be a great get at No. 18.
Grade: A
19. Chicago Bears (8-8): Whitney Mercilus, DE, Illinois
Throwing a potentially elite pass-rusher opposite Julius Peppers is something the Bears want to do, and Mercilus has the length and athleticism to benefit from facing only one blocker per play early in his career.
Grade: B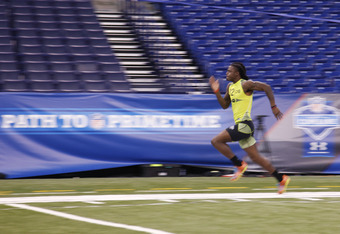 Joe Robbins/Getty Images
20. Tennessee Titans (9-7): Dre Kirkpatrick, CB, Alabama
The Titans lost their physical edge in the secondary when Cortland Finnegan left, and Kiper is far from wrong to have them address it immediately.
Grade: B+
21. Cincinnati Bengals (9-7): Stephen Hill, WR, Georgia Tech
Plain and simple, this should be Kendall Wright if the Bengals want to get better immediately. Hill has elite potential, but he's not ready.
Grade: C+
22. Cleveland Browns (10-6, via ATL): Brandon Weeden, QB, Oklahoma State
This is a fail from Kiper considering not many other teams are in the market for a QB at this point. The Browns could still land a talented player at No. 37 after adding Weeden here—which is Kiper's argument—but they also have 13 draft picks and can afford to take a better player here and move back in for Weeden later.
Grade: C-
23. Detroit Lions (10-6): Doug Martin, RB, Boise State
This is an interesting pick considering the injury issues Jahvid Best will have the rest of his career and the injuries suffered by Mikel Leshoure and Kevin Smith a year ago.
At initial glance you think it is a reach, but ultimately it's not a bad pick.
Grade: B
24. Pittsburgh Steelers (12-4): Dontari Poe, DT, Memphis
The Steelers are rumored to be heavily interested in the massive Poe and he'll likely fall down the board here.
Grade: B-
25. Denver Broncos (8-8): Michael Brockers, DT, LSU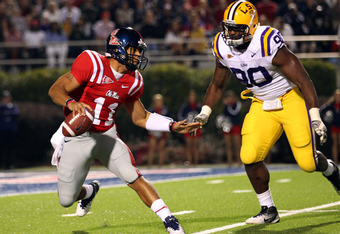 Joe Murphy/Getty Images
This is a huge get for the Broncos considering the upside Brockers possesses. John Elway could obviously surprise here, but it would actually be surprising if the LSU Tiger is on the board here.
Grade: B+
26. Houston Texans (10-6): Coby Fleener, TE, Stanford
Again, with Kendall Wright on the board it is a bit surprising to see Fleener go here, but he's basically a huge wide receiver any way.
Grade: B
27. New England Patriots (13-3, via NO): Courtney Upshaw, DE/OLB, Alabama
This could the be the steal of Kiper's draft. People have sent Upshaw sprawling down the board, but he's a football player with fantastic instincts and a tremendously high floor. Bill Belichick won't hesitate to add his friend Nick Saban's gifted pass-rusher.
Grade: A
28. Green Bay Packers (15-1): Shea McClellin, OLB, Boise State
Adding a weapon opposite Clay Matthews Jr. is a huge priority for Green Bay—McClellin fits that easily.
Grade: B+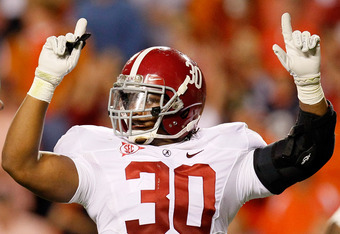 Kevin C. Cox/Getty Images
29. Baltimore Ravens (12-4): Dont'a Hightower, LB, Alabama
The fact that Kiper has the Steelers pass on Hightower only to see him wind up in Baltimore makes this pick even more exciting.
Grade: A
30. San Francisco 49ers (13-3): Kevin Zeitler, OG, Wisconsin
Zeitler is an instant starter for the 49ers from Day 1.
Grade: B+
31. New England Patriots (13-3): Harrison Smith, S, Notre Dame
Like the Upshaw pick, Kiper opts for a gifted football player who can make step in and be a starter immediately and contribute on special teams.
Grade: B+
32. New York Giants (9-7): Bobby Massie, OT, Ole Miss
This is a reach, especially with Jonathan Martin still on the board. The Giants are more likely to jump for a defensive end than reach for an offensive tackle.
Grade: C 
*Rams trade No. 2 overall pick to Redskins for 2012, 2013, 2014 first-round picks and 2012 second-round pick.