2012 NFL Mock Draft: Teams That Are Doomed to Botch 1st-Round Picks
April 26, 2012
Darren Carroll/Getty Images
Though the Oakland Raiders don't have a first-round pick to botch in the 2012 NFL draft, there won't be a shortage of picks that will ultimately cripple franchises.
Overhyped players will cause teams to reach and some inadequate front offices in the league always manage to fail on draft day, even when a can't-miss prospect is staring them in the face.
Here is a full first-round mock, highlighting several unlucky teams whose failure is imminent.
1) Indianapolis Colts (2-14): Andrew Luck, QB, Stanford
The Colts make the right move here selecting Andrew Luck as Peyton Manning's successor. It's going to be a long road to recovery for the Colts and locking down a field general to replace their future first-ballot Hall of Famer will undoubtedly expedite the rebuilding process.

2) *Washington Redskins (via St. Louis Rams): Robert Griffin III, QB, Baylor

It's no secret why the Redskins traded up to get here. Robert Griffin III has track speed and all the tools to be a great NFL quarterback. He'll be compared to Luck throughout his entire career, and will likely get off to a smoother start than his counterpart.
Washington finished 16th in the league in passing with 235.8 YPG. RGIII provides an immediate upgrade that will turn them into a dynamic passing attack in a hurry.
3) Minnesota Vikings: Morris Claiborne, CB, LSU
Minnesota will undoubtedly field offers to move down out of this spot. They have a lot of holes to plug and CBS' Charlie Casserly even tweeted that the Bills would like to trade up to snag Matt Kalil, but Leslie Frazier is going to have to hear a snazzy offer to pass up the opportunity to land a blue-chip plug-and-play corner like Claiborne.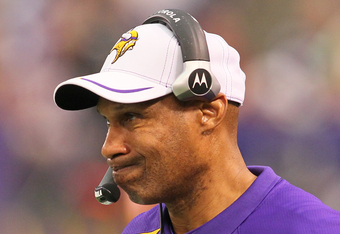 Adam Bettcher/Getty Images
4) Cleveland Browns: Matt Kalil, OT, USC
Trent Richardson isn't a lock here. Bringing in Matt Kalil would give the Browns the best tackle tandem in the league and a huge upgrade to their offensive line. They have offensive needs all over the place and letting them go unaddressed to snag an offensive lineman won't please Browns fans, but Cleveland should jump at the chance to field two All-Pro tackles.
5) Tampa Bay Buccaneers: Justin Blackmon, WR, Oklahoma State

The Bucs find themselves in a tricky situation in this scenario. Claiborne is off the board and though Richardson still remains, upgrading the running back position is not their biggest priority. LeGarrette Blount regressed from his rookie season, in which he amassed over 1,000 yards and maintained a 5.0 YPC average.
He still shouldn't be considered a lost cause, though. Just as Josh Freeman and Mike Williams have to be given the benefit of the doubt after a shaky 2011 campaign, so does Blount. Taking value over need isn't justified here.
The Bucs need to make surrounding Freeman with talent a priority. They brought in Vincent Jackson, but by no means can they hurt themselves bringing in more weapons. Justin Blackmon amassed over 3,500 yards at Oklahoma State and the Bucs will be tempted by that sort of production.
The problem is that Blackmon is 6'1" and like Michael Crabtree, he is a product of a system. His ceiling is Anquan Boldin, who wouldn't warrant a top-five selection, either. This is a bad move for a Bucs team that will find themselves between a rock and a hard place with this pick.
6) St. Louis Rams: Riley Reiff, OT, Iowa

The Rams are going to have to take a long, hard look at Richardson, but ultimately they need to do what is in the best interest of their quarterback. The last thing they need is for Sam Bradford to end up on the sidelines again.
Getting Riley Reiff is a day-one starter on the right side of the line with the tools to move to the left side when he's good and ready. The Rams allowed a league-high 55 sacks a season ago and can't afford to have Bradford's career be spent on the bench.
7) Jacksonville Jaguars: Melvin Ingram, DE, South Carolina
The Jaguars are destined to fail here. There is a top-flight running back available and they are set at the position, while they have a huge need at WR and no pass-catcher who warrants a selection this high.
Their grossly underrated defense put forth a top-10 run and pass defense a season ago and is a couple pieces away from becoming elite. Melvin Ingram provides an upgrade up front that gives them another defensive piece to play with, but won't leave Jaguars fans happy at the end of the day.
The dire lack of weapons will still remain and though Ingram will be a day-one starter, this is far too early for him to go. The Jags don't get a top-10 talent here and their offensive woes will remain.
Expect them to duplicate their 32nd-ranked pass offense from a season ago and start looking for a real franchise quarterback to replace the Blaine Gabbert nightmare in the very near future.
8) Miami Dolphins: Trent Richardson, RB, Alabama
Many mocks have the Dolphins reaching for Ryan Tannehill at this spot, just as many mocks had Gabbert pegged as the no-brainer pick for the Cardinals in 2011.
Frankly, Richardson is the most complete back to come out of the draft since Adrian Peterson. He and Reggie Bush have completely different skill sets and together, they'd make the Dolphins backfield a force.

9) *Kansas City Chiefs (via Carolina Panthers): Ryan Tannehill, QB, Texas A&M
Matt Cassel will be 30 at the start of next season. Given the pedestrian 76.6 QB rating he posted last season, it's safe to say the Chiefs need to find a new captain to man their ship.
Unfortunately for the Chiefs, they're going to buy into the insane hype surrounding Ryan Tannehill and fall flat on their face.
Tannehill's receiver background is a testament to his athleticism. The guy can move well, but so can Alex Smith. This is a guy who tossed 15 picks his senior season. Even if the Chiefs rely heavily on Jamaal Charles and their run game, Tannehill is subject to the same Cassel-esque mistakes that infuriate Chiefs fans.
The Chiefs have the makings of an elite offense. It's easy to get excited and jump the gun looking for a quarterback who can make them a top-flight offense. That being said, Tannehill is a project QB who is far from being NFL ready.
10) Buffalo Bills: Luke Kuechly, MLB, Boston College
The Bills need to upgrade at tackle and according to WGR 550's Joe Buscaglia, they are interested in Mark Barron, but the Bills can't miss here taking Luke Kuechly.
The Boston College LB's instincts are uncanny and his 4.58 40 time at the combine put any questions about his ability to run sideline to sideline to rest.
11) * Carolina Panthers (via Kansas City Chiefs): Michael Brockers, DT, LSU

Ron Rivera took Cam Newton last season, but it's time for the defensive mastermind to treat himself to a weapon on his side of the ball.
At 6'5" and 322 pounds, Michael Brockers is a daunting figure. He'll never be the pass-rusher Ndamukong Suh is, but he's a going to be a nightmare for offensive coordinators to deal with and a force to be reckoned with in the middle.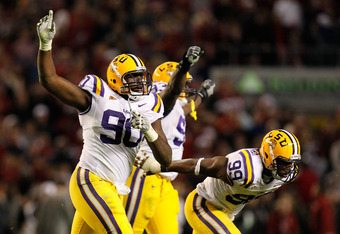 Kevin C. Cox/Getty Images
12) Seattle Seahawks: Quinton Coples, DE, UNC
This could be a home run pick for the Seahawks. Quinton Coples' stock has been all over the place since the season ended. He's shown the ability to line up in various positions along the defensive line and at 6'6", 284, he's got the frame to be an elite rushing end.
He's a project Pete Carroll will need to mold into something special.
13) Arizona Cardinals: Jonathan Martin, OT, Stanford
Jonathan Martin is a top-10 talent whose stock has inexplicably fallen off since the season ended.
Rather than talk about what he can't do, as everyone else seems to love to do, let's talk about what he brings to the table. He's an immediate and much-needed upgrade for the Cardinals at tackle, he's a day-one starter and versatile enough to man either side of the line.
14) Dallas Cowboys: Mark Barron, S, Alabama
The Cowboys fill a major hole here with the only safety in this class who warrants a first-round grade. Mark Barron comes out of Nick Saban's national championship defense with a great football IQ and the ability to play the run and pass.
15) Philadelphia Eagles: Fletcher Cox, DT, Mississippi St.
The Eagles filled their middle linebacker void by bringing in DeMeco Ryans, but by no means is the middle of their defense stout. Putting Fletcher Cox in the heart of their defense beefs up a soft Philly "D" and makes offenses have to work to gash them up the middle.
16) New York Jets: Michael Floyd, WR, Notre Dame
Michael Floyd is the least risky wide receiver in this year's class. He's 6'3", had 100 catches a season ago and managed to perform despite a shaky quarterback situation.
The Jets need to find out if Mark Sanchez is their guy or not and giving him a weapon like Floyd to add to his arsenal gives him every chance to succeed.
17) *Cincinnati Bengals (via Oakland): David DeCastro, G, Stanford
The Bengals will jump for joy and do the happy dance if David DeCastro slips to them. He's a plug-and-play guard who will fill a need and perform at a Pro Bowl level right out of the gate.
All signs point to him having a rookie season reminiscent of Steelers center Mike Pouncey.
18) San Diego Chargers: Whitney Mercilus, OLB, Illinois

All three of the top tackles are off the board, both receivers the Chargers would love to get their hands on have been selected and the Chargers will have to look to the defensive side of the ball here.
Whitney Mercilus' 2011 tape projects a pass-rushing nightmare who looks the part of an elite rushing outside linebacker. His 2010 tape doesn't indicate much of anything.
His 16 sacks in his junior season may justify this selection, but in no way should Chargers fans expect him to fill the void has ultimately been there since Shawne Merriman fell off the face of the earth.
The Chargers' board is decimated and this isn't a pick that will help them get back on track as a franchise. Ideally a top-notch lineman will fall into their lap here—it's just hard to see a scenario where that is feasible.
19) Chicago Bears: Courtney Upshaw, DE, Alabama
Courtney Upshaw is a versatile player who can flat-out get after it. Putting him opposite Julius Peppers will pay dividends for both players.
The Bears have a veteran front seven and need to inject young talent that will contribute immediately. Upshaw fits the bill and is a slam dunk here.
20) Tennessee Titans: Stephon Gilmore, CB, South Carolina
The Titans have a huge hole to plug at corner after losing Cortland Finnegan and Stephon Gilmore can step in immediately.
At 6'0", 190, he's got the size to take on bigger receivers in the AFC South and though he looks out of sorts on the field at times, Gilmore is still a top-15 talent the Titans should feel lucky to have a shot at.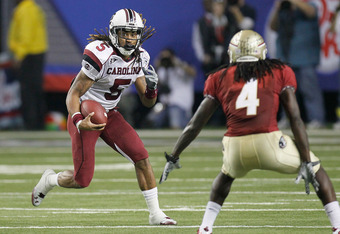 Kevin C. Cox/Getty Images
21) Cincinnati Bengals: Stephen Hill, WR, Georgia Tech
The Bengals struck gold last year with A.J. Green. Bringing in a burner like Stephen Hill would add another element to their up-and-coming offense.
Cincinnati fans shouldn't be scared off by his lack of production. His 28 catches can be attributed to the system he was in at Georgia Tech.
22) Cleveland Browns: Kendall Wright, WR, Baylor

There is no way the Browns bring in Brandon Weeden here. If he was 21, sure, but they've got bigger needs than quarterback and setting up their offense for the next QB has to take precedence.
Kendall Wright and Matt Kalil will be staples in the Browns offense and provide and immediate lift, as well as long-term success.

23) Detroit Lions: Chandler Jones, DE, Syracuse
The Lions already have a defensive line that terrorizes offenses and inserting Chandler Jones into the lineup gives them a young, vicious D-line in the pass-happy NFC North.
With the interior defensive line set, the Lions need a successor to Kyle Vanden Bosh and Jones gives them that and more.
24) Pittsburgh Steelers: Dont'a Hightower, MLB, Alabama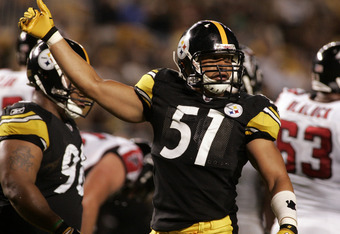 Justin K. Aller/Getty Images
The Steelers have a knack for landing defensive superstars late in the draft. Their defense is falling apart and they are in dire need of a reload of their stacked front seven.
Dont'a Hightower isn't going to replace James Farrior's presence in the locker room, but the heart and soul of the 'Bama defense will help them maintain their elite level of physicality and provide much needed patchwork in the steel curtain.
25) Denver Broncos: Dontari Poe, DT, Memphis
Dontari Poe showcased his unfathomable combination of size and speed at the combine, where the 346-pound man put up 44 reps and ran a sub-5.00-second 40-yard dash. That is all well and good, but just because he moves like Haloti Ngata and has obviously been in the weight room doesn't mean he is Haloti Ngata.
Ngata was a household name at Oregon. Poe is a guy whose stock caught fire after the combine. While he forced scouts to look at the tape, the Memphis standout doesn't take over games the way a first-round defensive tackle should.
He can hold his own at the point of attack, but he's never going to be an elite defensive tackle. John Fox whiffs here and gets sucked into the Poe hype, passing on the more talented Jerel Worthy for a guy with upside.
Last year, the Broncos could have very well selected Marcell Dareus with the No. 3 pick. The need at DT still remains and they'll look to plug that hole in this draft, rather than bring in more weapons for Peyton Manning.
26) Houston Texans: Rueben Randle, WR, LSU
The Texans have the best receiver in the NFL in Andre Johnson. In order to take some heat off of their superstar, they've got to bring in another threat that defenses fear.
Rueben Randle is the best receiver on the board and the Texans shouldn't hesitate to give their dynamic offense another weapon.
27) *New England Patriots (via New Orleans): Nick Perry, DE/OLB, USC
The most obvious choice for the Patriots here is to trade it away, as they routinely do on draft day. If they sit tight though, it's no secret that they need to focus on the defensive side of the ball. The Patriots gave up over 6,500 yards last season, including 293.9 passing YPG.
Nick Perry gives them a versatile player who can wreak havoc in the backfield and add some legitimacy to their porous defense.
28) Green Bay Packers: Dre Kirkpatrick, CB, Green Bay
It's incredible to see Dre Kirkpatrick skid all the way to No. 28. Ted Thompson does a great job of taking value over need and building his roster by selecting the best overall player.
Just as the Packers didn't pass on Aaron Rodgers because they had Brett Favre on roster, they won't pass on Kirkpatrick because of Charles Woodson. Kirkpatrick is a physical corner who is far more than just a Cover-2 corner.
29) Baltimore Ravens: Cordy Glenn, G/T, Baltimore Ravens
The Ravens can't worry about reloading their defense because they are jam-packed with aging legends who need to be replaced. Cordy Glenn provides a boost to their offense that will help them win today.
Picking up a Super Bowl ring before the window closes on Ray Lewis and Co. is obviously more important than trying to replace guys like Ed Reed and Lewis.
30) San Francisco 49ers: Coby Fleener, TE, Stanford
The 49ers have a top tight end tandem in Vernon Davis and Delanie Walker already, but the prospect of pairing Davis with 6'6" Coby Fleener is too much to pass on. Jim Harbaugh obviously has ties to Fleener dating back to his days at Stanford.
The 49ers pick up a red-zone nightmare and arguably the best player left on the board.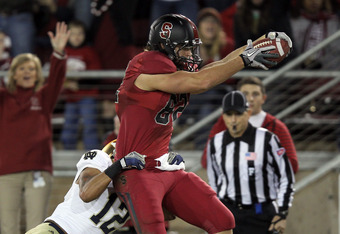 Ezra Shaw/Getty Images
31) New England Patriots: Harrison Smith, FS, Notre Dame
The Patriots draft defense in the first round twice in this scenario. Frankly, they could draft defensive players in the first round for the next five years and it still wouldn't be overkill.
Harrison Smith has ideal height at 6'2" and is the sort of DB that will have secondary mastermind Bill Belichick salivating come draft day.
32) New York Giants: Kevin Zeitler, G, Wisconsin
The Giants front isn't stellar by any means; adding Kevin Zeitler to the mix would be a huge upgrade. They can slide David Diehl over to fill the void at tackle and all will be well and good for the G-Men.
Ideally, a tackle would fall to them here, but they shouldn't have any reservations about kicking Diehl over to tackle, where he's proven himself in the past.
*Denotes Trade