The Dallas Cowboys' 10 Worst Losses Since 2000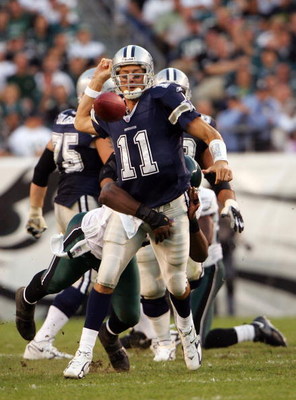 So, for the few of you that read my articles, you might have noticed that I mysteriously vanished after Week 17. After the fantastic performance that the Dallas Cowboys had on Philadelphia, I was too angry to write an article for two weeks.
I was going to make my debut article about the Conference Championship Games (Picked Arizona and Baltimore if you care.) but I thought it felt weird to post my picks after not posting my picks for the first two rounds. (Yeah, I'm a Geek.)
This article is not about the Super Bowl, that one will come later, this to address my team that has caused much heartbreak for me in recent years. People often associate the Dallas Cowboys as being "America's Team", having five Super Bowl rings, and being one of the most successful franchises in the NFL since the 1960s.
I have missed much of this though, I was six years old the last time the Cowboys won a playoff game. If you have followed this team in the last four years especially, you would have noticed how many bizarre losses they have had and how much individual talent has been wasted.
Should I have seen the Eagles game coming? Probably, but that's what happens. People like me care way too much about the NFL, get filled with hope, and then crash mentally when a big game is lost.
After the Steelers games (One of the more upsetting losses of the year.) I was very mad but at the same time I thought to myself, 'This might not even be one of the top 10 worst losses since the Parcells Era'.
Sure enough, Cousin Sal Iacono from Jimmy Kimmell Live (A Cowboys fan) was on an ESPN podcast two days later and his thoughts mirrored mine.
I don't imagine it getting better, TO is getting old, I have no faith in Roy Williams as our number one wideout, I'm on the fence on Romo, Phillips should be gone, and even if we do sign a Ray Lewis or a Brian Urlacher...Why should I get excited? I know how this movie ends, I don't see it changing anytime soon.
This article isn't going to be about what's wrong with the Cowboys, or what they can do to improve, or even why I feel without hope. (Well, ok it kind of is)
This is a tribute, a top 10 of the biggest stomach-punching losses of the decade. By September I will probably be feeling good for some unexplained reason and be a rabid fan but by December I expect to be modifying this list.
This one is for you, the Dallas Cowboys, my Dallas Cowboys, may God have mercy on our souls.
10. 2005 Week Seven @ Seattle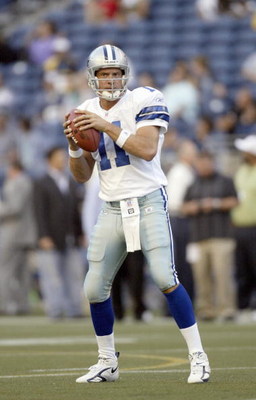 Oh Drew, you may have only been our starting QB for a year and a half, but you left so many memories...Go to hell.
After Matt Hasselbeck threw a one-yard Touchdown to Ryan Hannam to tie the game at 10-10 with 40 seconds left, Drew Bledsoe responded by throwing an interception to Jordan Babineaux to set up a Josh Brown FG with five seconds left.
This marked a second major collapse of the season, oh and the first field goal that the Seahawks got was at the end of the first half, set up by none other than a Drew Bledsoe interception. I love Drew Bledsoe so much.
9. 2000 Week One vs. Philadelphia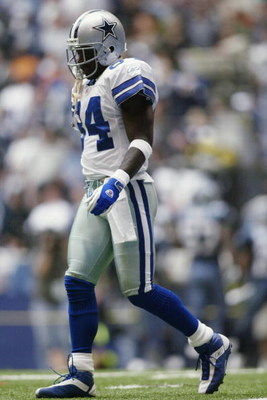 I bet you have never heard this before, the Dallas Cowboys murdered by the Philadelphia Eagles. This time it was 41-14 in Week One of the 2000 season. Philadelphia recovered an onside kick to start the game and never looked back.
Troy Aikman suffered yet another concussion and newly acquired Joey Galloway got hurt near the end when the game was already out of reach and would miss the rest of the season. The beginning of the Dave Campo Era!
8. 2002 Week 17 @ Washington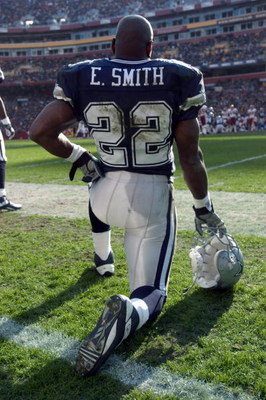 Dallas loses at division rival Washington for their first loss against the 'Skins since 1997, Emmitt Smith had a season low 13 yards in the game finishing under 1,000 in a season for the first time since his rookie year. It also ended up being his last game as a Dallas Cowboy.
7. 2002 Week One @ Houston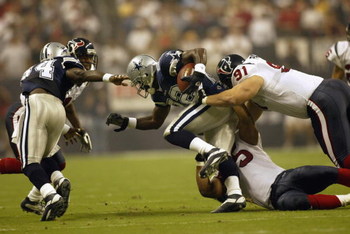 The Houston Texans took care of business against the lowly new expansion team in Dallas...Oh wait, the Houston Texans were actually the expansion team though if you didn't know any better you would have thought it was the other way watching the game.
Dallas was outplayed from the opening kickoff and the Houston Texans became only the second expansion team ('61 Vikings were the first) to win their first game and for the Dallas Cowboys it was an embarrassing loss to open a mediocre season.
6. 2005 Week Two Vs. Washington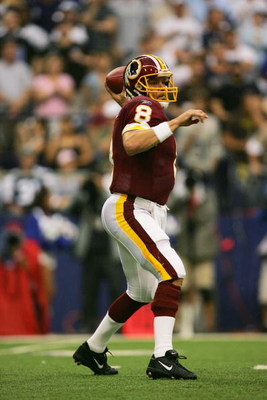 The Dallas Cowboys thoroughly dominated division rival Washington Redskins on MNF for the 56 minutes and 14 seconds as they led 13-0. Mark Brunell throws 2 TD passes to Santana Moss (One 39 yards, one 70 yards) and the Washington Redskins pulled one out of their behinds 14-13.
That put Parcells at a career record of 77-1 when his team leads by at least 13 in the fourth quarter. Absolutely unbelievable, I'm still not sure it happened.
5. 2006 Week Nine @ Washington
MORE Redskins?! That's right, Dallas and Washington found themselves all tied up at 19 apiece, Mike Vanderjagt was going for a game winning 35-yard field goal with six seconds left to end it.
Vanderjagt, a shadow of his former self to say the least was blocked by Troy Vincent. Sean Taylor picked up the ball and returned the ball to Dallas' 45 yard line, Washington was able to get one last play in though thanks to a face-masking penalty on Kyle Kozier and they made it count.
A 47 yard field goal for Nick Novak to end the game, another bad loss to the Washington Redskins, and Romo's first loss as a starter. (Many more tough ones to come for him.)
4. 2007 Wild Card Game @ Seattle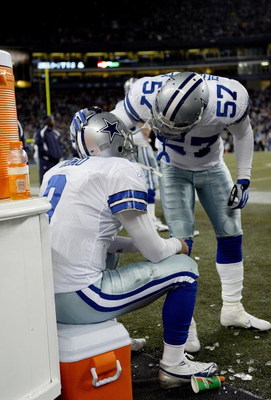 We all know this one, 21-20 Seattle with Gramatica lining up for a 19-yard field goal with 1:19 left in regulation. Romo botches the snap, runs for it, winds up a yard short of the first down. And in the words of Mark Wahlberg in The Departed- "la-di-f***in'-da"
3. 2005 Week 15 @ Washington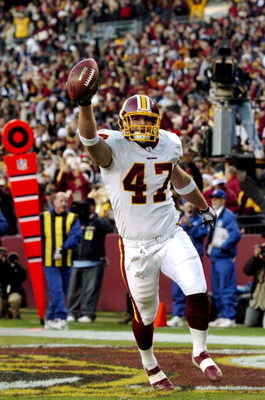 Two losses to the Redskins in the same season on the list?! That's right, even forgetting what happened earlier in the year a Dallas Cowboys win would have put us in great position to make the playoffs.
The Dallas Cowboys lost 35-7, Mark Brunell threw four touchdowns, Clinton Portis ran for over 100 yards, and it was a coming out party for Chris Cooley, who single-handedly raped the Dallas Cowboys with 71 receiving yards and three touchdowns.
Having just witnessed the Dallas Cowboys' worst margin of defeat since 1988, this was the WORST I have ever seen the Dallas Cowboys play and with a playoff spot possibly on the line, too.
To make mattters worse, the Dallas Cowboys were edged out of the playoffs by guess who...The Washington Redskins.
2. 2008 Divisional Playoffs vs. New York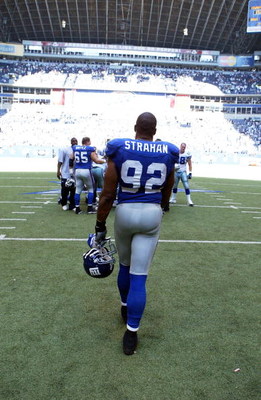 Dallas was supposed to be the team that was the beast of the NFC, Eli Manning was supposed to be the talented QB unable to lead his team, Tom Coughlin was supposed to be the coach that had lost control of his players, the Dallas Cowboys were the team that was supposed to win.
Things didn't work out that way, this game forever changed the way Tony Romo is thought of in big-time moments, of Terrell Owens, and of the Dallas Cowboys and quite frankly they haven't done anything since that might prove doubters that they are wrong about this team.
1. 2008 Week 17 @ Philadelphia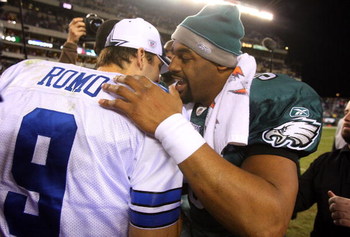 One question is always pondered by fans, would you rather lose a nail-biter or have your team not show up and get blown out.
By the third quarter of this game, around the time when Joselio Hanson returned a fumble for a touchdown to make it 41-3 Eagles, I would have told you that the second option is better.
If you live in Ahwatukee, you might have seen me at Tikewoods, a fat teenager in an authentic Terrell Owens jersey that I just got for Christmas laughing maniacally while watching the game trying to predict just what blunder would occur next for my Dallas Cowboys.
Later that night I became suddenly very angry at how easily this team could fold, coming off a home loss, facing a division rival, with a playoff spot on the line, with the individual talent on this team.
This anger has not left me to this day, I expect it to leave a week after the Super Bowl only to come back as the draft approaches as I remember our brilliant trade for Roy Williams that leaves with a few picks less than normally.
Enough about me though, to rip-off Bill Simmons-
Ladies and Gentlemen, the Dallas Cowboys!
Keep Reading

Washington Redskins: Like this team?